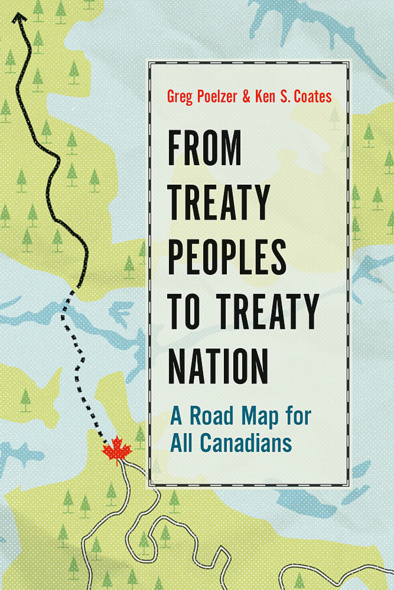 From Treaty Peoples to Treaty Nation
A Road Map for All Canadians
Canada is a country founded on relationships and agreements between Indigenous peoples and newcomers. Although recent court cases have upheld Aboriginal title rights, the cooperative spirit of the treaties is being lost as Canadians engage in endless arguments about First Nations "issues." Each new court decision adds fuel to the debate raging between those who want to see an end to special Aboriginal rights and those who demand a return to Aboriginal sovereignty.
Greg Poelzer and Ken Coates breathe new life into these debates by looking at approaches that have failed and succeeded in the past and offering all Canadians – from policy makers to concerned citizens – realistic steps forward. Rather than getting bogged down in debates on Aboriginal rights, they highlight Aboriginal success stories and redirect the conversation to a place of common ground. Upholding equality of economic opportunity as a guiding principle, they argue that the road ahead is clear: if all Canadians take up their responsibilities as treaty peoples, Canada will become a leader among treaty nations.
This accessible book will be of interest to scholars, politicians, students, Aboriginal leaders, government officials, business people, media commentators, and all Canadians who care about the future of their country.
Awards
2016, Shortlisted - University of Regina Arts and Luther College Award for Scholarly Writing, Saskatchewan Book Awards
2016, Shortlisted - The Donner Prize, The Donner Foundation
2016, Shortlisted - J.W. Dafoe Prize, The Dafoe Foundation
What is clear from this survey is that no consensus exists around how to improve Aboriginal and non-Aboriginal relations. This sketch by Poelzer and Coates does, however, do more than provide the reader with a useful review of proposals aimed at solving the 'Indian problem' in Canada; it allows the authors to situate their own approach within a very complex debate characterised by a diversity of opinions (both within the Aboriginal and non-Aboriginal intellectual communities). From Treaty Peoples to Treaty Nation's originality flows from its focus on the practical elements of these problems. By contrast, most other scholars' approaches are philosophical, idealistic, and theoretical … With the Truth and Reconciliation Commission of Canada's release of its Final Report earlier this year, Poelzer and Coates' work could not be timelier.
The greatest value of this volume [is that] it seeks to force productive debate, not fruitless fingerpointing and rancor. Whether or not it succeeds in doing so for Canada remains to be seen. Whether the United States, including the many indigenous peoples in the Great Plains, takes notice and begins more meaningful discussions of Americans as 'Treaty Peoples' and a 'Treaty Nation' likewise remains unclear. As a region with strong indigenous history and presence, these are debates worth having — on both sides of the border.
The book provides an excellent summary of the work of various Canadian Indigenous political scholars such as Kiera Ladner, Bonita Beaty, Dan Russell, John Borrows and Glenn Coulthard. The treaty theme runs throughout the book, with historical and contemporary examples. This allows the reader to understand the past but also facilitates awareness of the modern-day treaty process that is underway in some parts of Canada.
… a welcome help to understanding ourselves as a nation and as individuals … Greg Poelzer and Ken Coates offer an accessible primer to the many ways Canada's Indigenous peoples are retaking charge of their lives.
Provocative, vigorous, and on every page interesting.
This book is a major contribution to one of the most difficult issues facing the country. The magnitude of the task undertaken by the authors is remarkable. Their goal is to redefine Canada. They view contemporary Canada as an incomplete country because a rapprochement with Aboriginal Canadians has eluded us. The vehicle for its achievement, they argue, is the diffusion of the understanding that we are all treaty peoples. This book provides us with a coherent sense of direction.
The most balanced and fair-minded treatment of Aboriginal issues in Canada that I have ever read.
From Treaty Peoples to Treaty Nation tackles issues of vital importance to all Canadians. It is impressive in the breadth of the topics covered and the clarity of the discussion. It is a must-read for politicians, business leaders, Aboriginal citizens, academics, students, and average Canadians.
This timely and thought-provoking book is a welcome addition to ongoing conversations about how best to achieve reconciliation with Aboriginal peoples and complete the unfinished work of federalism. Poelzer and Coates juxtapose (and often challenge) divergent and conflicting academic perspectives on Aboriginal and treaty rights, make a compelling case for pragmatism, and chart a course of action by citing numerous examples of Indigenous success stories and the need to understand and build on them.
Poelzer and Coates have written a book that is not only a history primer on Aboriginal-colonial relations but a source document of leading-edge thinkers from both Aboriginal and non-Aboriginal circles. Perhaps most importantly, it offers options for all of us who yearn for improved relationships and long-term reconciliation with Aboriginal people.
Greg Poelzer has written extensively on Aboriginal and northern issues and is co-author (also with Ken Coates) of Arctic Front: Defending Canada in the Far North, winner of the 2009 Donner Prize. He has worked as an adviser and negotiator for governments, First Nations organizations, and industry and is the founding director and executive chair of the International Centre for Northern Governance and Development at the University of Saskatchewan.
Ken S. Coates is the author and editor of over a dozen books on Aboriginal issues, including Best Left as Indians: Native-White Relations in the Yukon; The Marshall Decision and Native Rights; and A Global History of Indigenous Peoples. Raised in Whitehorse, he is the Canada Research Chair in Regional Innovation at the Johnson-Shoyama Graduate School of Public Policy, University of Saskatchewan. He is a frequent contributor to magazines and newspapers throughout Canada and appears regularly on radio and television programs.
Preface: Towards Equality of Opportunity
Introduction
Aboriginal Leaders and Scholars Point the Way
1 The Traditionalists
2 Treaty Federalism
3 Bridging the Solitudes
Non-Aboriginal Views on the Way Forward
4 Legal Rights, Moral Rights, and Well-Being
5 Political and Institutional Approaches
Coming at It from a Different Direction: Aboriginal Success Stories
6 Culture and Education
7 Business and Entrepreneurship
8 Governance and Civic Engagement
Steps towards Social, Political, and Economic Equality
9 Global Lessons
10 Equality of Status
11 Citizenship and a Commonwealth of Aboriginal Peoples
12 Aboriginal Self-Government
13 Community-Based Economic Well-Being
14 Finding Common Economic Ground
Conclusion
Postscript
Appendices
References and Further Reading
Index
Related Titles
At the Bridge
James Teit and an Anthropology of Belonging
Our Long Struggle for Home
The Ipperwash Story
By Aazhoodenaang Enjibaajig
Meeting My Treaty Kin
A Journey toward Reconciliation
Canada and Colonialism
An Unfinished History
By Jim Reynolds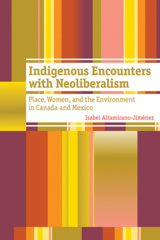 Indigenous Encounters with Neoliberalism
Place, Women, and the Environment in Canada and Mexico
Lived Fictions
Unity and Exclusion in Canadian Politics
By John Grant
By Law or In Justice
The Indian Specific Claims Commission and the Struggle for Indigenous Justice
By Jane Dickson
‹
›
Find what you're looking for...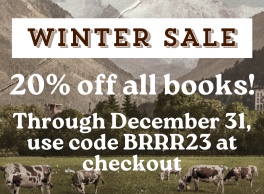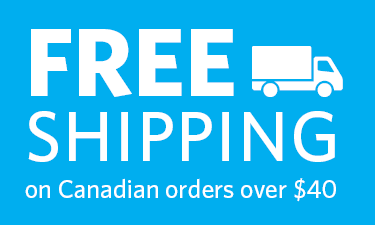 Stay Informed
Receive the latest UBC Press news, including events, catalogues, and announcements.
Publishers Represented
UBC Press is the Canadian agent for several international publishers. Visit our
Publishers Represented
page to learn more.