Good Governance in Economic Development
International Norms and Chinese Perspectives
Globally, isolationism and protectionism are on the rise, and resurgent authoritarian nations are seeking to reassert the centrality of the sovereign state. And with China's influence around the world intensifying, the dynamic interrelationship of the national and supranational in shaping norms of good governance has become increasingly relevant.
Good Governance in Economic Development critically examines the ways in which transparency and accountability underpin the objective of good governance, through mechanisms that are incorporated or reflected in international trade, finance, and investment regimes. It also explores the Chinese state's engagement with these norms, shedding new light not only on how the principles of transparency, accountability, and public participation are applied within China, but also on the ability of China to affect international rules.
The essays in this timely collection argue that transparency and accountability standards are constituted and reconstituted by the agencies and governments seeking to impose them. Through close analysis of how these norms are adapted locally, the contributors offer insights into the global and national implications of international good governance rules.
This book will appeal to several audiences: scholars and students of Chinese studies and of international trade, investment, development, and law; government and non-government organizations with an interest in China; and legal professionals.
This impressive collection draws on a wide variety of international and domestic case studies to clearly and persuasively explain the link between governance and economic development.
Written by leading experts in their fields, this book combines a wealth of information with comprehensive inquiry and analysis. The scholarship is truly first-rate.
Sarah Biddulph is a professor in the Melbourne Law School and director of its Asian Law Centre, and Assistant Deputy Vice Chancellor – International (China) at the University of Melbourne. She is the author of The Stability Imperative: Human Rights and Law in China; Legal Reform and Administrative Detention Powers in China, and, with Sean Cooney and Ying Zhu, Law and Fair Work in China: Making and Enforcing Labour Standards in the PRC. She has also practised as a solicitor. Ljiljana Biuković is a professor in the Peter A. Allard School of Law, and an affiliated faculty member of the Institute for European Studies, at the University of British Columbia. She is also a principal co-investigator in the Collective Memories Conflicts and International Law project funded by the Franklin Lew Innovation Grant.
Contributors: Wang Haifeng, Moshe Hirsch, Les Jacobs, Pitman B. Potter, He Weidong, Alison Yule
Foreword / Pitman B. Potter
1 International Good Governance Norms between the Global and the Local: China, Transparency, and Accountability / Sarah Biddulph and Ljiljana Biuković
Part 1: International Principles of Good Governance, Transparency, and Accountability
2 Belts That Fasten Roads to Prosperity and Development: Transparency and Governance of New International Banks / Ljiljana Biuković
3 Corporate Legal Consciousness in Investor-State Dispute Settlement and the United Nations' Responsibility to Respect Human Rights: New Challenges for Global Governance / Lesley A. Jacobs
4 Regulatory Change, Good Governance, and Fair and Equitable Treatment in International Investment Law / Moshe Hirsch
5 Canada-Colombia Free Trade Agreement and Human Rights Impact Assessments: Coordinating Compliance between International Trade, Human Rights, Labour Rights, and Good Governance in Colombia / Alison Yule
6 Transparency Obligations in International Investment and Trade Treaties: Governance Reforms in Shanghai's Pilot Free Trade Zone / Wang Haifeng
Part 2: Case Studies from China: Domestic Engagement with Good Governance Norms
7 Transparency and Accountability in Governance in China: Evaluating Legal Reforms / Sarah Biddulph and Wang Haifeng
8 The Concept of Public Participation: Planning and Housing Resumption Decisions in Shanghai / Sarah Biddulph
9 The Impact of Transparency and Accountability Mechanisms on Bureaucratic Inertia: A Case Study of Work Safety Regulation / Sarah Biddulph
10 New Trends in Promoting Capacity in Environmental Governance in China / He Weidong
Conclusion: Who Are the Important Actors in Shaping the Good Governance, Transparency, and Accountability Principles? / Sarah Biddulph and Ljiljana Biuković
Index
Related Titles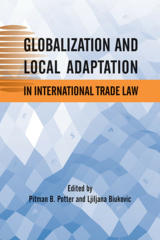 Globalization and Local Adaptation in International Trade Law
Edited by Pitman B. Potter and Ljiljana Biuković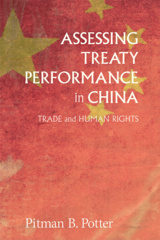 Assessing Treaty Performance in China
Trade and Human Rights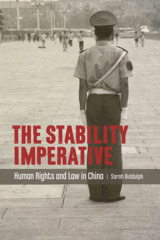 The Stability Imperative
Human Rights and Law in China
Grey Zones in International Economic Law and Global Governance
Edited by Daniel Drache and Lesley A. Jacobs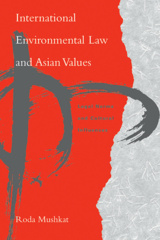 International Environmental Law and Asian Values
Legal Norms and Cultural Influences
By Roda Mushkat
Exporting Virtue?
China's International Human Rights Activism in the Age of Xi Jinping
Globalization, Poverty, and Income Inequality
Insights from Indonesia
Edited by Richard Barichello, Arianto A. Patunru, and Richard Schwindt
Global Health Security in China, Japan, and India
Assessing Sustainable Development Goals
Edited by Lesley A. Jacobs, Yoshitaka Wada, and Ilan Vertinsky
Follow the Leader, Lose the Region
Charting a Canadian Strategy for the Asia-Pacific
By Jeff Reeves
‹
›
Find what you're looking for...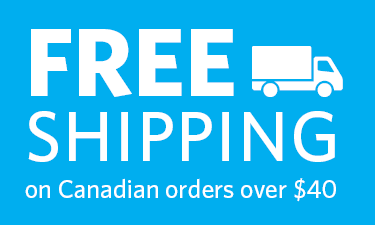 Stay Informed
Receive the latest UBC Press news, including events, catalogues, and announcements.
Publishers Represented
UBC Press is the Canadian agent for several international publishers. Visit our
Publishers Represented
page to learn more.