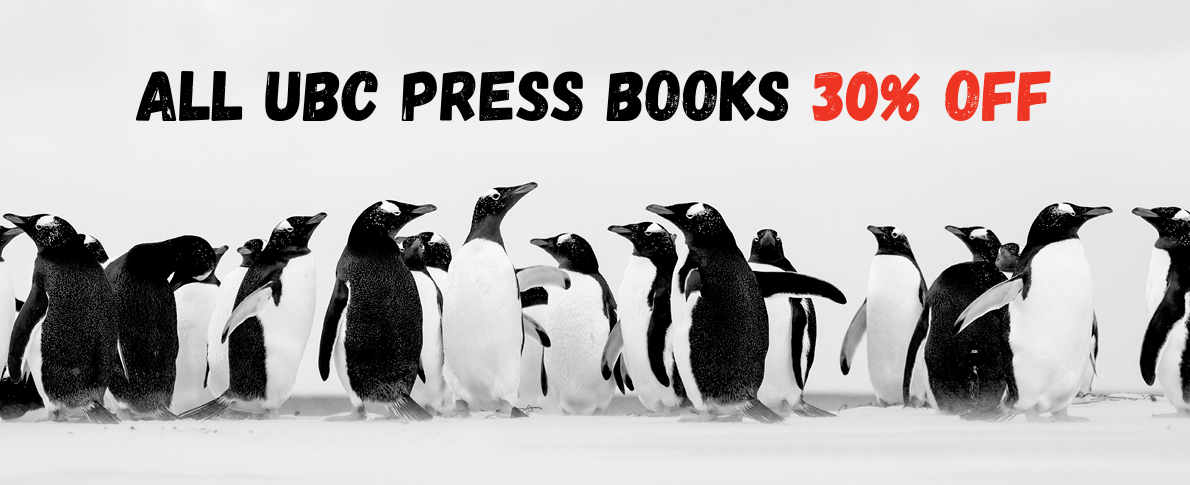 To thank you for your continued support, we're offering 30% off all UBC Press books* on our website from December 1 through December 31, 2022. To claim your 30% discount, enter BRRR30 at checkout. As always, we offer free shipping on Canadian web orders over $40.
* The fine print: Discount applies to UBC Press books only; distributed titles aren't eligible for the discount. Discount applies to books that are published and in stock at the time of this promotion; forthcoming titles aren't included.
Holiday Shipping Deadlines (Canada)
If you'd like your books to arrive before Christmas, we recommend placing your order before the following dates:

Yukon, Northwest Territories, Nunavut: December 5

Newfoundland, Saskatchewan, British Columbia: December 13

Alberta, Manitoba, Prince Edward Island, New Brunswick, Nova Scotia: December 15

Ontario, Quebec: December 16

Greater Toronto Area: December 21
Gift Ideas to Get You Started
One Family, Five Years, Ten Countries, and a New Vision of Wildness
Five continents. Ten countries. Twenty Natural World Heritage sites in five years. In the Name of Wild is the story of what happened when one family set out to learn what wildness means to people around the world. What draws us to seek out wild places? Do they mean the same to everyone? As they embarked on their fieldwork the Vannini family expected pristine landscapes, but romantic ideals soon crashed into reality. Adventurers were there to conquer the wilderness. Conservationists were there to manage it. Tourism operators were there to make a dollar. Part travelogue, part ethnography, In the Name of Wild takes us on a wide-ranging journey, searching for answers from people who call places like Tasmania, Patagonia, and Iceland home. Wildness, they explain, isn't about remoteness or an absence of people. This brilliantly conceived, beautifully told account reveals that wild is really about connections, kinship, and coexistence with the land.
In the Name of Wild takes you on the five-year journey one family made across five continents to re-imagine the meaning of wildness.
Growing (Very) Old, Staying Connected, and Reimagining Aging
Boomers are heading into (very) old age following a pandemic, a time of overt ageism and shamefully deficient eldercare. The front wave, now in their seventies, are on the brink of life changes that will be challenging for everyone – family, friends, and for the health care system too.Recognizing the dire need to tackle these changes, journalist and sociologist Gillian Ranson, a front-wave boomer herself, investigates what they are doing to prepare for old age. Whether an "elder orphan" living in subsidized housing, a busy grandparent doing daycare pickups, a small business owner phasing into retirement, or a wife learning to cope with a husband's dementia, they all share one thing – they need intimate, caring social ties to other people. Just as the baby boomer generation transformed life for teenagers and youth in the 1960s, they now have a chance to create a better way to grow old. Their stories hold lessons for us all.
Gillian Ranson weaves front-wave boomers' stories of life and aging before and during the pandemic into a powerful account of how to make growing old more humane, for this generation and for everyone.
Most Canadians know only a tiny part of the Ipperwash story – the 1995 police shooting of Dudley George. In Our Long Struggle for Home, George's sister, cousins, and others from the Stoney Point Reserve tell of the decades-long battle to reclaim their ancestral homeland, Aazhoodena, both before and after the police action culminating in George's death.Offering insights into Nishnaabeg lifeways and historical treaties, this compelling account conveys how government decisions affected lives, livelihoods, and identity. We hear of the devastation wrought when Nishnaabeg territory was re-purposed as an army training camp in 1942, with assurances that it would be returned. By 1993, five elders had waited long enough. They reclaimed the reserve, sparking a cultural and social revival that was ultimately quashed as an illegal occupation.Our Long Struggle for Home also shows what can be accomplished through perseverance and undiminished belief in a better future. This is a necessary lesson on colonialism and the power of resistance.
In this disquieting story of broken promises and thwarted justice, the Anishinaabe of Stoney Point tell of the long struggle to reclaim their ancestral homeland, both before and after the Ipperwash crisis.
A Practical Approach to Effective Teaching
Maybe you're an undergraduate or graduate student who's just been appointed a TA. Or maybe you're a postdoctoral student or a new hire with limited teaching experience. In either case, you'll be expected – with little to no training – to excel at teaching and to enhance the learning experience of your students. Kathy Nomme and Carol Pollock recognize this gap between expectations and preparation and draw on decades of experience in teaching and TA training to offer practical advice on:interacting with course instructors dealing with nerves and anxietypreparing for the first sessionsupporting student learningdeveloping learning exercisesengaging students with diverse needs and backgroundsusing technology in the classroomassessing student work and providing feedback.The lessons and scenarios in this short, accessible guide can be applied to any discipline or teaching venue – from large lecture halls to smaller labs, studios, seminars, and tutorials. It not only demystifies expectations for TAs, it sets the stage for developing a lifelong teaching practice.
Feel confident stepping into your role as a TA with help from this short, practical guide, which demystifies everything from how to interact with course instructors to giving students feedback on their work.
One Hundred Years of Canadian Feminism
For one hundred years women fashioned different dreams of social transformation in their search for equality, autonomy, and dignity; yet what is Canadian feminism?Demanding Equality offers illustrations of feminist thought and organizing from mid-nineteenth-century, Enlightenment-inspired writing to the multi-issue movement of the 1980s. Broadening our definition of feminism – and recognizing that its political, cultural, and social dimensions are entangled – Joan Sangster explores the different pathways pursued to gain equality. She challenges the popular "wave" theory, concluding that feminist activism was continuous, despite changing significantly across decades.Demanding Equality presents a picture of a heterogeneous movement characterized by both alliances and fierce internal debates. This comprehensive rear-view look at feminism in all its political guises encourages a wider public conversation about what Canadian feminism has been, is, and should be.
In a wide-ranging survey of Canadian feminism from the 1880s to the 1980s, Demanding Equality reveals a continuous, vibrant, and often contentious search for equality, autonomy, and dignity.
Women in Photography in Canada, 1840–1940
Rare Merit is a beautifully illustrated and astute examination of women photographers in Canada as it took shape in the nineteenth and early-twentieth centuries. Throughout, the camera was both a witness to the colonialism, capitalism, and gendered and racialized social organization, and a protagonist. And women across the country, whether residents or visitors, captured people and places that were entirely new to the lens. This book shows how they did so, and the meaning their work carries.Colleen Skidmore surveys the professional lives and photographs of nearly eighty women – studio portraitists, travel documentarians, photojournalists, fine artists, hobbyists, and photographic printers – from Lucy Maude Montgomery on Prince Edward Island to Élise Livernois in Quebec City, and from Margaret Bourke-White in the Arctic to Hannah Maynard on Vancouver Island.Why women? Why not women? Presenting the exceptional range and impact of their work, Rare Merit proves that women's practices and images – knowingly omitted from founding narratives of photographic history – were diverse, compelling, widespread, and influential.
Rare Merit illuminates the impact of women as portraitists, travel documentarians, photojournalists, fine artists, hobbyists, and printers in the early years of photography in Canada.
The west coast region of Vancouver Island encompasses mountainous terrain, rainforest, mudflats, and ragged coastlines that bear the brunt of storms spawned by an immense ocean. Remote and inaccessible to birders until well into the twentieth century, the rugged beauty of this "wild west coast," attracts visitors from far and wide. And it also boasts a distinctive avian population that has made it one of Canada's premier bird-watching destinations.The Birds of Vancouver Island's West Coast is the essential guide to the region's birds. It presents accounts of all of the species thus far recorded as occurring there – 360 in total – and updates the 231 species recorded up to 1978. Each account includes a brief introduction to the species and an overview of its total range. Key to the book's detailed and authoritative accounts are first-hand observations and anecdotes recorded by the author over more than forty years. By far the most detailed and up-to-date account of the birds of this region, this book will inform, delight, and surprise amateur and professional birders alike.
A detailed account of the 360 species of birds recorded on the wild west coast of Vancouver Island and its offshore waters.
Corporate Power, Civic Activism, and the Remaking of Downtown Yonge Street
From the 1950s to the 1970s, downtown North America was reconfigured for the suburban age. Municipal officials planned renewal schemes, merchant groups lobbied for street improvements, developers built bigger and taller. Everywhere, attention turned to the problems and possibilities at the commercial and civic heart of cities.The Heart of Toronto follows one such example of reinvention: downtown Yonge Street. Efforts to keep pace with, or even lead, urban change included the street's conversion into a car-free public space, a clean-up campaign targeting the sex industry, and the construction of North America's largest urban shopping mall. These revitalization projects were all connected to wider trends of postwar decentralization, economic restructuring, and cultural transformation.Interweaving histories of development, civic activism, and corporate clout, The Heart of Toronto widens our understanding of the actors and power dynamics involved in remaking downtown in Canada's largest city – a process that is far from over.
From the sidewalk to City Hall, in the corporate boardroom, and around the kitchen table, The Heart of Toronto traces the power dynamics and projects that have transformed downtown Toronto.
At the age of seventeen, an Anishinabe boy who was raised in the south joined a James Bay Cree family in a one-room hunting cabin in the isolated wilderness of northern Quebec. He learned a way of life on the land that few are familiar with. Reflecting on those five months and his search for his own personal identity, that boy – Duncan McCue – takes us on an evocative exploration of the teenage years, growing up in a mixed-race family, and the culture shock of moving to the unfamiliar North. In the process, he illustrates the relationship Indigenous peoples have with their lands, and the challenges urban Indigenous people face when they seek to reconnect to traditional lifestyles.The Shoe Boy is a contemplative, honest, and unexpected coming-of-age memoir set in the context of the Cree struggle to protect their way of life, after massive hydro-electric projects forever altered the landscape they know as Eeyou Istchee.
The Shoe Boy is an evocative exploration of Indigenous identity and connection to the land, expressed in guise of a unique coming-of-age memoir set on a trapline in northern Quebec.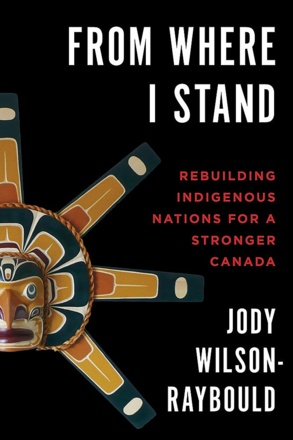 Rebuilding Indigenous Nations for a Stronger Canada
An Indigenous leader who has dedicated her life to Indigenous Rights, Jody Wilson-Raybould has represented both First Nations and the Crown at the highest levels. And she is not afraid to give Canadians what they need most – straight talk on what has to be done to collectively move beyond our colonial legacy and achieve true reconciliation in Canada. In this powerful book, drawn from speeches and other writings, she urges all Canadians – both Indigenous and non-Indigenous – to build upon the momentum already gained in the reconciliation process or risk hard-won progress being lost.The good news is that Indigenous Nations already have the solutions. But now is the time to act and build a shared postcolonial future based on the foundations of trust, cooperation, recognition, and good governance. Frank and impassioned, From Where I Stand charts a course forward – one that will not only empower Indigenous Peoples but strengthen the well-being of Canada and all Canadians.
Jody Wilson-Raybould outlines in impassioned, inspiring prose the actions that must be taken by governments, Indigenous Nations, and all Canadians to achieve true reconciliation in this country.
David Neel was an infant when his father, a traditional Kwakiutl artist, returned to the ancestors, triggering a series of events that would separate David from his homeland and its rich cultural traditions for twenty-five years. Drawing on memories, legends, and his own art and portrait photography, David Neel recounts his struggle to reconnect with his culture after decades of separation and a childhood marred by trauma and abuse. He returned to the Pacific Coast in 1987, where he apprenticed with master carvers from his father's village.The art of his ancestors and the teachings of the people he met helped make up for the lost years and fuelled his creativity. His career as a multimedia artist also gave him the opportunity to meet and photograph leading artists, knowledgeable elders, and prominent people from around the world. The Way Home is an uplifting tale that affirms the healing power of returning home. It is also a testament to the strength of the human spirit to overcome great obstacles, and to the power and endurance of Indigenous culture and art.
Crafted from memories, legends, and art, this powerful memoir tells the uplifting story of an Indigenous man's struggle to reconnect with his culture and walk in the footsteps of his father and the generations of Kwakwa̱ka̱'wakw artists that came before him.
Find what you're looking for...
Stay Informed
Receive the latest UBC Press news, including events, catalogues, and announcements.
Publishers Represented
UBC Press is the Canadian agent for several international publishers. Visit our
Publishers Represented
page to learn more.