Reaction and Resistance
Feminism, Law, and Social Change
The image of "backlash" is pervasive in contemporary debates about the impact of second-wave feminism on law and policy. But does it really explain the resistance to feminist initiatives for social change in contemporary culture?
In this timely volume, contributors from various disciplines analyze reaction and resistance to feminism in several areas of law and policy – child custody, child poverty, sexual harassment, and sexual assault – and in a number of institutional sites, such as courts, legislatures, families, the mainstream media, and the academy. Collectively, their studies paint a more complicated, often contradictory, picture of feminism, law, and social change than the popular image of backlash suggests.
Reaction and Resistance offers feminists and other activists empirically grounded knowledge that can be used to develop legal and political strategies for change.
Reaction and Resistance adds to the extant critical and feminist theorizing about the workings of social movements and counter-movements. Their research provides empirically grounded knowledge that feminists and other social activists can draw on in developing new legal and political strategies…. The contributors, taken together, bring an interdisciplinary, historically informed approach to the analysis of feminism, law, and social change. The chapters provide exemplars of the complete range of issues that feminists have addressed. They build on and expand the existing work and synthesize knowledge about the dynamics and impacts of feminist social movements.
This text provides an analysis of the resistance to feminism evident in the Courts, government, media and academia. As a result of these views, a wide range of social ills have been allowed to proliferate including child poverty, sexual harassment and sexual assault. […] The book is a well organized outline of what remains to be done, and what can be done, to achieve equality between men and women.
This is an excellent collection that gets to the heart of a number of very important policy debates in Canada from a feminist legal standpoint. The two major strands that weave through all of the papers – backlash and the effects of neoliberalism – are very important both theoretically and from an activist perspective. Greater understanding of how these larger social processes work will provide significant strength to scholarly and activist communities.
Dorothy E. Chunn is a professor of sociology at Simon Fraser University. Susan B. Boyd is a professor of saw and holds the Chair in Feminist Legal Studies at the University of British Columbia. Hester Lessard is a professor of law at the University of Victoria.
Acknowledgments
1 Feminism, Law, and Social Change: An Overview / Dorothy E. Chunn, Susan B. Boyd, and Hester Lessard
Part 1: Media Representations of Feminism, Anti-Racism, and Their Counter-Movements
2 "Take It Easy Girls": Feminism, Equality, and Social Change in the Media / Dorothy E. Chunn
3 Virtual Backlash: Representations of Men's "Rights" and Feminist "Wrongs" in Cyberspace / Robert Menzies
4 Imperial Longings, Feminist Responses: Print Media and the Imagining of Nationhood after 9/11 / Sunera Thobani
Part 2: Sexual Terrains: Criminal Law and the Campus
5 The Discursive Disappearance of Sexualized Violence: Feminist Law Reform, Judicial Resistance, and Neo-liberal Sexual Citizenship / Lise Gotell
6 Backlash in the Academy: The Evolution of Campus Sexual Harassment Regimes / Hester Lessard
Part 3: Familial Identities and Neo-Liberal Reform
7 Feminism, Fathers' Rights, and Family Catastrophes: Parliamentary Discourses on Post-Separation Parenting, 1966-2003 / Susan B. Boyd and Claire F.L. Young
8 Child-Centred Advocacy and the Invisibility of Women in Poverty Discourse and Social Policy / Wanda Wiegers
9 Challenging Heteronormativity? Reaction and Resistance to the Legal Recognition of Same-Sex Partnerships / Claire F.L. Young and Susan B. Boyd
Contributors
Index
Related Titles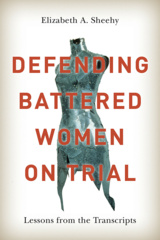 Defending Battered Women on Trial
Lessons from the Transcripts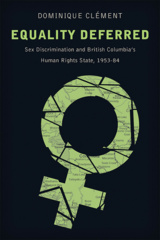 Equality Deferred
Sex Discrimination and British Columbia's Human Rights State, 1953-84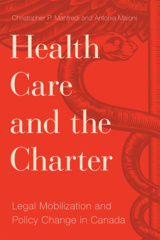 Health Care and the Charter
Legal Mobilization and Policy Change in Canada
Women, Film, and Law
Cinematic Representations of Female Incarceration
No Legal Way Out
R v Ryan, Domestic Abuse, and the Defence of Duress
By Nadia Verrelli and Lori Chambers
Banning Transgender Conversion Practices
A Legal and Policy Analysis
House Rules
Changing Families, Evolving Norms, and the Role of the Law
Edited by Erez Aloni and Régine Tremblay
Family Law in Action
Divorce and Inequality in Quebec and France
By Emilie Biland; Translated by Annelies Fryberger and Miranda Richmond Mouillot
‹
›
Find what you're looking for...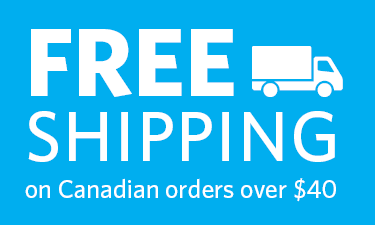 Stay Informed
Receive the latest UBC Press news, including events, catalogues, and announcements.
Publishers Represented
UBC Press is the Canadian agent for several international publishers. Visit our
Publishers Represented
page to learn more.