25 charts/diagrams, 18 tables, 4 text boxes
Sustainable Energy Transitions in Canada
---
Sustainable Energy Transitions in Canada is also available as an open access PDF. Use the button on the left, or visit the special open access page, to download.
---
Canadian energy systems need to change. Beyond providing essential energy services, they must mitigate and respond to climate change, enhance social justice, and remain sensitive to local cultures and traditions. Can they do this and still make financial sense?
Framed through the relationship between decarbonization and energy sustainability and justice, Sustainable Energy Transitions in Canada brings together experts from across the country to share their perspectives on leading theories and practices. Contributors first deal with the broad conceptual aspects of energy transitions, investigating such topics as energy justice and poverty, the decolonization of energy, community energy planning, the role of energy systems modelling, and links between energy and climate change policy. Building on this foundation, they offer case studies that cover the North, the Atlantic region, Quebec, Ontario, Alberta, and British Columbia along with crucial sectors like transportation and space heating.
These experts reveal the potential tensions between top-down policy approaches and bottom-up community models and highlight the impact of major events like the COVID-19 pandemic and the war in Ukraine. Running throughout their rigorous, comprehensive discussion is a common thread: the importance of paying attention to wider sustainability goals in the process of decarbonizing the Canadian economy.
Scholars and practitioners working in the areas of climate change, energy systems transitions, sustainability, energy policy, and environmental policy will find this collection invaluable. It will also be highly relevant for upper-level courses in climate change, energy, and environmental policy.
Mark S. Winfield is a professor of environmental and urban change, and co-chair of the Sustainable Energy Initiative at York University. He is the author of Blue-Green Province: The Environment and the Political Economy of Ontario. Stephen D. Hill is an associate professor and director of the School of the Environment at Trent University. He has been awarded the Symons Award for Excellence in Teaching, the CMHC Award for Excellence in Education, and Trent's Community Leadership Award. James R. Gaede is a research manager at Efficiency Canada, Carleton University, and lead author of the annual Canadian Energy Efficiency Scorecard report.
Preface
Acknowledgments
Introduction: Climate Change, Decarbonization, and Energy Sustainability
MARK S. WINFIELD, STEPHEN D. HILL, and JAMES R. GAEDE
1 Accelerating Low-Carbon Energy Transitions
JAMES MEADOWCROFT and DANIEL ROSENBLOOM
2 Modelling Energy Transitions: Exploring Pathways to Decarbonization through Energy Systems Integration
MADELEINE McPHERSON
3 The Role of Community Energy Planning in Energy Transition Management
KIRBY CALVERT
4 Energy Justice and Poverty: A Case Study for Ontario
THERESA McCLENAGHAN, ZEE BHANJI, JACQUELINE WILSON, AND MARY TODOROW
5 Decolonizing Sustainable Energy Policy in Canada
HEATHER CASTLEDEN                                            
 6 Energy and Climate Policy Intersections
DOUGLAS C. MACDONALD and MARK S. WINFIELD
7 Sustainable Energy in Canadian Territorial Communities:  An Opportunity for Transformative Change or Stalled on  the Margins?
ALEXANDRA MALLETT, JESSICA LEIS, ROSA BROWN, DAVID CODZI, and JIMMY ARQVIQ
8 Megaprojects and Community Power: Managing Tensions and Alignments in Atlantic Canada's Energy Transition
BRENDAN HALEY, ANGELA CARTER, MICHELLE ADAMS, and NICHOLAS MERCER
9 The Quebec Energy System: How to Optimize Its Low-Carbon Advantage?
PIERRE-OLIVIER PINEAU and JOHANNE WHITMORE
10 Ontario: Transitioning in Reverse?
STEPHEN D. HILL, MARK S. WINFIELD, and JAMES R. GAEDE
11 Alberta's Quiet but Resilient Electricity Transition
BENJAMIN J. THIBAULT, TIM WEIS, and ANDREW LEACH
12 Subnational Climate Policy Leadership in British Columbia: Past, Present, and Potential Futures
AARON PARDY, THOMAS BUDD, and MARK JACCARD
13 Decarbonizing Residential Heating: The Fossil Gas Challenge
RICHARD CARLSON
14 Transportation, Energy, and Climate Change
COLLEEN KAISER and MARK PURDON
Conclusion: Pathways to Sustainable Energy Transitions
MARK S. WINFIELD, STEPHEN D. HILL, and JAMES R. GAEDE
Contributors
Index
Related Titles
Breaching the Peace
The Site C Dam and a Valley's Stand against Big Hydro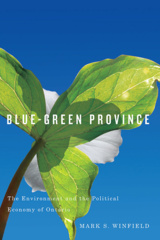 Blue-Green Province
The Environment and the Political Economy of Ontario
Fossilized
Environmental Policy in Canada's Petro-Provinces
Power from the North
Territory, Identity, and the Culture of Hydroelectricity in Quebec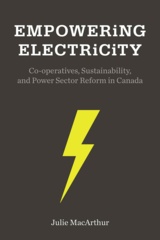 Empowering Electricity
Co-operatives, Sustainability, and Power Sector Reform in Canada
‹
›
Find what you're looking for...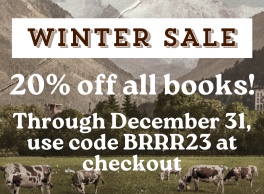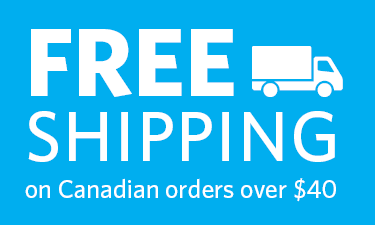 Stay Informed
Receive the latest UBC Press news, including events, catalogues, and announcements.
Publishers Represented
UBC Press is the Canadian agent for several international publishers. Visit our
Publishers Represented
page to learn more.