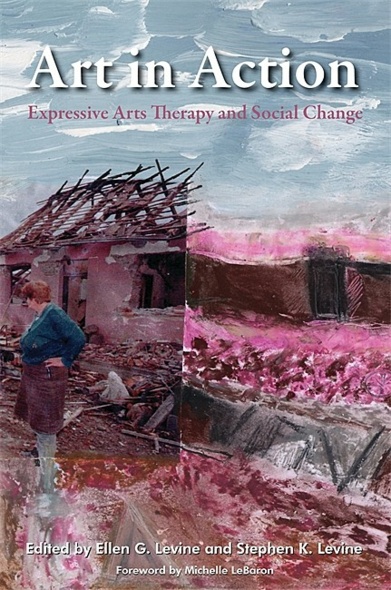 Art in Action
Expressive Arts Therapy and Social Change
Jessica Kingsley Publishers
The field of expressive arts is closely tied to the work oftherapeutic change. As well as being beneficial for the individual orsmall group, expressive arts therapy has the potential for a much widerimpact, to inspire social action and bring about social change.
The book's contributors explore the transformative power of thearts therapies in areas stricken by conflict, political unrest, povertyor natural disaster and discuss how and why expressive arts works. Theylook at the ways it can be used to engage community consciousness andimprove social conditions whilst taking into account the issues thatarise within different contexts and populations. Leading expressivearts therapy practitioners give inspiring accounts of their work, fromusing poetry as a tool in trauma intervention with Iraqi survivors ofwar and torture, to setting up storytelling workshops to aid theintegration of Ethiopian Jewish immigrants in Israel.
Offering visionary perspectives on the role of the arts in inspiringchange at the community or social level, this is essential reading forstudents and practitioners of creative and expressive arts therapies,as well as psychotherapists, counsellors, artists and others working toeffect social change.
Ellen G. Levine is co-founder and faculty of ISISCanada and a Senior Staff Social Worker at the Hincks-Dellcrest Centrefor Children's Mental Health in Toronto, Canada. She is CoreFaculty and Dean of Individualized Studies in Expressive Arts Therapyat the European Graduate School in Switzerland. Stephen K.Levine is Professor Emeritus of Social Science at YorkUniversity in Toronto, Canada, Vice-Provost and Dean of the DoctoralProgram in Expressive Arts Therapy: Education, Consulting and SocialChange at the European Graduate School in Switzerland, and Co-Directorof ISIS Canada.
Foreword: Eureka! Discovering Gold in a Leaden World, Michelle LeBaron.
Part I: Principles. 1. Art Opens to the World: Expressive Arts and
Social Action, Stephen K. Levine. 2. From Social Change to Art Therapy
and Back Again: A Memoir, Ellen Levine. 3. Social Activism within
Expressive Arts "Therapy": What's in a Name? Karen
Estrella. 4. Communal Art-making and Conflict Transformation, Paolo
Knill. 5. From the Studio to the World: How Expressive Arts Therapy Can
Help Further Social Change, Shaun McNiff. Part II: Issues. 6. A
Social-Critical Reading of Indigenous Women's Art: The Use of
Visual Data to 'Show,' rather than 'Tell,' of the
Intersection of Different Layers of Oppression, Ephrat Huss. 7.
Inside-out Outside-in: Found Objects and Portable Studio, Debra
Kalmanowitz and Bobby Lloyd. 8. From Private Pain Toward Public Speech:
Poetry Therapy with Iraqi Survivors of Torture and War, Shanee
Stepakoff, Samer Hussein, Mariam Al-Salahat, Insherah Musa, Moath
Asfoor, Eman Al-Houdali, and Maysa Al-Hmouz. Part III: Projects. 9. The
Choreography of Absence: (In)habiting the Imagination After War, Carrie
MacLeod. 10. Creating Space for Change: The Use of Expressive Arts with
Vulnerable Children and Women Prisoners in Sub-Saharan Africa, Gloria
Simoneaux. 11. Beauty in the Rough Places, Karen Abbs. 12. Art as a
Gift: Expressive Arts in Bolivia, Sally Atkins. 13. A Black Dog on a
Green Meadow: Doing Expressive Arts Therapy in Peru: Some Headlines,
TAE Peru (Judith Alalu, Jose Miguel Calderon, Ximena Maurial, Monica
Prado, Martin Zavala). 14. These Stories are Burning a Hole in my
Brain: Using the Arts to Tell the Stories of the Ethiopian Jewish
Immigrant Community in Israel, Vivien Marcow Speiser and Samuel
Schwartz. Afterword: The Power of Poiesis, MaryBeth Morand.
Find what you're looking for...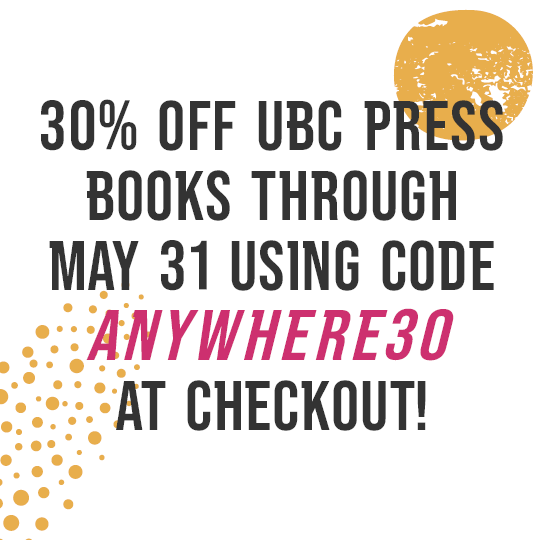 Stay Informed
Receive the latest UBC Press news, including events, catalogues, and announcements.
Publishers Represented
UBC Press is the Canadian agent for several international publishers. Visit our
Publishers Represented
page to learn more.