New and Recent in Asian Studies
The Japanese Invasion of China, 1931–45
From 1931 to 1945, as Japanese imperialism spread throughout China, three distinct regions experienced life under occupation: Manchukuo, East China, and North China. Yet despite the enduring importance of the occupation to world history and historical memory in East Asia, Translating the Occupation is the first English-language volume to make available key sources from this period to both scholars and students. Contributors have translated texts from Chinese, Japanese, and Korean on a wide range of subjects. Each is accompanied by a short essay to contextualize the translation and explain its significance. This volume offers a practical, accessible sourcebook from which to challenge standard narratives. The texts have been selected to deepen our understanding of the myriad tensions, transformations, and continuities in Chinese wartime society. Translating the Occupation reasserts the centrality of the occupation to twentieth-century Chinese history, opening the door further to much-needed analysis.
Featuring a collection of translated texts written by writers who lived through the occupation, Translating the Occupation challenges and deepens our understanding of the tensions and transformations that Japanese invasion wrought on Chinese society.
The Japanese in Changchun, 1905–45
Civilians play crucial roles in building empires. Constructing Empire shows how Japanese urban planners, architects, and other civilians contributed – often enthusiastically – to constructing a modern colonial enclave in northeast China, their visions shifting over time. Japanese imperialism in Manchuria before 1932 developed in a manner similar to that of other imperialists elsewhere in China, but the Japanese thereafter sought to surpass their rivals by transforming the city of Changchun into a grand capital for the puppet state of Manchukuo, putting it on the cutting edge of Japanese propaganda. Providing a thematic assessment of the evolving nature of planning, architecture, economy, and society in Changchun, Bill Sewell examines the key organizations involved in developing Japan's empire there as part of larger efforts to assert its place in the world order. This engaging book sheds light on evolving attitudes toward empire and perceptions of national identity among Japanese in Manchuria in the first half of the twentieth century.
While other studies focus on the role of diplomats and the military, Constructing Empire demonstrates that building the Japanese empire also required civilian participation.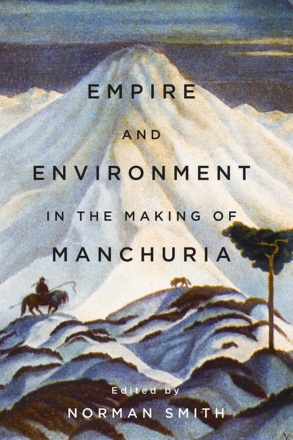 Since the seventeenth century, Chinese, Japanese, Manchu, Russian, and other imperial forces have defied Manchuria's unrelenting summers and unforgiving winters to fight for sovereignty over the natural resources of Northeast Asia. Until now, historians have focused on rivalries between the region's imperial invaders. Empire and Environment in the Making of Manchuria examines the interplay of climate and competing economic and political interests in the region's vibrant – and violent – cultural narrative. In this unique and compelling analysis of Manchuria's environmental history, contributors demonstrate how geography shaped the region's past. Families that settled this borderland reaped its riches while at the mercy of an unforgiving and hotly contested landscape. As China's strength as a world leader continues to grow, this volume invites exploration of the indelible links between empire and environment – and shows how the geopolitical future of this global economic powerhouse is rooted in its past.
This unique analysis of Manchuria's environmental history provides an overview of the climatic and imperialist forces that have shaped an area of ongoing geopolitical importance.
The Folklore Movement in Republican China
The Modern Chinese Folklore Movement coalesced at National Peking University between 1918 and 1926. A group of academics, inspired by Western thought, turned to the study of folklore – popular songs, beliefs, and customs – to rally people around the flag. Saving the Nation through Culture opens a new chapter in the history of the Folklore Movement by exploring the evolution of the discipline's Chinese branch. Gao reveals that intellectuals in the New Culture Movement influenced the founding folklorists with their aim to repudiate Confucianism following the Chinese Republic's failure to modernize the nation. The folklorists, however, faced a unique challenge – advocating for modern academic methods while upholding folklore as the key to the nation's salvation. Largely unknown in the West and underappreciated in China, the Modern Folklore Movement failed to achieve its goal of reinvigorating the Chinese nation. But it helped establish a modern discipline, promoting a spirit of academic independence that influences Chinese intellectuals today.
Saving the Nation through Culture tells the little-known story of how a group of Chinese scholars attempted to use "low culture" to promote national unity during a long period of crisis.
Statesman or warlord? Yuan Shikai (1859–1916) has been both hailed as China's George Washington for his role in the country's transition from empire to republic and condemned as a counter-revolutionary. In any list of significant modern Chinese figures, he stands in the first rank. Yet Yuan Shikai: A Reappraisal sheds new light on the controversial history of this talented administrator, fearsome general, and enthusiastic modernizer. Due to his death during the civil war his actions provoked, much Chinese historiography portrays Yuan as a traitor, a usurper, and a villain. After toppling the last emperor of China, Yuan endeavoured to build dictatorial power and establish his own dynasty while serving as the first president of the new republic, eventually going so far as to declare himself emperor. Drawing on previously untapped primary sources and recent scholarship, Patrick Fuliang Shan offers a lucid, comprehensive, and critical new interpretation of Yuan's part in shaping modern China.
This first major comprehensive study of Yuan Shikai in more than half a century explores the controversial life of one of the most important figures in China's transition from empire to republic.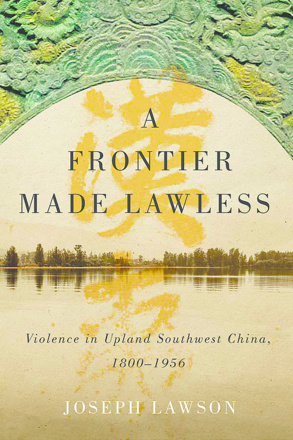 Violence in Upland Southwest China, 1800-1956
In the nineteenth and early twentieth centuries, the region of Liangshan in southwest China was plagued by violence. Indigenous Nuosu communities clashed with Han migrants, the Qing and Republican states, and local warlords. Large numbers of Nuosu and Han alike were kidnapped and killed in widespread patterns of captive taking. The first English-language history of Liangshan, A Frontier Made Lawless challenges the view that the persistent turmoil was the result of population pressures, opium production, and the growth of local paramilitary groups. Instead, Joseph Lawson argues that the conflict resulted from the lack of a common framework for dealing with property disputes, compounded by the repeated destabilization of the region by turmoil elsewhere in China. Drawing on a range of sources including court records, locals' memoirs, regional government records and surveys, and Nuosu epic poetry, Lawson adds new insights and comparative perspectives to the study of conflict in Liangshan.
In the first Western language history of Liangshan, Joseph Lawson argues that the region was not inherently violent but made violent by turmoil elsewhere in China.
International Norms and Chinese Perspectives
Globally, isolationism and protectionism are on the rise, and resurgent authoritarian nations are reasserting the centrality of the sovereign state. And with China's influence around the world intensifying, the dynamic interrelationship of the national and supranational in shaping norms of good governance has become increasingly relevant. Good Governance in Economic Development critically examines the ways in which transparency and accountability mechanisms are incorporated or reflected in international trade, finance, and investment regimes. It also explores the Chinese state's engagement with these norms, shedding new light not only on how the principles of transparency, accountability, and public participation are applied within China, but also on the ability of China to affect international rules. Through close analysis of how norms are adapted locally, the contributors offer insights into the global and national implications of international good governance rules.
Good Governance in Economic Development examines what happens at the intersection of international and Chinese conceptions of transparency, accountability, and public participation.
Over the last twenty years, India has enacted legislation to turn crucial goals such as food security, primary education, and employment into legal rights for its citizens. But enacting laws is one thing and implementing them through an imperfect institutional structure is another. A Human Rights Based Approach to Development in India examines a diverse range of human development issues over a period of rapid economic growth in India. Demonstrating why institutional and economic development are synonymous, the essays in this volume detail the many obstacles that may hinder development. In addition, they show how the domestic policies required to implement laws may undermine India's treaty obligations at the World Trade Organization or under the Agreement on Trade-Related Aspects of Intellectual Property Rights. The contributors ultimately ask whether development can be achieved by making it a legal right and whether India's right to develop is truly at odds with its international commitments.
This book demonstrates why economic development is synonymous with institutional development for the furthering of human development issues.
Asian Studies from our Publishing Partners
Integrated Korean
Accelerated 1
Transnational Korean Cinema
Cultural Politics, Film Genres, and Digital Technologies
By Dal Yong Jin
Chinese Pure Land Buddhism
Understanding a Tradition of Practice
By Charles B. Jones Series edited by Richard K. Payne
Buddhism after Mao
Negotiations, Continuities, and Reinventions
Edited by Ji Zhe, Gareth Fisher and André CA Laliberté
Confucianism
Its Roots and Global Significance
By Ming-huei Lee Edited by David Jones Series edited by Roger T. Ames and Peter D. Hershock
‹
›
Find what you're looking for...
Publishers Represented
UBC Press is the Canadian agent for several international publishers. Visit our
Publishers Represented
page to learn more.