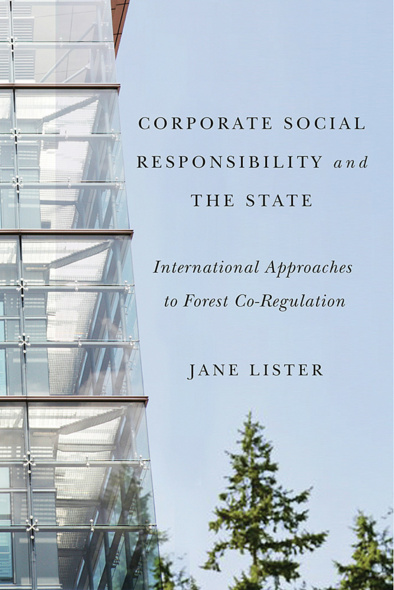 Corporate Social Responsibility and the State
International Approaches to Forest Co-Regulation
Public concern about corporate impacts on global environmental andsocial conditions has been mounting. In response, many corporationshave engaged in voluntary corporate social responsibility (CSR)programs that aim to address sustainability issues across a wide rangeof sectors. Such efforts are promising in principle, but in reality,CSR participation has unfolded unevenly across the globe. This inequityhas led to increasing skepticism about the efficacy of voluntary CSRefforts, and to increased pressure on governments to be moreinvolved.
In Corporate Social Responsibility and the State, JaneLister examines CSR governance through the lens of forest certificationin Canada, the US, and Sweden. Her comparative investigation draws onmore than a hundred interviews with key stakeholders to yield unique,practical information on the governing of CSR. Lister ultimately arguesthe importance of co-regulation, whereby private rule-making systemsserve as a complement to strong state regulation.
One of the first studies to directly address the role of the publicsector in CSR, this engaging book provides a theoretical perspectiveand much-needed guidance on the new governance model of co-regulatingCSR to achieve effective social and environmental stewardship.
This book will be of primary interest to forest-policy–makers,scholars of environmental politics and business strategy, environmentalNGOs, and forest company managers. It will also appeal to a broaderrange of civil society groups, government and industry agencies,educators, and informed general readers interested in corporate socialresponsibility research and implementation.
RELATED TOPICS:
Business & Industry
,
Canadian Politics
,
Environmental Conservation & Sustainability
,
Environmental Law
,
Environmental Philosophy & Ethics
,
Environmental Politics
,
Environmental Studies
,
Law
,
Political Science
,
Public Policy & Administration
,
Resource Management & Policy
,
Resource Studies
This is a first-class study that makes a significant contribution to its field by developing and systematically applying a framework to evaluate governmental responses to forest certification at the national and sub-national levels.
This book presents an excellent study of the role of government in forest certification, and will be a seminal work in the field. The work is innovative and well-grounded, and it advances the science and understanding of 'polity, politics, and policy' of forest certification.
Jane Lister is a senior research fellow atthe Liu Institute for Global Issues at the University of BritishColumbia.
1 Introduction
2 Co-Regulating Corporate Social Responsibility
3 Government's Role in Forest Certification
4 Canada: Government Authority in Forest Certification
5 The United States: Enhanced Governance of Certified StateForests
6 Sweden: Public/Private Forest Policy Interplay and Innovation
7 Conclusion
Appendices: Research Interviews; The Leading Global ForestCertification Programs; Summary of US State Forest Agency Interviews;US State Forest Certification Audit Outcomes
Notes, References, Index
Related Titles
Forest Economics
By Daowei Zhang and Peter H. Pearse Foreword by Clark S. Binkley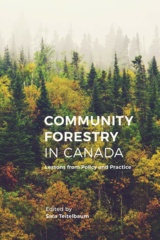 Community Forestry in Canada
Lessons from Policy and Practice
Edited by Sara Teitelbaum
‹
›
Find what you're looking for...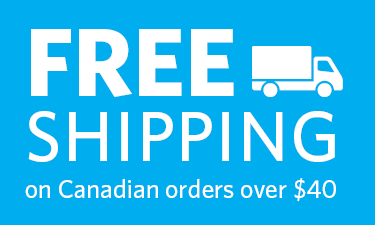 Stay Informed
Receive the latest UBC Press news, including events, catalogues, and announcements.
Publishers Represented
UBC Press is the Canadian agent for several international publishers. Visit our
Publishers Represented
page to learn more.