Cutting the Wire
Photographs and Poetry from the US-Mexico Border
University of New Mexico Press
Winner of the 2019 Southwest Book Award from the Border Regional Library Association
2018 Southwest Books of the Year

Cutting the Wire, a masterful collaboration between photographer Bruce Berman and poets Ray Gonzalez and Lawrence Welsh, offers us a way to look again, to really look, at the border between Mexico and the United States. Berman, who has photographed and lived in El Paso for decades, is a documentarian who uses his camera to record what's in front of him rather than for, as he puts it, "mere self-expression." Berman's visual investigations of the everyday realities of the border--detention centers, smeltertown cemeteries, kids playing along a river levee, descanso crosses on telephone poles for the disappeared--are exactly the stuff the poetry of Gonzalez and Welsh is made of. The multilayered histories of the border landscape provide an inexhaustible supply of rich and fertile raw material for both Gonzalez and Welsh. But their poetic visions allow them to capture elements of a personal and collective past that historians have often failed to record.
Cuts past polemics to deliver a striking view of life on both sides of the border. . . . Berman's photography displays impressive range, from candid slice-of-life shots to almost surreal collisions of landscape and human-made objects.'--Foreword Reviews
Two poets and a photojournalist capture the complexity, desolation, and richness of the borderlands in this melding of literature with visual art. . . . The work is an organically cohesive, gritty, rich, revealing, transcendent portrait of the borderlands.'--Southwest Books of the Year
Bruce Berman is an associate professor of photojournalism at New Mexico State University and has been a working photojournalist for national and international publications since the late 1960s. For the past thirty-five years his work has concentrated on the borderlands area that encompasses El Paso, Texas, and Juárez, Mexico. Ray Gonzalez is a professor of literature at the University of Minnesota. He is also the recipient of the Carr P. Collins / Texas Institute of Letters Award, the PEN / Oakland Josephine Miles Book Award, the Western Heritage Award, the Latino Heritage Award, and the Minnesota Book Award, and he was recently rewarded the Witter Bynner Fellowship from the Library of Congress. Lawrence Welsh is a professor of English at El Paso Community College. He is the author of ten books of poetry, including the award-winning Begging for Vultures: New and Selected Poems, 1994-2009 (UNM Press). An award-winning journalist and essayist, his work has appeared in more than two hundred national and regional publications.
Editor's Note
Lisa McNiel
Introduction
David Dorado Romo

Bruce Berman and Ray Gonzalez
It Should Have Happened Long Ago
El Paso
The Fingers Light the Western Stars
Under the Adobe
In My Hands
The Desert Floor
Footprints
Black Border Wall
Distance
It Flew Away
T-Shirt Shop on Santa Fe Street
Tortilla Factory
The Visitations on Alameda Street
Home Town
Wood
Chamberino
Resler Canyon
Everything that Comes before Reason, Aguirre Springs, Organ Mountains
Trying to Write Poetry
Pray Lizard
Looking for the Scorpion
Bilingual
The Cave at Bear Paws Site, Franklin Mountains
Searching for Max Ernst in Sedona, Arizona
Memorize the Trees
Solitude
Mesilla Moon
The Border Is a Line

Bruce Berman and Lawrence Welsh
Dyer's Angels
The Crossing
Desert Moon Driver
Virgin / San Lorenzo
Road to El Paso--Revisited
May 31
Shadow Burn
Mesa Blues
Smeltertown Crucifix
Last Exit: Doniphan
Socorro General Store
Toward Chinati
Old Railroaders
The Initiate
New Rosary
Border Light
Wolf and Sunflower
Dyer
Puro Oro Grande
Yellow Carnations / Day of the Dead
A Bath for Oro Grande
El Paso Smelter at Night, 1919
Ghosts of Asarco
The Gutting of Wildhare's
Where the Boys Are
After the Sons of Villa
Old Border Highway Blues
Somewhere in Texas

Contributors
Find what you're looking for...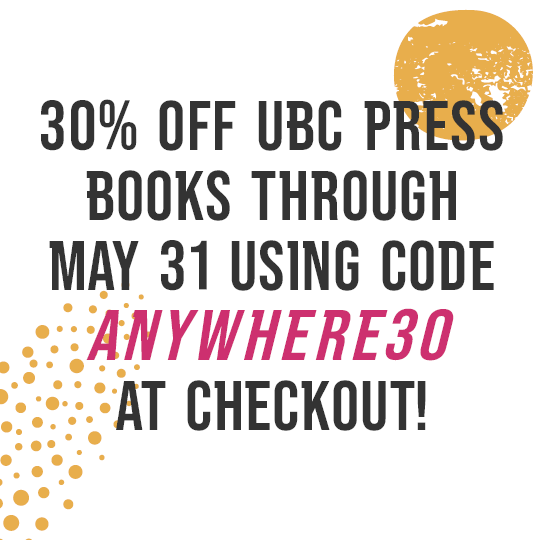 Stay Informed
Receive the latest UBC Press news, including events, catalogues, and announcements.
Publishers Represented
UBC Press is the Canadian agent for several international publishers. Visit our
Publishers Represented
page to learn more.