Gather the Night
Poems
University of New Mexico Press
This debut collection reads like an elegy, not just for the author's brother Lou, stricken with schizophrenia, but for all families affected by mental illness. Through multiple personae and a variety of styles, Seluja offers a gritty authenticity and empathy to the subjects and themes. These poems grieve for a world of the lost while extending solace to those who remain and remember.
Quietly powerful . . . Gather the Night ambitiously takes on the task of speaking about loss, addiction, madness, grief, and love, bringing us into its intimate confrontations. We emerge from reading it with a deeper understanding of all of the above, a sense of wonder at the way we get through the harder, harsher aspects of our lives, and an appreciation for poets and nurses like Seluja who guide the way.'--Intima: A Journal of Narrative Medicine
Reading Seluja's exquisite first collection feels like a sacred act of gathering. . . . This is an honest, heartbreaking homage to a brother lost to the world but held tenderly in the heart of his sister.'--Booklist
Gather the Night is a poetic love letter to Seluja's brother Lou and to all schizophrenics. . . . These poems capture the wonder and grief of those who have loved the afflicted, witnessed their buzzing world, and endured their loss.'--Valerie Martínez, author of Each and Her
When you stop breathing while reading, you know you are there. . . . Gather the Night is a 'rupture so much closer than it seems.''--Meg Tuite, author of Bound by Blue: Stories
Katherine DiBella Seluja is a pediatric nurse practitioner and a poet.
Time Travel
Storm Hymn
Kata
Chiquita
Adirondack Green
Local Grown
Neighborhood Of
She Wore Opals at Her Neck
Three Kites
Grasp
Self-Inflicted
You Left the Candle All Night
Ice Candle Recipe
Dipping the Dead
Blue Dye on Eggshell
For Webster's Next Edition

Free Concert
Of Calamine and Honey
Admission
The Psychiatrist Said
Stigmata
Locked Ward
When Your Son Is Diagnosed in the 1960s
Schizophrenia
How to Walk on Water
Spinning with Thorazine
Dayroom Girl
Canyon Towhee
Jorge Jumped Three Times
Spread Wide Your Arms That Might Be Wings
Lines Found on the Dayroom Floor
Love Letter from the Ninth Floor

Sing to Me
Discharge
If Bacchus Had Left the Party Early
He Who Gathers the Night
Mojave Midnight
Travel Log
Dragon
Delirium Tremens
Arguing with Cirrhosis
Telephone, 4 a.m.
Notes to the Evening Nurse

Stars Speak
The History of Healing
To Reduce the Swelling
News of a Brother's Death
Blue Vase
Why Our Mother Hated Lilies
Weight of Hyacinth
For the Mother Who Fed Her Children Grass, a Blessing
The Empty Peace of Lung
You Will Find It in the Stillness
Do Our Ancestors Listen When Called
Here Among the Ruins
If What We Have is Incomplete
Undeniably Human
If You Need a Wall
The Function of Ghosts
Three Stones
Wanderlust
Luminescent

Acknowledgements
About the Author

Find what you're looking for...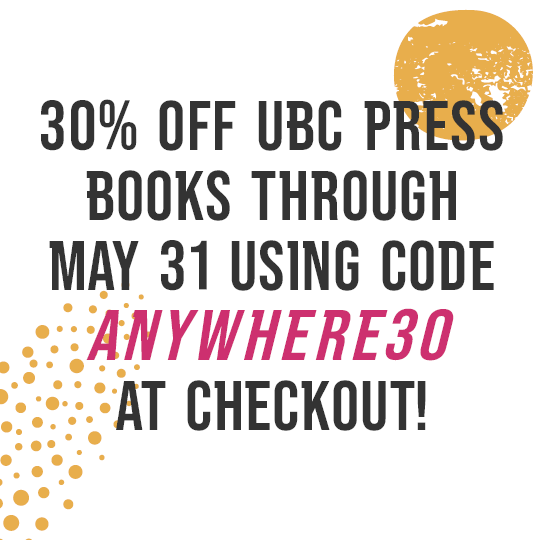 Stay Informed
Receive the latest UBC Press news, including events, catalogues, and announcements.
Publishers Represented
UBC Press is the Canadian agent for several international publishers. Visit our
Publishers Represented
page to learn more.