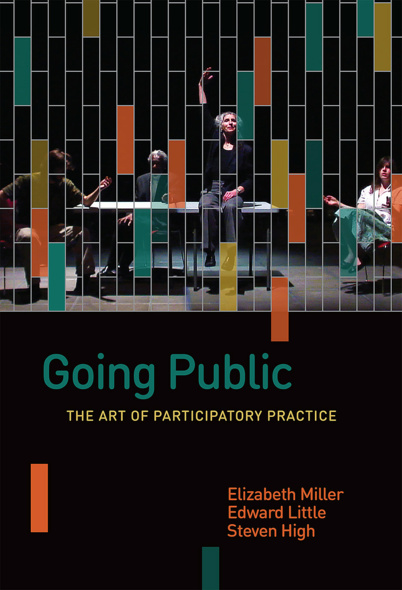 Going Public
The Art of Participatory Practice
Going Public responds to the urgent need to expand current thinking on what it means to co-create, to actively involve the public in research, and to reconceptualize research for public consumption. As researchers are increasingly taking their research from the campus to the public arena, what are the ethics of, and expectations for, social impact? New technologies, platforms, and methods are challenging community-engaged artists, academics, and media makers to rethink their approaches to collaboration.
This book encourages practitioners to spend their time not only on "production," but also on finding ways to use what is produced to open spaces of dialogue and action. Drawing on conversations with over thirty researchers and artists across multiple cultures and disciplines, it examines the ways in which oral historians, media producers, and theatre artists use art, stories, and participatory practices to engage creatively with their publics. The authors provide an overview of community-engaged practices and present case studies that grapple with issues of class struggle, gentrification, violence against women, and Indigenous rights.
Going Public offers insights into long-standing concerns around voice, aesthetics, appropriation, privilege, power dynamics, and the ethics of participation. It reveals that the shift towards participatory research and creative practices requires a commitment to asking tough questions about oneself and the ways that people's stories are used.
Going Public is for researchers interested in collaborative approaches across a range of disciplines, including theatre, communications, history, education, sociology, and anthropology, as well as practitioners interested in collaborative approaches to performance, documentary media, and oral history.
In an era attuned to new possibilities for collaboration via digital technologies, Going Public presents a rich tapestry of case studies in participatory media, performance, and oral history productions that aim for public action or increased dialogue about urgent social and political issues.
There are many conversations going on in this book that will help to change the way we think about community-engaged research practice. Going Public is a book to savour and to return to time and again.
Going Public functions as a passionate clarion call to revolutionize artistic and knowledge production as a way to grapple with the urgent issues of the twenty-first century. The authors practise what they preach, building continuous reflexivity around the challenges, pitfalls, protocols, and practices of learning to work with communities rather than producing art or knowledge about them.
Elizabeth Miller is a documentary maker and professor at Concordia University whose work addresses timely issues such as water privatization, refugee rights, gender advocacy and climate change. Her documentary The Water Front (2007) received six awards, including the Silver Drop Award at the World Water Forum. Mapping Memories (2012), a participatory media project, resulted in a book, DVD, and website designed for educators across Canada. At Home, in Bed, and in the Streets (2014) was screened at international festivals and integrated into advocacy campaigns in Nicaragua. The Shore Line (2017), an online documentary, profiles coastal communities responding to extreme weather, sea level rise and unsustainable development. Miller co-founded the Concordia Documentary Centre and is a board member of the international screening network Cinema Politica.
Edward (Ted) Little is an educator, essayist, writer, and theatre maker. He is a professor and chair of the Department of Theatre at Concordia University, and the associate artistic director of Teesri Duniya Theatre, an innovative Montreal-based company dedicated to the creation and production of socially and politically relevant theatre based on the cultural experiences of diverse communities. Little was editor-in-chief of the quarterly journal alt.theatre: cultural diversity and the stage (2002–12), and he participated in the Montreal Life Stories project as co-investigator, member of the coordinating committee, and leader of the Performance working group.
Steven High is a professor of history at Concordia University's Centre for Oral History and Digital Storytelling. He is the author or co-editor of eight other books, including Oral History at the Crossroads: Sharing Life Stories of Survival and Displacement (2014), which won the Clio Prize for Quebec from the Canadian Historical Association. He was the principal investigator of the Montreal Life Stories project. He is a member of the US Oral History Association and the Canadian Historical Association as well as an advisory board member of the journal Oral History.
Introduction
Part 1: Field Notes
1 Rethinking Engagement
In Conversation with jesikah maria ross
2 It's Complicated
In Conversation with Lisa Ndejuru
3 Going beyond the "Juicy Quotes Syndrome"
In Conversation with Ronit Avni
Part 2: Sites of Struggle
4 People First and First Peoples
In Conversation with the Storyweaving Project
5 At Home, in Bed, and in the Streets
In Conversation with Kelly Matheson
6 Listening to the Post-Industrial City
In Conversation with Toby Butler
Afterword
Appendix: Practitioners Interviewed
Notes; Selected Bibliography; Index
Related Titles
Beyond Testimony and Trauma
Oral History in the Aftermath of Mass Violence
Edited by Steven High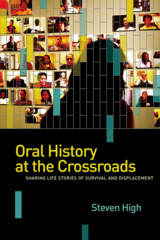 Oral History at the Crossroads
Sharing Life Stories of Survival and Displacement
By Steven High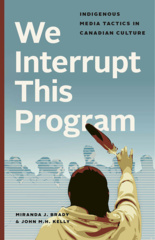 We Interrupt This Program
Indigenous Media Tactics in Canadian Culture
By Miranda J. Brady and John M.H. Kelly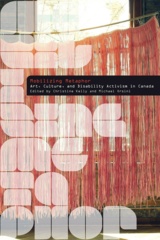 Mobilizing Metaphor
Art, Culture, and Disability Activism in Canada
Edited by Christine Kelly and Michael Orsini
Practising Community-Based Participatory Research
Stories of Engagement, Empowerment, and Mobilization
Edited by Shauna MacKinnon
Contact!Unload
Military Veterans, Trauma, and Research-Based Theatre
Edited by George Belliveau and Graham W. Lea
‹
›
Find what you're looking for...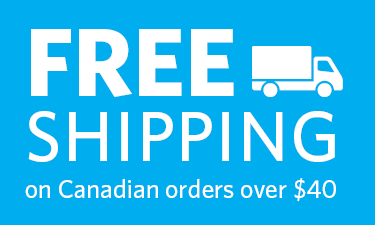 Stay Informed
Receive the latest UBC Press news, including events, catalogues, and announcements.
Publishers Represented
UBC Press is the Canadian agent for several international publishers. Visit our
Publishers Represented
page to learn more.