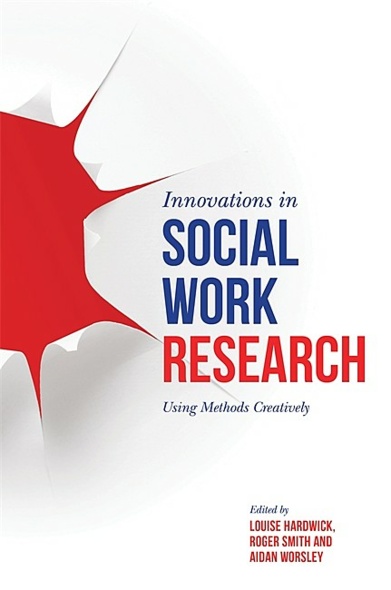 Innovations in Social Work Research
Using Methods Creatively
Jessica Kingsley Publishers
A valuable reference to help practising researchers to understand and apply innovative approaches to social work research.
By drawing on a wide range of methods, the book provides a detailed overview of a number of central features and qualities of social work research. It incorporates both distinctive methodological features, such as approaches to participatory inquiry, and provides accounts of researcher strategies to address particular challenges, such as carrying out studies with hard to reach populations. This book combines important methodological insights with helpful content addressing commonly experienced problems and how these challenges can be overcome.
This is a key resource for social work and social care students, social work practitioners and academics engaged in research across health and social care.
Louise Hardwick works in Department of Sociology, Social Policy and Criminology at the University of Liverpool. She originally practiced as a social worker before moving into academia. As well as research interests in critical pedagogical approaches and the impact of welfare reform on differing social groups, she is also Chair of the registered charity Interchange that links student researchers and voluntary organisations in participatory action research projects.
Roger Smith BA, MA, MPhil, PhD is Deputy Head of School (Research) and Professor of Social Work in the School of Applied Social Sciences at Durham University. He qualified as a social worker and practiced as a probation officer, specialising in youth justice. He was head of policy with The Children's Society, before taking up an academic role as a social work educator and researcher. During his academic career he has developed an interest in research methods in social work, particularly participatory approaches.
Aidan Worsley BA, MA, MPhil, FRSA is a Professor of Social Work and Executive Dean of the College of Business, Law and Social Sciences at the University of Central Lancashire and. He is a qualified, registered social worker, with a background in criminal justice work and wide experience as an academic manager, external examiner and active researcher in areas of social work education, social work and service user led research, practice learning and interprofessional learning and teaching. He has provided training and consultancy to a wide range of organisations across the health and social care sectors.
About the Editors and Contributors. Acknowledgements. Introduction. Section 1: Innovations in Design and Planning. 1. Action Research for Social Justice: Researching and Organising on Household Debt, Sarah Banks, Durham University. 2. A Randomised Controlled Trial of a Therapeutic Intervention for Children Affected by Sexual Abuse, Tricia Jessiman, John Carpenter and Trish O'Donnell, University of Bristol. 3. Front Row Seats: Why Researchers Need to Get Closer to Practice and How We Can Do So, David Westlake, University of Bedfordshire. 4. Archival Resources for Social Work History, Pat Starkey, University of Liverpool. 5. A Study of Long Term Outcomes of Children with Harmful Sexual Behaviour: Using Social Media to Reach and Engage a 'Hard to Reach' Population, Simon Hackett, Durham University with Myles Balfe, University College Cork, Helen Masson, University of Huddersfield and Josie Phillips, Durham University. 6. Involving People with Dementia in a Systemic Review, Nicolette Wade and Mike Fisher, University of Bedfordshire. 7. Acting as a Critical Friend - Developmental Evaluations, Service Users and the Role of the Researcher, Roger Smith, Durham University. Section 2: Innovations in Research Methods. 8. Journeys Into the Heart of Practice: Ethnographic and Mobile Methods in Social Work Research, Harry Ferguson, University of Nottingham. 9. Using Mobile Methods to Explore the Lives of Marginalised Young Men in Manchester, Alistair Roy, Jenny Hughes, Lynn Frogett and Jennifer Christensen, University of Central Lancashire. 10. Being Brave, Doing Creative: Using Visual Ethnography in Social Work Research to Explore the Impact of Space and Environment on Organisational Culture, Jadwiga Leigh, University of Sheffield. 11. Researching Recovery from Substance Misuse Using Visual Methods, Julian Manley, Alistair Roy and Lyn Frogett, University of Central Lancashire. Section 3: Innovations in Data Analysis. 12. Validating Meaning Making: The Potential of Phenomenological Inquiry, Sue Thompson, Avenue Media Solutions. 13. The Elephant in the Room, Bogusia Temple, University of Central Lancashire. 14. Data Analysis in Participatory Research with Adults with Asperger's Syndrome, Jackie Robinson, De Montfort University. 15. Quantitative Research and the Secondary Analysis of Longitude Data in Social Work Research, Martin Elliot, Cardiff University. Section 4: Innovations in Dissemination and Impact. 16. Participatory Action Research: Empowering Women to Evaluate Services, Lena Dominelli, Durham University. 17. 'A Little Bit of What I'm About': Urban Photography For Social Work Research, Natalie Robinson, University of Liverpool. 18. Incorporating 'Knowledge Exchange' Into Research Design and Dissemination Strategies, Aisha Hutchinson and Cherilyn Dance, University of Bedfordshire. 19. You're Not in The Picture: Service Users, Research, Involvement and Change, Jennifer Taylor, Gina Barrett, Vic Forrest, People First Lambeth, Shaping Our Lives, Peter Beresford, Brunel University, Becki Meakin, People First Lambeth, Shaping Our Lives. Conclusion.
Find what you're looking for...
Publishers Represented
UBC Press is the Canadian agent for several international publishers. Visit our
Publishers Represented
page to learn more.