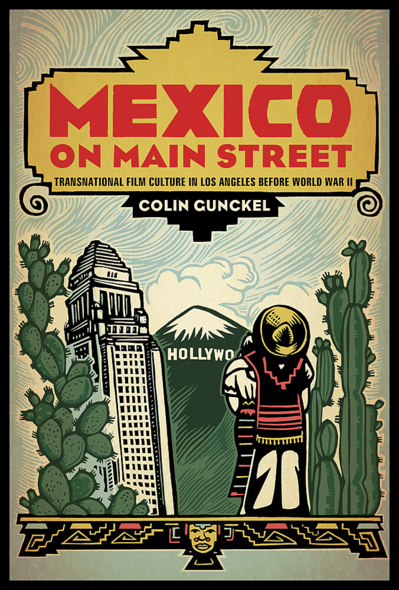 $43.95

Back Order
Ships in 4-6 weeks.
$156.00

Back Order
Ships in 4-6 weeks.
GO TO CART
Mexico on Main Street
Transnational Film Culture in Los Angeles before World War II
In the early decades of the twentieth-century, Main Street was the heart of Los Angeles's Mexican immigrant community. It was also the hub for an extensive, largely forgotten film culture that thrived in L.A. during the early days of Hollywood. Drawing from rare archives, including the city's Spanish-language newspapers, Colin Gunckel vividly demonstrates how this immigrant community pioneered a practice of transnational media convergence, consuming films from Hollywood and Mexico, while also producing fan publications, fiction, criticism, music, and live theatrical events. 
Mexico on Main Street locates this film culture at the center of a series of key debates concerning national identity, ethnicity, class, and the role of Mexicans within Hollywood before World War II. As Gunckel shows, the immigrant community's cultural elite tried to rally the working-class population toward the cause of Mexican nationalism, while Hollywood sought to position them as part of a lucrative transnational Latin American market. Yet ironically, both Hollywood studios and Mexican American cultural elites used the media to present negative depictions of working-class Mexicans, portraying their behaviors as a threat to middle-class respectability. Rather than simply depicting working-class immigrants as pawns of these power players, however, Gunckel reveals their active participation in the era's film culture.  
 
Gunckel's innovative approach combines media studies, urban history, and ethnic studies to reconstruct a distinctive, richly layered immigrant film culture. Mexico on Main Street demonstrates how a site-specific study of cultural and ethnic issues challenges our existing conceptions of U.S. film history, Mexican cinema, and the history of Los Angeles. 
 
A rich and impressive study of how Mexican film culture in Los Angeles responded to and shaped film industries of both the U.S. and Mexico.
This provocative book should inspire many other works on the topic.
Gunckel has a grand architectural eye, and has provided maps and photos of the dozens of theaters and entertainment venues along Main Street. But his real strength is in his narrative power.
One of the most impressive contributions this book makes to the field of film and media studies is its reminder that film and film culture exist in relation to broader cultural and social configurations such as immigration.
Mexico on Main Street is an engaging and thought provoking text that makes major contributions to overlapping areas of film studies.
COLIN GUNCKEL is an assistant professor of screen arts and cultures, American culture, and Latina/o Studies at the University of Michigan, Ann Arbor. He serves as associate editor of the
A Ver: Revisioning Art History
series.
Related Titles
A Mexican State of Mind
New York City and the New Borderlands of Culture
Branding Brazil
Transforming Citizenship on Screen
Border Cinema
Reimagining Identity through Aesthetics
Edited by Monica Hanna and Rebecca A. Sheehan Contributions by Frederick Luis Aldama, José Capino, Rosa-Linda Fregoso, Nurith Gertz, Jennifer Harford Vargas, Marina Hassapopoulou, Elena Lahr-Vivaz, Yael Munk, Anita Pinzi and Anat Zanger
Land of Smoke and Mirrors
A Cultural History of Los Angeles
Hidden Chicano Cinema
Film Dramas in the Borderlands
Cinema between Latin America and Los Angeles
Origins to 1960
Edited by Colin Gunckel, Jan-Christopher Horak and Lisa Jarvinen Contributions by Jacqueline Avila, Alstair Tremps, Viviana García Besné, Desirée J. Garcia and Nina Hoechtl
‹
›
Find what you're looking for...
Publishers Represented
UBC Press is the Canadian agent for several international publishers. Visit our
Publishers Represented
page to learn more.