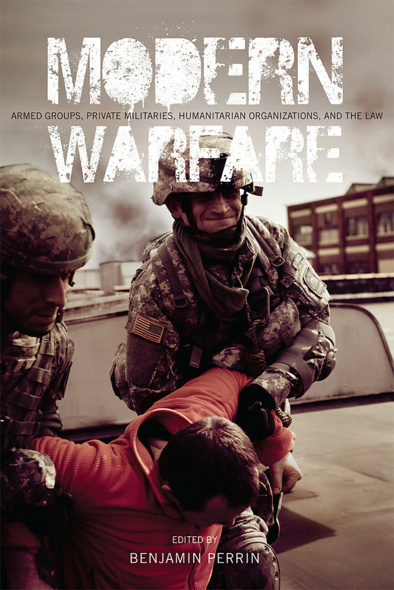 Modern Warfare
Armed Groups, Private Militaries, Humanitarian Organizations, and the Law
The face of modern warfare is changing as more and more humanitarianorganizations, private military companies, and non-state groups entercomplex security environments such as Iraq, Afghanistan, and Haiti.Although this shift has been overshadowed by the legal issues connectedto the War on Terror and intervention in countries such as Rwanda andDarfur, it has caused some to question the relevance of existinginternational humanitarian law.
To bridge the widening gap between the theory and practice of thelaw, Modern Warfare brings together both scholars andpractitioners who offer unique, and often divergent, perspectives onfour key challenges to the law's legitimacy: how to ensurecompliance among non-state armed groups; the proliferation of privatemilitary and security companies and their use by humanitarianorganizations; tensions between the idea of humanitarian space andcounterinsurgency doctrines; and the phenomenon of urban violence. Thecontributors do not simply consider settled legal standards -- theywiden the scope to include first principles, related bodies of law,humanitarian policy, and the latest studies on the prevention andmitigation of violence.
By bringing to light international humanitarian law'slimitations -- and potential -- in the context of modernwarfare's rapidly changing landscape, Modern Warfareopens a path to preventing further unnecessary suffering andviolence.
Modern Warfare is mandatory reading for academics andpractitioners of international law and students and scholars ofsecurity studies, international relations, and political science.
Awards
, Commended - The Hill Times List of Top 100 Best Books for 2013
This is a thoughtful and important work by an impressive group of contributors. It explores the most significant issues in international humanitarian law and post-conflict security today, including reciprocity, asymmetry, the crowded humanitarian space, and the role of non-state actors and private military companies.
An insightful and vital contribution to advance civilian protection in times of war.
Non-state actors are a firmly entrenched feature of modern armed conflicts. This impressive collection of thoughtful essays provides much needed analysis. It is both timely and scholarly.
Benjamin Perrin is an assistant professor in theFaculty of Law at the University of British Columbia and hasserved as Special Advisor, Legal Affairs and Policy, in the PrimeMinister's Office in Ottawa.
Preface
Introduction / Benjamin Perrin
Part 1: Non-State Armed Groups – The ComplianceChallenge
1 Asymmetrical Reciprocity and Compliance with the Laws of War /René Provost
2 The Pragmatic Value of Reciprocity: Promoting Respect forInternational Humanitarian Law among Non-State Armed Groups /Sophie Rondeau
3 Armed Non-State Actors and Humanitarian Norms: Lessons from theGeneva Call Experience / Elisabeth Decrey Warner, Jonathan Somer,and Pascal Bongard
4 The Ownership of International Humanitarian Law: Non-State ArmedGroups and the Formation and Enforcement of IHL Rules / SandeshSivakumaran
5 Armed Groups and the Arms Trade Treaty: Challenges andOpportunities / Pablo Policzer and Valerie Yankey-Wayne
Part 2: Private Military and Security Companies andHumanitarian Organizations
6 Private Security Companies and Humanitarian Organizations:Implications for International Humanitarian Law / BenjaminPerrin
7 The Case for Humanitarian Organizations to Use Private SecurityContactors / Andrew Bearpark
8 The Use of Armed Security Escorts: A Challenge to Independent andNeutral Humanitarian Action / Jamie Williamson
9 Obligations of Private Military and Security Companies underInternational Humanitarian Law / Fred Schreier
Part 3: The "Humanitarian Space"Debate
10 "Humanitarian Space" in Search of a New Home:(Limited) Guidance from International Law / SylvainBeauchamp
11 Humanitarian Space and Stability Operations / MichaelKhambatta
12 The Implications for Women of a Shrinking Humanitarian Space /Valerie Oosterveld
13 Whither Humanitarian Space? The Costs of Integrated Peacebuildingin Afghanistan / Emily Paddon and Taylor Owen
Part 4: Addressing Endemic Urban Violence
14 Silent Wars in Our Cities: Alternatives to the Inadequacy ofInternational Humanitarian Law to Protect Civilians during EndemicUrban Violence / Carlos Iván Fuentes
15 Rethinking Stabilization and Humanitarian Action in"Fragile Cities" / Robert Muggah and OliverJütersonke
16 Stabilization and Humanitarian Action in Haiti / RobertMuggah
17 Violence against Children in Urban Settings: Private Hurt, PublicManifestations / Gurvinder Singh and Judi Fairholm
Conclusion / Benjamin Perrin
Index
Related Titles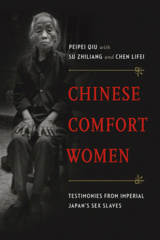 Chinese Comfort Women
Testimonies from Imperial Japan's Sex Slaves
By Peipei Qiu with Su Zhiliang and Chen Lifei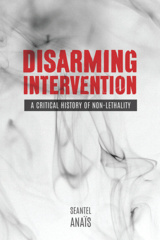 Disarming Intervention
A Critical History of Non-Lethality
‹
›
Find what you're looking for...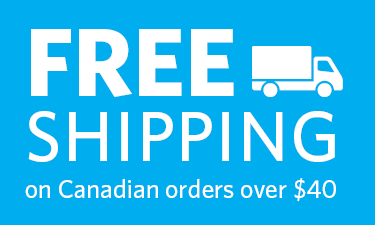 Publishers Represented
UBC Press is the Canadian agent for several international publishers. Visit our
Publishers Represented
page to learn more.