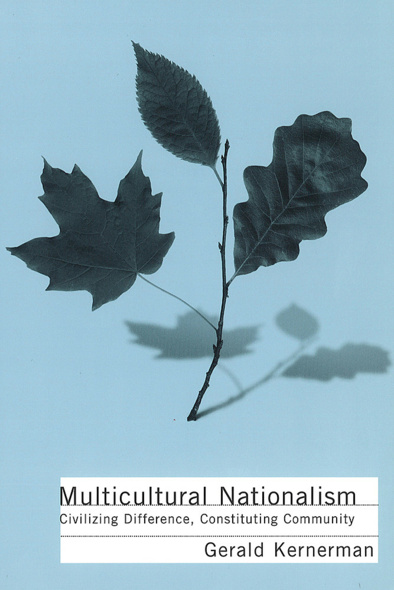 Multicultural Nationalism
Civilizing Difference, Constituting Community
Generations of intellectuals have debated Canada's national
question. Rather than join the debate, Multicultural
Nationalism challenges its logic. The national question is
self-defeating: attempts to constitute a Canadian political community
generate polarizing and depoliticizing deliberations. Gerald Kernerman
engages with leading political theorists and analyzes policy,
constitutional, and media documents in order to examine proposals for
minority rights, multicultural citizenship, asymmetrical federalism,
multinationalism, and group-based representation. Even as other
countries consider pursuing similar paths, Kernerman cautions against
using Canada as a model since these proposals are themselves
manifestations of nationalist contestation.
Awards
2006, Winner - Award for Cover Design, American Association of University Presses
What this analysis reveals is that when these debates become entangled with the question of Canadian unity, which they invariably have been, they become constrained by dichotomous thinking, produce political paralysis, and generate exclusion ... Of particular interest to constitutional and administration lawyers will be the discussion surrounding the constitutional deliberations at Meech Lake and Charlottetown, as well as the treatment of philosophical and political nature of the Canadian Charter of Rights and Freedoms.
Kernerman's book is a good survey of the identity-citizenship-nationalism debates in Canada. Pithy summaries of the major theories and concepts informing the debates make this a useful introduction to the issues involved. The issues he addresses – of governing difference, of regulating divisiveness, of 'creating' unity – are now central to the political cultures of many nations. As a reviewer from India, where the 'unity in diversity' paradigm has been our governing political slogan even during the era of minoritarian, linguistic, and ethnic nationalisms and fragmentation, I appreciate Kernerman's attempts to chart a way between difference and unity, and between diversity and national integration.
This book will appeal greatly to those doing work in critical race theory, multiculturalism, and the politics of difference. Kernerman not only characterizes emerging arguments against what he calls the 'Canadian school' of liberal multiculturalism but advances these arguments via some keen work within and across liberalism, continental philosophy, and feminist theory.
Multicultural Nationalism makes an important contribution to debates about national unity and diversity in Canada. Kernerman persuasively shows how the problematic logic of thinking in terms of dichotomies is not only woven into the political and public debates but can also be detected in the theories of political philosophers such as Charles Taylor and Will Kymlicka.
Gerald Kernerman is assistant professor of politicalscience at York University and co-editor, with Philip Resnick, ofInsiders & Outsiders: Alan Cairns and the Reshaping of CanadianCitizenship.
1) Introduction: The Bind That Ties
2) Confounding Debates
3) Just Nationalism? Individual versus Collective Rights
4) Decoding Deep Diversity
5) Nationalism Disentangled: The New Treason of theIntellectuals
6) The Arithmetic of Canadian Citizenship
7) Misrepresenting the Canadian Conversation
8) Civil Eyes: Seeing "Difference Blind"
9) There's No Place Like Home
Notes
Bibliography
Index
Find what you're looking for...
Publishers Represented
UBC Press is the Canadian agent for several international publishers. Visit our
Publishers Represented
page to learn more.