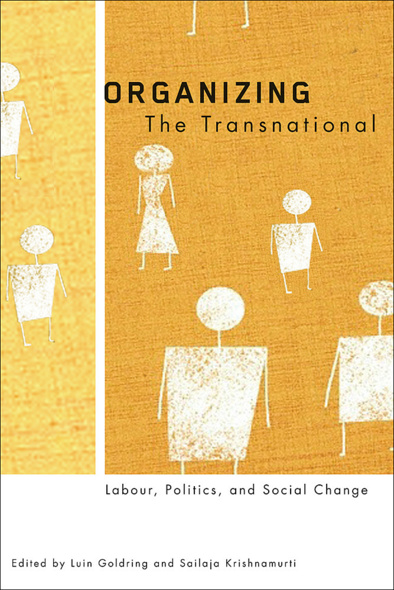 Organizing the Transnational
Labour, Politics, and Social Change
Growing recognition of transnational practices and identities is changing the way scholars and activists ask questions about migration. Organizing the Transnational articulates a multi-level cultural politics of transnationalism to frame contemporary analyses of immigration and diasporas. With chapters by academics and activists working from diverse perspectives, the volume moves beyond the conventional focus on states and migrants to consider a wide array of institutions, actors, and forms of mobilization that shape transnational engagements and communities. Its unique approach will inform the work of researchers, practitioners, and activists interested in the dynamics of transnational social spaces.
With Organizing the Transnational: Labour, Politics, and Social Change, Luin Goldring and Sailaja Krishnamurti present the diversity and expression of transnationalism as both concept and reality. By incorporating non-academics in this discussion, the collection expands the current debate on transnationalism to include the perspectives of non-governmental actors and agencies. ... As such, the book serves as a springboard to share and debate the origins and manifestations of transnational identity in the Canadian context.
This book is one of the first of its kind in Canada. It problematizes the diverse and complicated nature of transnational engagements on the part of Asian and Latin American migrants and communities in Canada, and it brings together the work of scholars and activists who both study and politically engage with transnationalism. Organizing the Transnational constitutes a highly effective bridge between scholarly work on immigrant settlement, ethnicity, citizenship, and social and political mobilization.
Using diverse examples of institutions that shape transnational space, Organizing the Transnational significantly advances the field of migration studies in Canada. It will be essential reading for academics and practitioners involved in immigrant settlement.
Luin Goldring is an associate professor of sociology at York University, Toronto. Sailaja Krishnamurti is a doctoral candidate in Social and Political Thought at York University.
Acknowledgments
Introduction / Luin Goldring and Sailaja Krishnamurti
Part 1: Institutions, Policies, and Identities
1 State and Media Construction of Transnational Communities: A Case Study of Recent Migration from Hong Kong to Canada / Myer Siemiatycki and Valerie Preston
2 Emerging Postnational Citizenships in International Law: Implications for Transnational Lives and Organizing / Susan J. Henders
3 Transnational Nationalism: Sri Lankan Tamils in Canada / Sarah V. Wayland
4 Demystifying Transnationalism: Canadian Immigration Policy and the Promise of Nation Building / Uzma Shakir
5 On Tim Hortons and Transnationalism: Negotiating Canadianness and the Role of Activist/Researcher / Leela Viswanathan
Part 2: States, Transnational Labour, and Diasporic Capital
6 Globalizing Work, Globalizing Citizenship: Community–Migrant Worker Alliances in Southwestern Ontario / Kerry Preibisch
7 Forcing Governments to Govern in Defence of Noncitizen Workers: A Story about the Canadian Labour Movement's Alliance with Agricultural Migrants / Stan Raper
8 Transnationalism, Development, and Social Capital: Tamil Community Networks in Canada / R. Cheran
9 Dancing Here, "Living" There: Transnational Lives and Working Conditions of Latina Migrant Exotic Dancers / Gloria Patricia and Díaz Barrero
10 Transnational Work and the Labour Politics of Gender: A Study of Male and Female Mexican Migrant Workers Employed in Canada / Ofelia Becerril
11 Development and Diasporic Capital: Nonresident Indians and the State / Pablo S. Bose
Part 3: Transnational Organizing and Social Change
12 The Institutional Landscapes of Salvadoran Refugee Migration: Transnational and Local Views from Los Angeles and Toronto / Patricia Landolt
13 The South Asia Left Democratic Alliance: The Dilemmas of a Transnational Left / Aparna Sundar
14 Transnationalism and Political Participation among Filipinos in Canada / Philip F. Kelly
15 Transnational Organizing in the Americas / Rusa Jeremic
16 The Challenges of Extraterritorial Participation: Peru's Advisory Councils for Peruvians Abroad / Gaby Motta and Carlos Enrique Terry (with Luin Goldring)
Conclusion / Sailaja Krishnamurti and Luin Goldring
References; Contributors; Index
Related Titles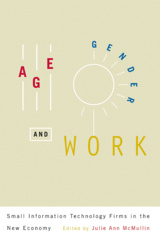 Age, Gender, and Work
Small Information Technology Firms in the New Economy
Edited by Julie Ann McMullin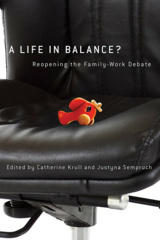 A Life in Balance?
Reopening the Family-Work Debate
Edited by Catherine Krull and Justyna Sempruch
‹
›
Find what you're looking for...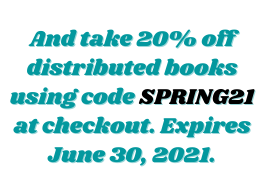 Publishers Represented
UBC Press is the Canadian agent for several international publishers. Visit our
Publishers Represented
page to learn more.