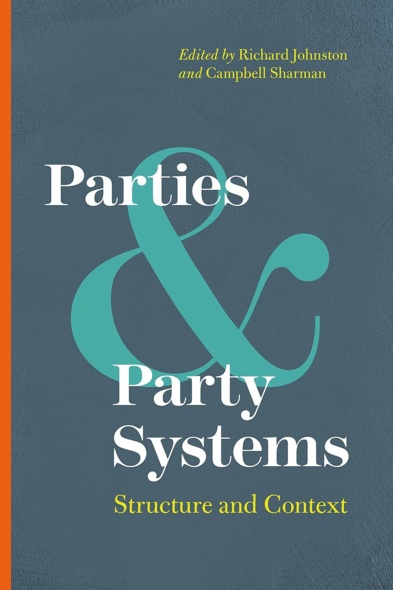 25 graphs, 1 diagram, 20 tables
Parties and Party Systems
Structure and Context
Party systems, party organization. For too long, scholars researching in these two areas have worked in isolation. This book bridges the divide by bringing together leading political scientists from both traditions to examine the intersection of rules, society, and the organization of parties within party systems.
Blending theory and case studies, Parties and Party Systems builds upon the pioneering work of R. Kenneth Carty, whose ideas about brokerage politics have influenced a generation of scholars. The contributors explore four thematic pathways: How do parties work across lines of division in society? How do partisan teams hold together in the face of the centrifugal pressures that necessitate brokerage? How can parties withstand the complicated principal-agent relations that inevitably arise? And, how does the institutional context constrain a multitude of competing interests when it, itself, is quite fragile?
By providing new perspectives on parties as organizations that exist within political systems, this volume will provoke theoretical reconsideration, prompt further integrative thinking, and inspire future research at the political organization-system nexus.
Parties and Party Systems will interest upper-level and graduate students of political science (particularly students of Canadian politics), scholars of political science (including comparative party scholars), party officials and activists, public servants, journalists, and political aficionados.
Richard Johnston is a professor and Canada Research Chair in Public Opinion, Elections, and Representation in the Department of Political Science at the University of British Columbia. Among the books he has co-authored is The End of Southern Exceptionalism: Class, Race, and Partisan Change in the Postwar South, which won the APSA Race, Ethnicity, and Politics Prize in 2007 and of the VO Key Prize of the Southern Political Science Association in 2008.
Campbell Sharman is an adjunct professor in the Department of Political Science at the University of British Columbia. He is the co-editor of Australian Politics and Government: The Commonwealth, the States, and the Territories among other publications. His research interests focus on federalism and the effects of institutional rules, both electoral and constitutional, on the political process in parliamentary systems.
Contributors: Kyle Attanasio, Peter Aucoin, Herman Bakvis, Luciano Bardi, R. Kenneth Carty, John C. Courtney, William Cross, Fred Cutler, David M. Farrell, Reuven Y. Hazan, Graeme Hooper, Richard S. Katz, Royce Koop, Peter Mair, Séin Ó Muineacháin, Gideon Rahat, Anthony M. Sayers, David K. Stewart, Emilie van Haute, Matthew Wall, Steven B. Wolinetz, Lisa Young
Preface
Introduction / Richard Johnston and Campbell Sharman
1 Brokerage Parties, Brokerage Politics / R. Kenneth Carty
2 Regional Pivots and Brokerage Politics / Richard Johnston
3 Barbarians at the Gate? Conservative Identifiers and the Myths of Brokerage Politics / David K. Stewart and Anthony M. Sayers
4 Franchising the Franchise Party: How Far Can a New Concept Travel? / Steven B. Wolinetz
5 Courting, but Not Always Serving: Perverted Burkeanism and the Puzzle of Irish Parliamentary Cohesion / David M. Farrell, Peter Mair, Séin Ó Muineacháin, and Matthew Wall
6 Parties, Politicians, and Parliaments: The Impact of Intra-Party Democracy on Party Unity / Reuven Y. Hazan and Gideon Rahat
7 Towards a European Politics / Luciano Bardi, Richard S. Katz, and Peter Mair
8 Politicians and Local Party Organizations: A Delegation Approach / Royce Koop
9 Patterns of Party Recruitment and Campaign Individualisation in an SMP System / William Cross and Lisa Young
10 Joining Isn't Everything: Exit, Voice, and Loyalty in Party Organizations / Emilie van Haute
11 Canada's National Parties: From Private to Public Institutions / John C. Courtney
12 Canadian Public Funding of Parties and the End of Per-Vote Subsidies: Parties, Strategic Interests, and Decartelization / Peter Aucoin and Herman Bakvis
13 Electoral Reform and Parliamentary Legitimacy in Canada / Campbell Sharman and Kyle Attanasio
14 Winners, Losers, and Electoral System Change / Fred Cutler and Graeme Hooper
15 Parties and Party Systems: The Imperatives of Integration / Richard Johnston and Campbell Sharman
Contributors
Index
Related Titles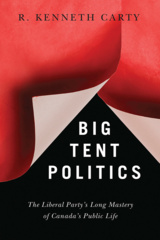 Big Tent Politics
The Liberal Party's Long Mastery of Canada's Public Life
Representation in Action
Canadian MPs in the Constituencies
By Royce Koop, Heather Bastedo and Kelly Blidook
Lived Fictions
Unity and Exclusion in Canadian Politics
By John Grant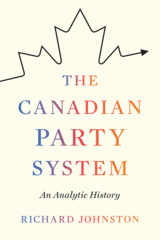 The Canadian Party System
An Analytic History
‹
›
Find what you're looking for...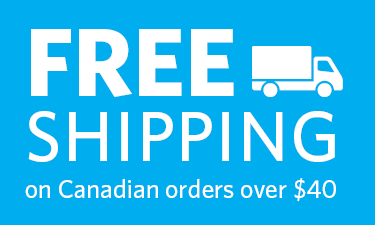 Publishers Represented
UBC Press is the Canadian agent for several international publishers. Visit our
Publishers Represented
page to learn more.