New and Recent in Planning & Urban Studies
The first text of its kind in Canada, Evaluating Urban and Regional Plans provides both a theoretical foundation and pragmatic guidance for plan evaluation.
Canadian Urban Population Loss in an Age of Growth
The first major study of its kind in Canada, Quietly Shrinking Cities examines the conceptual and empirical evolution of Canadian urban population loss.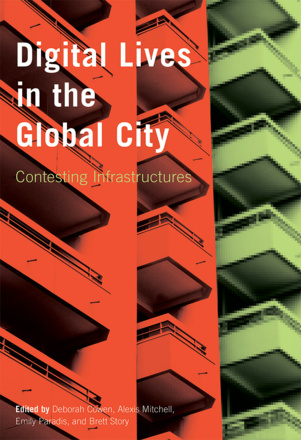 Contesting Infrastructures
Digital Lives in the Global City asks how digital technologies are remaking urban life around the world, from migrant work in Singapore to digital debt in Toronto, illegal buildings in Mumbai, and targeted policing in New York.
Social and Spatial Polarization in Canadian Cities
Changing Neighbourhoods offers revealing insights into the way that Canadian cities have grown increasingly unequal and polarized since 1980, identifying the causal factors driving neighbourhood change and their troubling implications.
Building Community in Vancouver
Neighbourhood Houses documents how the neighbourhood house model, a century-old type of community organization, can help overcome isolation in urban neighbourhoods by creating welcoming places.
This is the remarkable story, told by a key insider, about Vancouver's dramatic transformation from a typical mid-sized North American city into an inspiring world-class metropolis celebrated for its liveability, sustainability, and vibrancy.
Vancouver and the Challenges of Reconciliation, Social Justice, and Sustainable Development
Planning on the Edge explores the reality behind the rhetoric of Vancouver's reputation as a sustainable city and paves the way for developing Vancouver and its region into a place that is both economically sustainable and socially just.
Planning and Urban Studies Titles from our Publishing Partners
Smart Planning for Emerging Transportation Technologies
In New Mobilities: Smart Planning for Emerging Transportation Technologies, transportation expert Todd Litman examines 12 emerging transportation modes and services that are likely to significantly affect our lives: bike- and carsharing, micro-mobilities, ridehailing and micro-transit, public transit innovations, telework, autonomous and electric vehicles, air taxis, mobility prioritization, and logistics management. Public policies around New Mobilities can either help create heaven, a well-planned transportation system that uses new technologies intelligently, or hell, a poorly planned transportation system that is overwhelmed by conflicting and costly, unhealthy, and inequitable modes. His expert analysis will help planners, local policymakers, and concerned citizens to make informed choices about the New Mobility revolution.  
How to Save Your Downtown with Small-Scale Manufacturing
In Recast Your City: How to Save Your Downtown with Small-Scale Manufacturing, community development expert Ilana Preuss explains how local leaders can revitalize their downtowns or neighborhood main streets by bringing in and supporting small-scale manufacturing. Small-scale manufacturing businesses help create thriving places, with local business ownership opportunities and well-paying jobs that other business types can't fulfill. Preuss draws from her experience working with local governments, large and small, from Knoxville, Tennessee, to Columbia, Missouri, to Fremont, California.  She provides tools, such as her five-step method for recasting your city, that local leaders in government, business, and real estate as well as entrepreneurs and advocates in every community can use.    
Uniting Design, Economics, and Policy
Tens of millions of Americans are at risk from sea level rise, increased tidal flooding, and intensifying storms. A Blueprint for Coastal Adaptation identifies a bold new research and policy agenda and provides implementable options for coastal communities responding to these threats. In this book, coastal adaptation experts present a range of climate adaptation policies that could protect coastal communities against increasing risk, including concrete financing recommendations. Coastal adaptation will not be easy, but it is achievable using varied approaches. A Blueprint for Coastal Adaptation will inspire innovative and cross-disciplinary thinking about coastal policy at the state and local level while providing actionable, realistic policy and planning options for adaptation professionals and policymakers.
The Human Case for Fewer Cars in Our Lives
In Curbing Traffic: The Human Case for Fewer Cars in Our Lives, mobility experts Melissa and Chris Bruntlett chronicle their experience living in the Netherlands and the benefits that result from treating cars as visitors rather than owners of the road. They weave their personal story with research and interviews with experts and Delft locals to help readers share the experience of living in a city designed for people.   Their insights will help decision makers and advocates to better understand and communicate the human impacts of low-car cities: lower anxiety and stress, increased independence, social autonomy, inclusion, and improved mental and physical wellbeing.  Curbing Traffic provides relatable, emotional, and personal reasons why it matters and inspiration for exporting the low-car city.  
Design with Mental Health in Mind
What would a school look like if it was designed with mental health in mind? Too many public schools look and feel like prisons, designed out of fear of vandalism and truancy. But we know that nurturing environments are better for learning. Access to nature, big classroom windows, and open campuses consistently reduce stress, anxiety, disorderly conduct, and crime, and improve academic performance. Backed by decades of research, Schools That Heal showcases clear and compelling ways—from furniture to classroom improvements to whole campus renovations—to make supportive learning environments for our children and teenagers. With invaluable advice for school administrators, public health experts, teachers, and parents Schools That Heal is a call to action and a practical resource to create nurturing and inspiring schools for all children.
An Opinionated Atlas of US and Canadian Transit
Transit expert Christof Spieler has fully updated and expanded his popular book Trains, Buses, People to include eight Canadian cities and two new US cities (Indianapolis and San Juan, Puerto Rico).   In Trains, Buses, People, Second Edition: An Opinionated Atlas of US and Canadian Transit, Spieler profiles the 49 metropolitan areas in the US and eight metropolitan areas in Canada that have rail transit or BRT, using data, photos, and maps for easy comparison. The best and worst systems are ranked and Spieler offers analysis of how geography, politics, and history complicate transit planning.Trains, Buses, People, Second Edition will help any citizen, professional, or policymaker with a vested interest evaluate a transit proposal and understand what makes transit effective and how to make it inclusive.  
Find what you're looking for...
Publishers Represented
UBC Press is the Canadian agent for several international publishers. Visit our
Publishers Represented
page to learn more.