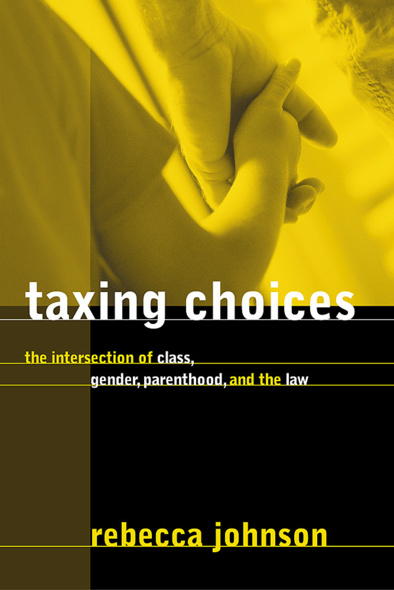 Taxing Choices
The Intersection of Class, Gender, Parenthood, and the Law
Winner, 2003-2004 Harold Adams Innis Prize for Best English-Language Book in the Social Sciences, Canadian Federation for Humanities and Social Sciences
In the early 1990s, lawyer Beth Symes brought an equality challenge against the Canadian Income Tax Act, arguing that her childcare costs were a business expense. The case ignited public controversy. Was Symes disadvantaged on the basis of gender, or unfairly privileged on the basis of class?
This book seeks answers to those questions through close attention to the Symes case, where class and gender interests clashed over the tax treatment of childcare. It looks at the history of legislative and litigative struggles, the dynamics of courtroom discourse, and the influence of broad social debates about children and the public/private divide. It reveals how frequently the rhetoric of choice, responsibility, and selfishness is invoked in response to women's attempts to place issues of childcare on the public agenda.
Taxing Choices will interest all those who seek to use the law as a tool of social justice but are troubled by the perils posed by competing interests and conflicts involving race, class, gender, and ability.
Awards
2004, Winner - Harold Adams Innis Prize, Canadian Federation for the Humanities and Social Science
An extremely thought-provoking and insightful analysis of the multitude of issues surrounding the Symes case.
This book makes a huge contribution to the field of socio-legal studies. The scholarship is first rate and the author has applied complex theories in a manner that is extremely accessible. It is a 'great read,' it tells a fascinating story, and should interest anyone  attentive to issues of fairness, justice, and how these issues play out in the courts.
This book is extremely well-written and accessible, and the methods of presenting the arguments compelling and creative. Not only does it contribute significantly to an on-going literature in feminist law, but it also offers a method of doing socio-legal research that will be useful for students, scholars, and lawyers in the field.
Rebecca Johnson is an associate professor in the Faculty of Law, University of Victoria.
Acknowledgments
Introduction: The Intersection of Power and Wound
Part 1: Prelude
1 Theoretical Foundations
2 Childcare Politics in Canada
3 Legal Manoeuvring and the Development of Litigation Strategies
Part 2: "The Play's the Thing"
4 Strategy and Practice: The Play's the Thing Part
Part 3: Sorting Out the Aftermath
5 The Limits of Judicial Power: The Court as Constrained
6 Power, Constraint, and the Rhetoric of Choice
7 Multiple Solitudes: Intersectionality in the Nonexpert Public Response
8 Class and Gender on the Terrain of Need: Intersectionality in Expert Public Response
9 Lessons to Be Learned and a Case to Be Remade
Appendices
A Selected Statutory Provisions
B Selections from the Dissent in Symes v. Canada
Notes
Bibliography
Index
Find what you're looking for...
Publishers Represented
UBC Press is the Canadian agent for several international publishers. Visit our
Publishers Represented
page to learn more.