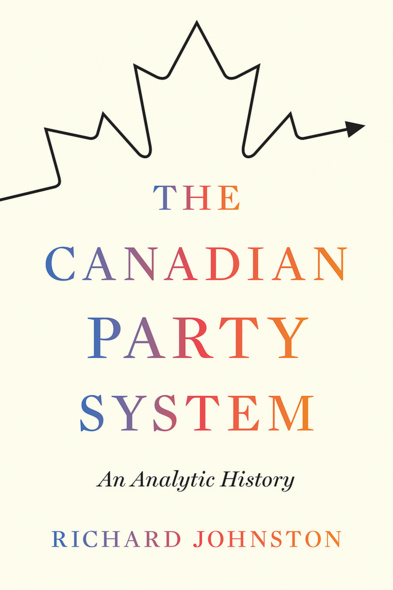 The Canadian Party System
An Analytic History
The Canadian party system is a deviant case among the Anglo-American democracies. It has too many parties, it is susceptible to staggering swings from election to election, and its provincial and federal branches often seem unrelated. Unruly and inscrutable, it is a system that defies logic and classification – until now.
In this political science tour de force, Richard Johnston makes sense of the Canadian party system. With a keen eye for history and deft use of recently developed analytic tools, he articulates a series of propositions underpinning the system. Chief among them was domination by the centrist Liberals, stemming from their grip on Quebec, which blocked both the Conservatives and the NDP. As Johnston shows, the Conservative Party could win only with short-lived coalitions of francophobes and nationalist francophones, often built by soaking up populist tension. Moving beyond the national realm, he also takes a close look at the stunning discontinuity between federal and provincial arenas, another peculiarity of the Canadian system.
For its combination of historical breadth and data-intensive rigour, The Canadian Party System is a rare achievement. Its findings shed light on the main puzzles of the Canadian case, while contesting the received wisdom of the comparative study of parties, elections, and electoral systems elsewhere.
This book is for scholars, researchers, and students in Canadian party politics and comparative politics.
Awards
2018, Shortlisted - 2018, Shortlisted - The Donald Smiley Prize, Canadian Political Science Association
2019, Winner - 2019, Winner - Lipset Prize, American Politics Association
By tackling the big claims regarding parties, elections, and electoral systems in Canada, and by placing his analysis in a comparative framework, Johnston has done the discipline a huge service[…]Simply put, The Canadian Party System is foundational reading.
Johnston has written a book that will be required reading for students of Canadian politics for decades to come. In identifying and explaining the role of the Liberal and Conservative parties and their relationship to Québec, while also highlighting the importance of what he calls 'insurgent' third parties, Johnston provides a valuable explanatory framework for the unique nature of Canada's party system.
Canadian elections mystify political scientists. Like the bumblebee, the party system shouldn't look like that and yet be airborne. This book, by an internationally renowned Canadian scholar at the height of his powers, goes far toward unraveling the mystery. It is beautifully written and will be an instant classic.
Richard Johnston has produced a magisterial analysis of the Canadian party system. Cleverly combining quantitative data with a subtle understanding of Canadian history and geography, he addresses all the big questions that have mystified Canadian scholars over the years about the role of the electoral system, federalism, class, and religion in Canadian elections. Johnston offers a rich, deep, and thought-provoking account that will force you to revisit how you view Canada, politics, voters, and elections. A brilliant tour de force.
No one understands the deep historical origins of Canadian politics as well as Richard Johnston. Nor could anyone else write a book that so exhaustively identifies and explains empirical regularities and patterns in our party politics. It is not an exaggeration to say that Canadian political science has been waiting for this book for a very long time. It is a masterpiece.
Richard Johnston is a professor of political science and Canada Research Chair in Public Opinion, Elections, and Representation at the University of British Columbia. He has also taught at the University of Toronto, the California Institute of Technology, Harvard University, and the University of Pennsylvania and held visiting fellowships at Queen's University at Kingston, the Mannheimer Zentrum für Europäische Sozialforschung in Germany, and the Australian National University. He was principal investigator of the 1988 and 1992-93 Canadian Election Studies and research director for the National Annenberg Election Survey, 2000-8. From 2009 to 2012, he was a Marie Curie Research Fellow attached to the European University Institute. He is the author or co-author of five books, three on Canadian politics and two on US politics. He has co-edited four other books and written more than ninety articles and book chapters. In 2017, he received the Mildred A. Schwartz Lifetime Achievement Award for the study Canadian politics from the American Political Science Association.
1 Introduction
2 Situating the Case
3 Liberal Dominance, Conservative Interludes
4 Liberal Centrism, Polarized Pluralism
5 Catholics and Others
6 The Life and Death of Insurgents
7 Invasion from the Left
8 System Dynamics, Coordination, and Fragmentation
9 Federal-Provincial Discontinuity
10 Conclusion
Appendix: Data Sources
Notes; References; Index
Related Titles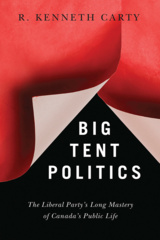 Big Tent Politics
The Liberal Party's Long Mastery of Canada's Public Life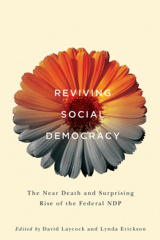 Reviving Social Democracy
The Near Death and Surprising Rise of the Federal NDP
Edited by David Laycock and Lynda Erickson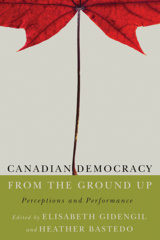 Canadian Democracy from the Ground Up
Perceptions and Performance
Edited by Elisabeth Gidengil and Heather Bastedo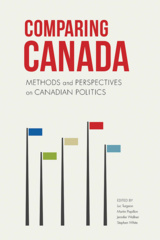 Comparing Canada
Methods and Perspectives on Canadian Politics
Edited by Luc Turgeon, Martin Papillon, Jennifer Wallner, and Stephen White
The New NDP
Moderation, Modernization, and Political Marketing
Fighting for Votes
Parties, the Media, and Voters in an Ontario Election
By William P. Cross, Jonathan Malloy, Tamara A. Small, and Laura B. Stephenson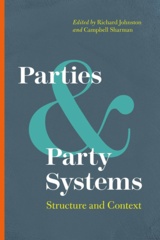 Parties and Party Systems
Structure and Context
Edited by Richard Johnston and Campbell Sharman
Lived Fictions
Unity and Exclusion in Canadian Politics
By John Grant
‹
›
Find what you're looking for...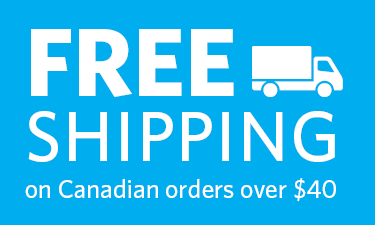 Stay Informed
Receive the latest UBC Press news, including events, catalogues, and announcements.
Publishers Represented
UBC Press is the Canadian agent for several international publishers. Visit our
Publishers Represented
page to learn more.