80 b&w illustrations, 18 color plates, 66 tabl
$62.95

Back Order
Ships in 4-6 weeks.
GO TO CART
The Colorado Plateau VI
Science and Management at the Landscape Scale
The University of Arizona Press
Covering 130,000 square miles and a wide range of elevations from desert to alpine in Arizona, Utah, Colorado, and New Mexico, the Colorado Plateau has long fascinated researchers. The Colorado Plateau VI provides readers with a plethora of updates and insights into land conservation and management questions currently surrounding the region.

The Colorado Plateau VI's contributors show how new technologies for monitoring, spatial analysis, restoration, and collaboration improve our understanding, management, and conservation of outcomes at the appropriate landscape scale for the Colorado Plateau. The volume's chapters fall into five major themes: monitoring as a key tool for addressing management challenges, restoration approaches to improving ecosystem condition and function, collaboration and organizational innovations to achieve conservation and management objectives, landscape-scale approaches to understanding, and managing key species and ecological communities.

Focusing on the integration of science into resource management issues over the Colorado Plateau, this volume includes contributions from dozens of leading scholars of the region. The Colorado Plateau VI proves a valuable resource to all interested in the conservation management, natural history, and cultural biological resources of the Colorado Plateau.
Laura Foster Huenneke is provost and vice president for academic affairs at Northern Arizona University. She has authored or co-authored more than fifty publications in ecology and related fields. Huenneke has been recognized as an Aldo Leopold Leadership Fellow and an elected Fellow of the Ecological Society of America.
 
Charles van Riper III is the station leader for the U.S. Geological Survey SBSC Sonoran Desert Research Station and a professor in the School of Natural Resources and the Environment at the University of Arizona. He is recipient of the 2006 Natural Areas George Fell Award and the 2007 George Wright Society Natural Resources Management Award. He has authored over 250 scientific papers, books, and book chapters.
 
Kelley Ann Hays-Gilpin is a professor and the chair of the Anthropology Department at Northern Arizona University and the Edward Bridge Danson Chair of Anthropology at the Museum of Northern Arizona. Her research appears in Journal of the Southwest, Journal of Anthropological Research, and Canadian Journal of Archaeology, among others.
Introduction to the Proceedings of the 11th Biennial Conference
Laura F. Huenneke, Charles van Riper III, and Kelley Ann Hays-Gilpin
PART I. NEW APPROACHES TO MONITORING POPULAT IONS AND COMMUNITIES
1. Challenges to Establishing Baseline Conditions for Long-Term Vegetation Monitoring in National Parks on the Southern Colorado Plateau
James K. DeCoster, Jodi Norris, and Megan C. Swan
2. Cross-Jurisdictional Monitoring for Nonnative Plant Invasions Using NDVI Change Detection Indices in Walnut Canyon National Monument, Arizona, USA
Hillary L. Hudson, Steven E. Sesnie, Ronald D. Hiebert, Brett G. Dickson, and Lisa P. Thomas
3. New Methods and Hierarchical Models for Estimating Intensity of Diurnal Habitat Use by Merriam's Turkeys in Managed Forests of Northern Arizona
Brett G. Dickson, Vincent J. Frary, Steven E. Sesnie, Jill M. Rundall, and Michael F. Ingraldi
4. Planning and Implementing Landscape-Scale Arthropod Inventory and Monitoring Projects
David C. Lightfoot
Part II. BIOLOGY OF KEY SPECIES AND TAR GETS OF MANAGEMENT
5. Hybrid Poplar for the Colorado Plateau: NMSU Poplar Research, Farmington, New Mexico
Michael K. O'Neill, Robert F. Heyduck, Samuel C. Allen, Kevin A. Lombard, Dan Smeal, and Richard N. Arnold
6. Age and Sex Composition of Harvest and Timing of Birth Frequency for Arizona Mountain Lions
Brian F. Wakeling, Ronald L. Day, Amber A. Munig, and Jack L. Childs
7. Evaluating the Effects of Management Actions on Razorback Sucker Recovery in the San Juan River Basin
Scott L. Durst
8. Effects of Introduced Bison on Wetlands of the Kaibab Plateau, Arizona
Evan Reimondo, Thomas Sisk, and Tad C. Theimer
9. Survival, Spring Hunting, and Cause-Specific Mortality for Male Merriam's Turkeys in North-Central Arizona
Brian F. Wakeling and Rick Langley
10. Blackbrush (Coleogyne ramosissima Torr.): State of Our Knowledge and Future Challenges
Rosemary L. Pendleton, Burton K. Pendleton, Susan E. Meyer, Bryce Richardson, Todd Esque, and Stanley G. Kitchen
PART III. LANDSCAPE-SCALE RESEARCH AND MANAGEMENT
11. Bee Diversity and Abundance Along an Elevational Gradient in Northern Arizona
David R. Smith, Jacob Higgins, Jacob Burton, and Neil S. Cobb
12. Spatial Factors Influencing High-Probability Areas for Nuisance Black Bear Complaints in Arizona, 2000–2010
Daniel P. Sturla, Brian F. Wakeling, and Michael J. Rabe
13. Ant Community Structure in Salt Creek, Canyonlands National Park, Utah: Changes at Four Sites in June Samples, 2000–2007
Tim B. Graham and Evelyn Cheng
14. A ssociations of Elevation, Vegetation Type, and Land Use with the Distribution of the Wupatki Pocket Mouse (Perognathus amplus cineris)
Jean Marie Loverich Rieck, Sharalyn K. Peterson, and Tad C. Theimer
15. Beetle Diversity of Three Management Zones in Salt Creek Canyon, Canyonlands National Park, Utah
Louis L. Pech and Timothy B. Graham
16. Distance to Standing Water is Negatively Correlated with Invertebrate Biomass, Nestling Feeding Rate, and Productivity in Southwestern Willow Flycatchers (Empidonax traillii extimus)
D. Peterson, A. R. Pellegrini, M. A. McLeod, and Tad C. Theimer
17. Plant Community Responses to the Coupled Effects of Dust on Snow and Warming in Alpine Environments, Southwestern Colorado
Michael Remke, Julie Korb, and Heidi Steltzer
18. The Influence of Tamarix ramosissima Defoliation on Population Movements of the Northern Tamarisk Beetle (Diorhabda carinulata) Within the Colorado Plateau
Levi R. Jamison, Charles van Riper III, and Dan W. Bean
PART IV. COLLABORATION AND EDUCATION AS CORE STRATEGIES
19. The Value of Field Courses and Service-Learning Projects to Environmental Conservation on the Colorado Plateau: A Call for Collaboration
Angela B. Moline
20. Community Collaborations for Increasing Native Seed Availability and Research on the Colorado Plateau
Rachel A. Ostlund, Patricia A. West, and Megan Haidet
21. Collaborative Rehabilitation of Pakoon Springs in Grand Canyon–Parashant National Monument, Arizona
Kelly J. Burke, Kathleen A. Harcksen, Lawrence E. Stevens, Robert J. Andress, and R. J. Johnson
PART V. RESTORATION OF ECOLOGICAL SYSTEMS
22. Expected Wildfire Suppression Costs for Proposed 4FRI Treatment Areas
Ryan Fitch, Yeon-Su Kim, and Amy Waltz
23. The Escalante River Watershed Partnership: Conservation of an Endangered Riparian Ecosystem
John R. Spence and Linda Whitham
24. Colorado River Riparian Ecosystem Rehabilitation in Glen and Grand Canyons, Arizona
Lawrence E. Stevens, Kelly J. Burke, John R. Spence, Lonnie Pilkington, and Christopher Hughes

Contributors
Index
Related Titles
Knowledge in Motion
Constellations of Learning Across Time and Place
Edited by Andrew P. Roddick and Ann B. Stahl
The Colorado Plateau
Cultural, Biological, and Physical Research
Edited by Charles van Riper and Kenneth L. Cole
The Colorado Plateau III
Integrating Research and Resources Management for Effective Conservation
Edited by Charles van Riper and Mark K. Sogge
The Colorado Plateau II
Biophysical, Socioeconomic, and Cultural Research
Edited by Charles van Riper and David J. Mattson
The Colorado Plateau V
Research, Environmental Planning, and Management for Collaborative Conservation
Edited by Charles van Riper, Miguel L. Villarreal, Carena J. van Riper and Matthew J. Johnson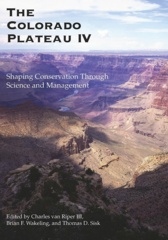 The Colorado Plateau IV
Shaping Conservation Through Science and Management
Edited by Charles van Riper, Brian F. Wakeling and Thomas D. Sisk
‹
›
Find what you're looking for...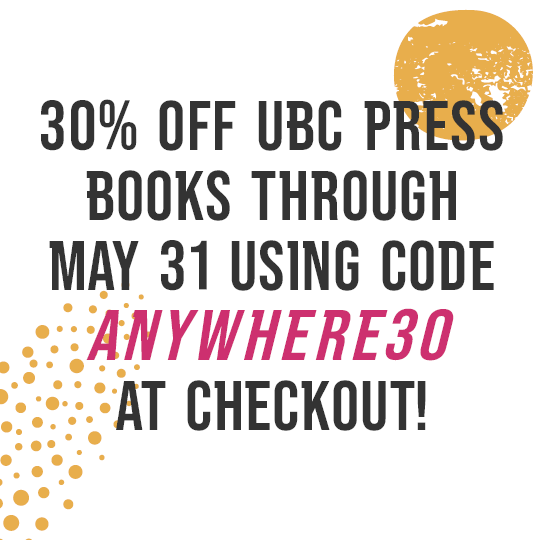 Stay Informed
Receive the latest UBC Press news, including events, catalogues, and announcements.
Publishers Represented
UBC Press is the Canadian agent for several international publishers. Visit our
Publishers Represented
page to learn more.