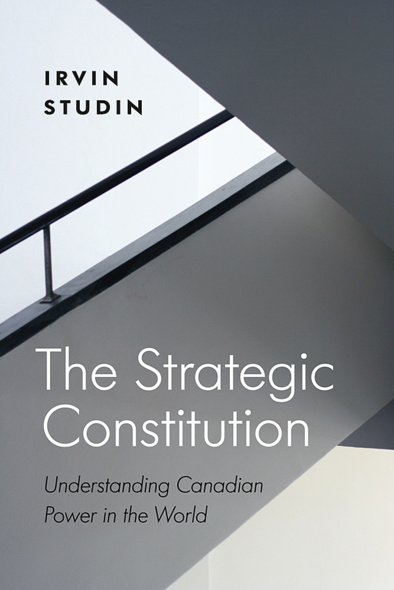 The Strategic Constitution
Understanding Canadian Power in the World
Historically, Canada's Constitution has been principally viewed as a federal framework or a rights bulwark. Its framers did not intend for Canada to be a major player in the world and worldly matters were barely mentioned in constitutional documents. This book offers a brand new interpretation. The "Strategic Constitution," as proposed by Irvin Studin, is a framework for understanding Canada's capacity to project strategic power in the world.
Studin begins by reducing the Constitution to its strategically relevant essentials or building blocks. He then provides a wide-ranging audit of the Constitution of Canada in terms of its treatment of so-called factors of strategic power: the military, diplomacy, executive potency, natural resources, the economy, strategic communications and transportation, and the national population. He later applies the Strategic Constitution framework to four policy case studies: Canadian regional leadership in the Americas; full war (as in Afghanistan); Arctic sovereignty; and national security and counterterrorism.
Provocative and well-argued, this book makes the case for the Constitution being a highly flexible national framework that quietly harbours seeds of national strategic potency. By bridging the solitudes of constitutional law and international relations, it also creates a new paradigm for constitutional scholarship in Canada.
This book will be of special interest to legal academics, professionals, and practitioners; foreign affairs, defence, intelligence, development, and trade professionals/practitioners; and Canadian political science/policy/international relations academics.
Studin skillfully weaves together strategy and constitutionalism to create a different paradigm for thought and analysis. He argues that our Constitution works well for Canada in establishing an international presence and for promoting its potential as a global player.
This book should be compulsory reading for all who aspire to serve in Canada's foreign, defence, trade promotion, and international development sectors, as well as for constitutional lawyers and aspiring business leaders. And it is a must-read for those who want Canada's international footprint to reflect the essence of our values and aspirations as Canadians.
In this important book, Irvin Studin looks at Canada's constitutional framework through an entirely different lens, namely, how the Constitution informs Canada's conduct on the international stage. The new insights offered here will add brand new dimensions to constitutional, federalism, and international affairs scholarship, both in Canada and internationally.
Irvin Studin is MPP program director and an assistant professor in the School of Public Policy and Governance at the University of Toronto. He worked for a number of years in the Privy Council Office in Ottawa, as well as in the Australian Department of the Prime Minister and Cabinet in Canberra. He is also editor-in-chief and publisher of Global Brief magazine.
Preface
Introduction
Part 1: The Conceptual Framework for Assessing Canadian Strategic Power in Constitutional Terms
1 Framing Some Key Concepts
2 Diplomacy
3 The Military
4 Government, or Pure Executive Potency
5 Natural Resources (and Food)
6 National Economic Might
7 Communications
8 Population
9 The Strategic Constitution as Conceptual and Analytical Framework
Part 2: Applying the Conceptual Framework: Four Policy Case Studies
Case Study A: Canadian Strategic Leadership in the Americas
Case Study B: Bona Fide War
Case Study C: Arctic Sovereignty
Case Study D: National Security-Counterterrorism
Conclusion
Bibliography
Index
Related Titles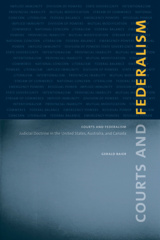 Courts and Federalism
Judicial Doctrine in the United States, Australia, and Canada
By Gerald Baier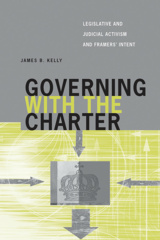 Governing with the Charter
Legislative and Judicial Activism and Framers' Intent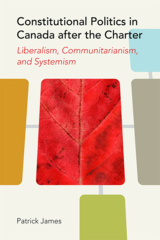 Constitutional Politics in Canada after the Charter
Liberalism, Communitarianism, and Systemism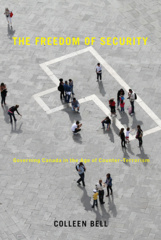 The Freedom of Security
Governing Canada in the Age of Counter-Terrorism
By Colleen Bell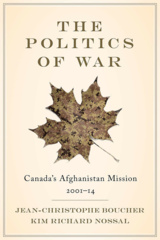 The Politics of War
Canada's Afghanistan Mission, 2001–14
‹
›
Find what you're looking for...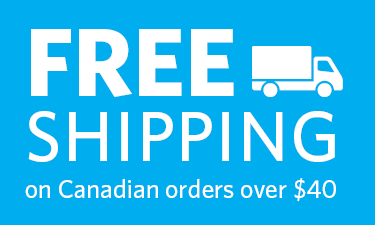 Stay Informed
Receive the latest UBC Press news, including events, catalogues, and announcements.
Publishers Represented
UBC Press is the Canadian agent for several international publishers. Visit our
Publishers Represented
page to learn more.