Nothing is better than meeting colleagues and friends at conferences, and here at UBC Press we're committed to keeping our relationship with you going strong. So, we have taken our Urban Studies and Planning conference exhibit online.

Here you will find:
an invitation to meet with James MacNevin, Senior Editor for Urban Studies and Planning
important new books in urban studies and planning
special conference discounts on our print books and e-books
information on how to get review and examination copies
Recent and Forthcoming Books
Vancouver and the Challenges of Reconciliation, Social Justice, and Sustainable Development
Vancouver is heralded around the world as a model for sustainable development. In Planning on the Edge, nationally and internationally renowned planning scholars, activists, and Indigenous leaders assess whether the city's reputation is warranted.While recognizing the many successes of the "Vancouverism" model, the contributors acknowledge that the forces of globalization and speculative property development have increased social inequality and housing insecurity since the 1980s in the city and the region. To determine the city's prospects for overcoming these problems, they look at city planning from all angles, including planning for the Indigenous population, environmental and disaster planning, housing and migration, and transportation and water management.By looking at policies at the local, provincial, and federal levels and taking reconciliation with Indigenous peoples into account, Planning on the Edge highlights the kinds of policies and practices needed to reorient Vancouver's development trajectory along a more environmentally sound and equitable path.
Planning on the Edge explores the reality behind the rhetoric of Vancouver's reputation as a sustainable city and paves the way for developing Vancouver and its region into a place that is both economically sustainable and socially just.
Social and Spatial Polarization in Canadian Cities
In recent decades growing inequality and polarization have been reshaping the social landscape of Canada's metropolitan areas, changing neighbourhoods and negatively affecting the lived realities of increasingly diverse urban populations. This book examines the dimensions and impacts of increased economic inequality and urban socio-spatial polarization since the 1980s. Based on the work of the Neighbourhood Change Research Partnership, an innovative national comparative study of seven major cities, the authors reveal the dynamics of neighbourhood change across the Canadian urban system. By mapping average income trends across neighbourhoods, they show the kinds of factors – social, economic, and cultural – that influenced residential options and redistributed concentrations of poverty and affluence. While the heart of the book lies in the project's findings from each city, other chapters provide critical context. Taken together, they offer important understandings of the depth and the breadth of the problem at hand and signal the urgency for concerted policy responses in the decades to come.
Changing Neighbourhoods offers revealing insights into the way that Canadian cities have grown increasingly unequal and polarized since 1980, identifying the causal factors driving neighbourhood change and their troubling implications.
Until the 1980s, Vancouver was a typical mid-sized North American city. But between Expo 86 and the Olympic Games in 2010, something extraordinary happened. This otherwise unremarkable city underwent a radical transformation that saw it emerge as an inspiring world-class metropolis celebrated for its livability, sustainability, and competitiveness. City-watchers everywhere took notice and wanted to learn more about this new model of urban growth, and the term "Vancouverism" was born.This book tells the story of Vancouverism and the urban planning philosophy and practice behind it. The author is a former chief planner of the City of Vancouver and was a key player at the heart of the action. Writing from an insider's perspective, Larry Beasley traces the principles that inspired Vancouverism and the policy framework developed to implement it. The prologue, written by Vancouver journalist Frances Bula, outlines the political and urban history of Vancouver up until the 1980s. The text is also beautifully illustrated by the author with more than 200 colour photographs. Cities everywhere are asking the same question. Shall we shape change or will change shape us? This book shows how one city discovered positive answers, and it offers the principles, tools, and inspiration for others to follow.
This is the remarkable story, told by a key insider, about Vancouver's dramatic transformation from a typical mid-sized North American city into an inspiring world-class metropolis celebrated for its liveability, sustainability, and vibrancy.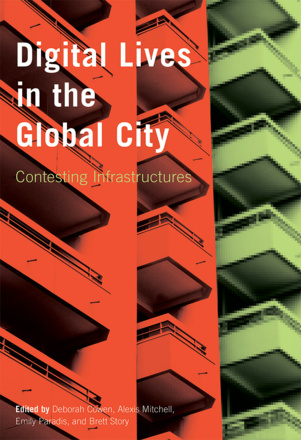 Contesting Infrastructures
Digital technologies have changed the world, transforming how, where, and when we communicate, love, learn, create, produce, distribute, and consume. Digital Lives in the Global City examines the entanglements of urban life, investigating how urban land, governance, and the economy are being remade by advancing communication technologies. Digital infrastructures connect people and places across vast distances, yet they also extend the working day into personal time and space, increase the power of financial institutions, and enhance state and corporate surveillance capacities.Digital Lives in the Global City intersperses critical scholarship with provocative short works from artists, activists, and citizens to engage with a wide range of issues wrought by digital infrastructure: struggles over unsafe and illegal buildings in Mumbai, the conditions of migrant work in Singapore, the question of digital debt in Toronto, and targeted policing in New York. This nuanced exploration reveals the profound connections between digital technologies and the social life of global cities.
Digital Lives in the Global City asks how digital technologies are remaking urban life around the world, from migrant work in Singapore to digital debt in Toronto, illegal buildings in Mumbai, and targeted policing in New York.
You can find our selection of new titles in Urban Studies and Planning, or browse all books in this subject area published by us and the publishers we distribute in Canada.
Receive a conference discount of 20% off all urban studies and planning print books and 30% off e-books at ubcpress.ca until May 31, 2020. Free shipping is available on print book orders over $40.00. When ordering print books, use the discount code CabinFever at the checkout, and for e-books, Housebound. For US orders, visit press.uchicago.edu/cdc.html and receive a 20% conference discount on print books. Use discount code EX56677 at the checkout.
Let's get your manuscript published!
Are you working on a book manuscript? Or do you have questions about publishing? James MacNevin, Senior Editor for Urban Studies and Planning, would like to talk to you.
"I hope everyone in the Urban Affairs community is keeping well. While we're not able to meet in person this year, I'm always available to connect or reconnect by email, phone, or video conference. I'd love to learn about your new projects and chat about the possibility of publishing in our diverse and rapidly growing urban studies list. Please feel free to email me anytime at
macnevin@ubcpress.ca
to submit a proposal or set up a time to talk."
Examination and Desk Copies
Looking for a course book? You can request an examination copy by completing our
online exam copy order form.
If you have any questions, Liz Hudson can help you out. She can be reached at
hudson@ubcpress.ca
.
Review Copies
Are you a book review editor? Did you find something that has review potential for your journal? Contact Kerry Kilmartin, publicist, at
kilmartin@ubcpress.ca
.
Find what you're looking for...
Publishers Represented
UBC Press is the Canadian agent for several international publishers. Visit our
Publishers Represented
page to learn more.