$34.95

Back Order
Ships in 4-6 weeks.
GO TO CART
Yellow Perils
China Narratives in the Contemporary World
University of Hawai'i Press
China's meteoric rise and ever expanding economic and cultural footprint have been accompanied by widespread global disquiet. Whether admiring or alarmist, media discourse and representations of China often tap into the myths and prejudices that emerged through specific historical encounters. These deeply embedded anxieties have shown great resilience, as in recent media treatments of SARS and the H5N1 virus, which echoed past beliefs connecting China and disease. Popular perceptions of Asia, too, continue to be framed by entrenched racial stereotypes: its people are unfathomable, exploitative, cunning, or excessively hardworking. This interdisciplinary collection of original essays offers a broad view of the mechanics that underlie Yellow Peril discourse by looking at its cultural deployment and repercussions worldwide.
Building on the richly detailed historical studies already published in the context of the United States and Europe, contributors to Yellow Perils confront the phenomenon in Italy, Australia, South Africa, Nigeria, Mongolia, Hong Kong, and China itself. With chapters based on archival material and interviews, the collection supplements and often challenges superficial journalistic accounts and top-down studies by economists and political scientists. Yellow Peril narratives, contributors find, constitute cultural vectors of multiple kinds of anxieties, spanning the cultural, racial, political, and economic. Indeed, the emergence of the term "Yellow Peril" in such disparate contexts cannot be assumed to be singular, to refer to the same fears, or to revolve around the same stereotypes. The discourse, even when used in reference to a single country like China, is therefore inherently fractured and multiple.
The term "Yellow Peril" may feel unpalatable and dated today, but the ethnographic, geographic, and historical breadth of this collection—experiences of Chinese migration and diaspora, historical reflections on the discourse of the Yellow Peril in China, and contemporary analyses of the global reverberations of China's economic rise—offers a unique overview of the ways in which anti-Chinese narratives continue to play out in today's world. This timely and provocative book will appeal to Chinese and Asian Studies scholars, but will also be highly relevant to historians and anthropologists working on diasporic communities and on ethnic formations both within and beyond Asia.
Contributors:
Christos Lynteris
David Walker
Kevin Carrico
Magnus Fiskesjö
Romain Dittgen
Ross Anthony
Xiaojian Zhao
Yu Qiu
The result is a rich and engaged series of mediations capturing a range of responses and relationships to China . . . this volume contributes significantly to scholarly and general audiences interested in contemporary China and its international relations, deployments of political ideologies that racialize differences, and the morphing properties of yellow peril discourses that render them hard to contradict, much less pin down and eliminate.
Yellow Perils is a remarkable, coherent, and recommendable work that offers an updated and at some moments innovative panoramic discourses about China from a contemporary perspective.
An elegant and timely collection of essays showing the persistence and the virulence of many varieties of 'Yellow Peril' discourse—both in the West and within East Asia itself. A touchstone for further work on this important subject.
Yellow Perils: China Narratives in the Contemporary World is a timely collection coming as it does when the might of Beijing indeed poses a significant threat, to Muslims in Xinjiang Province for example, and (at the time of writing) to democracy activists in Hong Kong. . . . Despite the time elapsed from research to print and the astonishing rapidity of change in the current political scene, Yellow Perils's relevancy may perhaps be greater than might have been predicted by its editors. . . . Yellow Perils initiates an area of study that is of crucial importance in our increasingly polarized societies. We do indeed, as Kevin Carrico reflects, need to think beyond binary divisions, the 'false analytical coherence' of Left-Right or East-West if we want to take the issue of positioning seriously in our academic work. Oppressive powers exist and operate across multiple binaries; despite the challenges involved, scholars must continue to strive to reflect the full complexity of identity processes as they continue to evolve in today's world.
The collection unpacks some of the more complex threads that make up the trope of yellow peril in different spaces and at various periods in history. . . . The emerging discourse on the COVID-19 pandemic demonstrates how racial and economic anxieties are intertwined, as Billé and Urbansky correctly describe, and how they can go global as a unified discourse in an interconnected world through the abstraction of yellow peril. Thus, this book is timely in that it helps us understand the potency of yellow peril during the COVID-19 outbreak. It illustrates that the awe over the rise of China cannot be separated from the anxiety-driven Sinophobia of the last century, raising questions on the limits of economic greed and reminding us of the enduring power of racial anxiety even in so-called post-racial and 'successful' multicultural societies.
Franck Billé (Editor)
Franck Billé is a cultural anthropologist based at the Institute of East Asian Studies, University of California, Berkeley.
Sören Urbansky (Editor)
Sören Urbansky is research fellow at the German Historical Institute in Washington, D.C.

Find what you're looking for...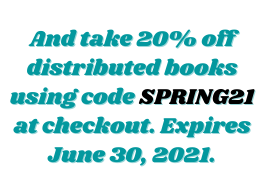 Publishers Represented
UBC Press is the Canadian agent for several international publishers. Visit our
Publishers Represented
page to learn more.