News
Preface to Bootstraps Need Boots by Hugh Segal
Posted:

Thursday, August 10, 2023
Today we were saddened to hear of Hugh Segal's passing. A few years ago, we had the privilege to work with Hugh on his book Bootstraps Need Boots: One Tory's Lonely Fight to End Poverty in Canada. Hugh's experiences led him to defend the most economically vulnerable and champion the concept of a basic annual income. The below passage—the preface to Bootstraps Need Boots—illuminates Hugh's optimism in the face of a plethora of challenges: "But nor should this be impossible simply because it is hard." 
---
IN JUNE 2008, I was a keynote speaker at a conference in Dublin sponsored by the Basic Income Earth Network, a gathering of academics, community workers, anti-poverty advocates, priests, nuns, and activists on housing, pensions, health care, and food security from many countries in Europe, North and South America, and beyond. I was invited because of my decades-long championing of a new approach to welfare and poverty abatement known as a basic income, or guaranteed annual income. The idea, with proponents and opponents on both the left and the right, had consistently hit huge roadblocks in almost every finance ministry in the free world.
In my speech, I reflected on the extent to which being on the centreright of Canadian politics while also being a determined life-long advocate for a basic income has had its moments of discomfort, particularly in the conservative circles that have defined my political life. At that time, the alliance between members of the Reform Party and remnants of the Progressive Conservative Party was, though polite, deeply inhospitable to any real approach to welfare reform.
I put it this way: "For more than thirty years, I have been a cheerful, if lonely, Conservative proponent in Canada for a guaranteed annual income or a basic income floor." My listeners, assembled in the rather large lecture hall of the University of Dublin's business school, looked bemused, sympathetic, or curious – the way you might look when you see someone walk absent-mindedly into a telephone pole.
Before I was to speak, I'd had coffee with Father Sean Healy, a delightful and obviously warm-hearted Jesuit priest. "So, you're a conservative senator, are you?" he said to me. "And you care about the poor? How very interesting. Well, good luck to you." Expressed in various ways by associates in business, fellow directors on for-profit and not-for-profit boards, journalists and columnists of the left, right, and centre, and parliamentarians of differing stripes, the good father's reaction has been a steady part of my life since 1969. That was when, as a young Progressive Conservative (PC), I was introduced to a new concept, a means to lift poor Canadians into the economy in a way that was humane, respectful, and affordable. A basic income floor had been proposed at a PC "seminal thinkers" conference in Niagara Falls that year, as a better way to protect equality of opportunity for all Canadians. Better, at least, than the patchwork of federal, provincial, and municipal programs, supplemented by charitable and church-based activity, that was complex, wasteful, and most importantly, unsuccessful at helping people get out of poverty and creating a genuine fair point of departure. The PC Party, fresh from an electoral defeat at the hands of the charismatic Pierre Trudeau, was licking its wounds at the time, regrouping and reflecting under the able, sensible, and profoundly decent leadership of Robert Stanfield, its newly chosen leader. Convinced by what I heard, I have advanced the idea of a basic income at every opportunity since then.
This book is not an argument for the nuances of one social program over another. Rather, it attempts to answer the question that I have been asked so often over the years. Why would a life-long Conservative support a guaranteed income? The conservative and Conservative wheelhouse is about lower taxes, less government, and preserving what is best. It generally avoids social and economic policy change. So what could drive a Conservative who had run for office and served premiers and prime ministers as an advisor, organizer, and senior official to champion this radical shift in how we structure our societies and economies? How dare he set aside the "survival of the fittest" precept that drove many European, American, and Canadian conservatives?
In 2016, my third year as principal of Massey College, I accepted an assignment to prepare a detailed discussion paper for the Province of Ontario on how a basic income might be tested through a carefully planned pilot project. At my explicit request, it was a pro-bono assignment.
For the next three months, I devoted the better part of weekends, evenings, and non-existent summer holidays to this task. Working with Maripier Isabelle, who was completing her doctorate in health economics at the University of Toronto, I attended a series of roundtables, panels, and meetings. These involved provincial and municipal officials in Ottawa and Toronto, advocacy groups, folks living in poverty themselves, and federal public servants in the numerous ministries working on various aspects of social policy, statistical measurement, intergovernmental cooperation, health, and finance. All in all, there were close to a hundred meetings and phone conferences, each one focused on how best to design the pilot for a basic income. We held discussions with other provinces and with the other two parties in the Ontario legislature as well.
My discussion paper, published by the Province of Ontario in November 2016, laid out one approach to how such a pilot might be designed to determine whether a basic income grant made more sense than the existing welfare and disability support programs in terms of both outcomes for the recipients and the net cost to the province. The government decided to launch a three-year pilot project in Thunder Bay, Hamilton, and Lindsay, following many of the recommendations in the discussion paper. Participant recruitment began in the spring of 2017. Sadly, even though four thousand people had been recruited, the entire effort was cancelled in July 2018 by the newly elected Progressive Conservatives. This was a shocking breach of faith by the government, and it signalled the desertion of any commitment whatsoever to an evidence-based, decision-making approach to welfare reform.
Despite the abandonment of the pilot program, the deeply informative and highly constructive process of assembling the discussion paper underlined for me even more strongly that not trying something different – not even attempting to see if poverty can be alleviated in a more humane and efficient way – is a very serious mistake. The only thing worse than a bias shaped by poor expectations about low-income citizens and their prospects is a sense of complacent defeatism about how, as a mature and productive society, we can reduce poverty and its impact. There was little doubt in my mind – a mind shaped by this issue since my nineteenth birthday – that the present approach to welfare and poverty abatement was economically unproductive, extremely discouraging of work and social engagement, and intrinsically unaffordable.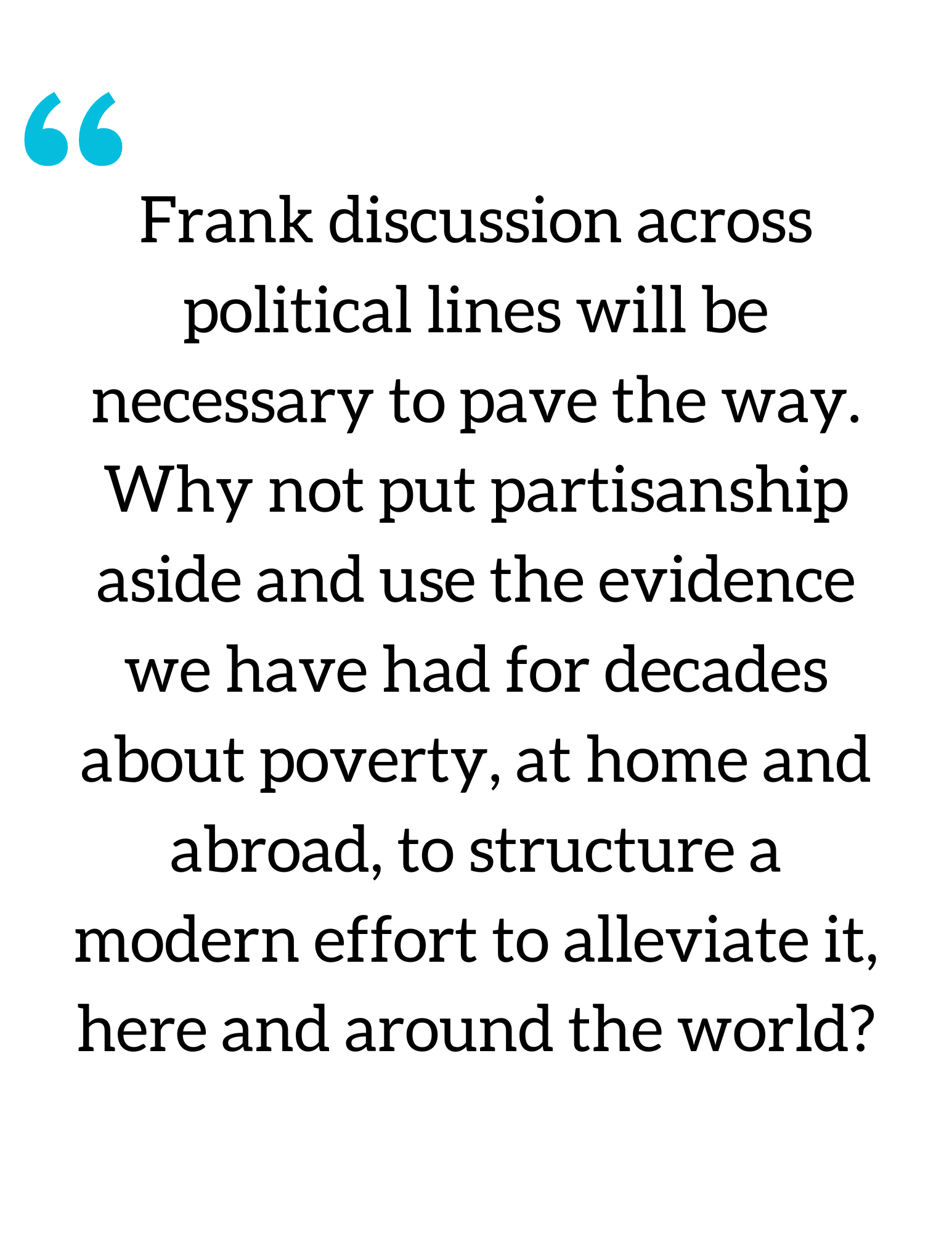 I would like to think that, had I been raised in a family where economic security and future prospects were never in doubt, good sense and genuine public engagement would have brought me to the same conclusions regarding an income guarantee for all. Certainly, the difficult economic circumstances of my early life made me responsive to this central idea, and my dedication to it has merely increased through years of work in politics, business, and academe.
Policy change, especially one as fundamental as the creation of a basic income guarantee for all, should not be easy to achieve in a democracy as pluralist and diverse as Canada's. But nor should this be impossible simply because it is hard. Frank discussion across political lines will be necessary to pave the way. Why not put partisanship aside and use the evidence we have had for decades about poverty, at home and abroad, to structure a modern effort to alleviate it, here and around the world? My own conservatism – and mainstream conservatism itself, for that matter – has never been about preserving class privilege. It is about broadening the economic mainstream by affording genuine equality of opportunity to those who are outside the circle. It is in that spirit, with a blend of humility and optimism, that I reflect here on where and why I developed such a strong bias for a basic income guarantee.
HUGH SEGAL
Charleston Lake
Ontario
Find what you're looking for...
Stay Informed
Receive the latest UBC Press news, including events, catalogues, and announcements.
Publishers Represented
UBC Press is the Canadian agent for several international publishers. Visit our
Publishers Represented
page to learn more.