Our History
Beginnings
The University of British Columbia Press, based in Vancouver, British Columbia, was founded in 1971 and has published under the UBC Press imprint since 1990. It grew out of the former Publications Centre at the University of British Columbia, which had been established in 1961. Anthony Blicq, who had begun his publishing career at the Clarendon Press in Oxford and had managed the Publications Centre for several years, became the Press's first director.
The Royal Navy and the Northwest Coast of North America, 1810-1914 by Barry M. Gough
Given the kinds of titles UBC Press inherited from the Publications Centre, it was natural that the Press's initial areas of specialization were Asia and the Pacific, international law, and Canadian studies. In its first decade it also began to publish books reflecting the Pacific region, including Indigenous Studies, Pacific naval history, Canadian literature, natural resources and resource policy, and, another long-term specialty, memoirs of early European settlers in British Columbia. The first book published by the Press was Barry M. Gough's The Royal Navy and the Northwest Coast of North America, 1810-1914, in 1971. Two other books followed in the first year: a guide to English, American, and Canadian literature and a book about the English writer (and sometime Vancouver resident) Malcolm Lowry.
During that first decade, a typical year's output consisted of seven original titles, two co-publications purchased from other publishers, and two reprints. By 1981, the Press had published sixty-nine original titles, purchased nineteen co-publications, and reprinted thirteen books reprinted from the backlist. The most ambitious book published during that period was the Atlas of British Columbia, edited by A.L. Farley of UBC's Department of Geography. A remarkable 25,000 copies were printed and sold. Other books of enduring note published during these initial years include God's Galloping Girl: The Peace River Diaries of Monica Storrs, 1929-31, edited by W.L. Morton, and Marjorie M. Halpin's Totem Poles: An Illustrated Guide.
For three years following Anthony Blicq's departure in 1982, the Press was supervised by a Faculty committee with Basil Stuart-Stubbs, UBC's University Librarian, as acting director. The Press's areas of editorial concentration still included Asia and the Pacific, but literary studies, especially of Canadian literature, quickly becoming a more prominent field of publication and, so too, Indigenous Studies. The release, in 1983, of the remarkable Haida Monumental Art: Villages of the Queen Charlotte Islands, by George F. MacDonald (with graphics and a Foreword by Bill Reid and Commentary by Richard Huyda) marked a turning point in scholarship about Northwest Coast Indigenous history and culture.
In 1986, James Anderson, a Canadian who had spent a number of years as philosophy editor at Oxford University Press in New York, was chosen as the new full-time director. Under Anderson's supervision, the Press added to its acquisitions staff and increased its output to between fifteen and twenty books a year. The next few years saw publication of Patricia E. Roy's classic history, A White Man's Province: British Columbia Politicians and Chinese and Japanese Immigrants, 1858-1914; the influential Chinatown: Towns Within Cities in Canada, by David Chuenyan Lai; and the bestselling Assu of Cape Mudge: Recollections of a Coastal Indian Chief, written by Harry Assu with Joy Inglis.
A New Start
Change came apace in 1989 when, under the thoughtful guidance of Dr. K.D. Srivastava (the UBC vice-president responsible for the Press), the organization was assessed by a review committee and its future newly charted. In 1990, Peter Milroy was appointed director and, shortly following, a major restructuring of the Press began. Former areas of focus, such as literary criticism and philosophy, were abandoned, while the acquisitions focus was intensified in Indigenous Studies, BC and Western Canadian history, political science, and forestry and environmental studies. An active program of campus-calling and strong promotional support from several members of the Press's Publications Board (in particular, its chair, leading political scientist and author R. Kenneth Carty) greatly helped increase awareness of the Press's rejuvenated focus.
In 1991, UBC Press published the influential volume Life Lived Like a Story: Life Stories of Three Yukon Elders, by Julie Cruikshank in collaboration with Angela Sidney, Kitty Smith, and Annie Ned, which went on to win the Canadian Historical Association's highest award, the Sir John A. Macdonald Prize, and was widely hailed as a unique form of storytelling autobiography. The following year saw the release of Vancouver and Its Regions, edited by Graeme Wynn and Timoth Oke, heralding the Press's addition of geography and urban studies to its areas of acquisition. Exploring Vancouver: The Essential Architectural Guide, by Harold Kalman, Ron Philips, and Robin Ward, was published a year later, as was the The Shorebirds of the Pacific Northwest, authored by Dennis Paulson, which saw the Press add ornithology as a new area of interest to its list.
In 1994, UBC Press opened up a Toronto office, thus expanding its editorial and marketing presence in eastern Canada and cementing its stature as a significant national publisher. In 1995, to further underwrite its editorial growth, UBC Press took on a new role as marketing and distribution agent for other scholarly and academic publishers in Canada, the United States, and Great Britain. The Press also forged a strategic alliance with University of Washington Press, establishing a reciprocal marketing and distribution arrangement for Canada and the US. By this time, too, UBC Press had established effective sales and promotional networks across the globe.
While scholarly monographs are the primary focus and raison d'être of the Press, over the years it has published works of substantial size and complexity, including the four-volume Birds of British Columbia, which was followed by Butterflies of British Columbia. The former work was one of the largest ornithological projects ever undertaken in North America and the largest project published in British Columbia, spanning over 2,600 pages. Other special publications included Betty Issenman's Sinews of Survival: The Living Legacy of Inuit Clothing (winner of several major prizes and selected by the Guardian as one of "the ten best books on anthropology of all time"); Alexandra Palmer's Couture and Commerce: The Transatlantic Fashion Trade in the 1950s and Peter Storck's Journey to the Ice Age (both published with the Royal Ontario Museum, Toronto); The Transforming Image: Painted Arts of the Northwest Coast First Nations, by Bill McLennan and Karen Duffek; Allan J. Ryan's The Trickster Shift: Humour and Irony in Contemporary Native Art; and Gerta Moray's Unsettling Encounters: First Nation's Imagery in the Art of Emily Carr, published in 2006. Eight years later, in 2014, UBC Press produced Native Art of the Northwest Coast: A History of Changing Ideas, an outstanding volume edited by Charlotte Townsend-Gault, Jennifer Kramer, and Ḳi-ḳe-in. Over ten years in the making, the book continues to garner critical acclaim.
Hitting Its Stride
The first decade of the 21st century saw UBC Press continue to thrive. It launched several new series, notably: The Canadian Democratic Audit, comprising ten volumes published in association with the Centre for Canadian Studies at Mount Allison; the influential Law and Society Series, with W. Wesley Pue as its General Editor; Nature|History|Society, a leading series in environmental history established by geographer Graeme Wynn; Studies in Canadian Military History, in partnership with the Canadian War Museum; and Sexuality Studies, originally conceived by now-retired UBC Press editor, Jean Wilson. The First Nations Languages series, established a few years prior to the new millennium and with a mandate to publish works of significant linguistic scholarship, grew by four volumes, covering Musqueam grammar, St'át'imc oral narratives, Witsuwit'en grammar, and Chinook jargon.
The Press's list also began to reflect a growing cohesion in political science and environmental studies, as well as a deepening engagement with the complexities of Indigenous Studies and a more nationally focused acquisitions program in Canadian history. A few key award-winning books from the decade include: Alan Cairns's pivotal Citizens Plus: Aboriginal Peoples and the Canadian State; Cole Harris's Making Native Space: Colonialism, Resistance, and Reserves in British Columbia; and Julie Cruikshank's Do Glaciers Listen? Local Knowledge, Colonial Encounters, and Social Imagination – all published in the Brenda and David McLean Canadian Studies Series. David Boyd's Unnatural Law: Rethinking Environmental Law and Policy, released in 2003, continues to have an enduring influence on our understanding of the relationship between Canadian law and the ecological imperative, while Tina Loo's States of Nature: Conserving Canada's Wildlife in the Twentieth Century traces for readers the long historical, and socially complex, arc of wildlife conservation. John F. Howes' Japan's Modern Prophet: Uchimura Kanzô, 1861-1930, an exceptional biography, won the Canada Council's Canada-Japan Literary Award – a rare occurrence for an academic book. Joy Parr's Sensing Changes: Technologies, Environments, and the Everyday, 1953-2003, situated the scale of megaprojects within the sensory realm of daily human life, while John Lutz's extensive research leading to Makúk: A New History of Aboriginal-White Relations, sought to reframe the relationship between Indigenous and non-Indigenous peoples, an important vision as the years 2000-10 drew to a close.
As prologue to the next decade, the Press began to earn a burgeoning reputation for publishing incisive works in feminist political studies, transnationalism, critical race theory, in addition to media studies and communications.
New Heights
By 2010 UBC Press had fully established its stature as a leading academic press. Two decades of sustained and intensive focus on improving every aspect of the Press's business had transformed it into successful and vital intellectual enterprise. This was recognized in 2009 when UBC Press was honoured with the Jim Douglas Publisher of the Year Award in recognition of a BC publisher "that has earned the respect and applause of the community," and then again, in 2011, when the Press became the first university press to be the recipient of the prestigious Wilson Prize for Publication in Canadian History.
His good work done, Peter Milroy retired in 2012. He was succeeded as director by Melissa Pitts, who had, since 2005, held the position of Editor and the UBC Press Assistant Director, Eastern Canada.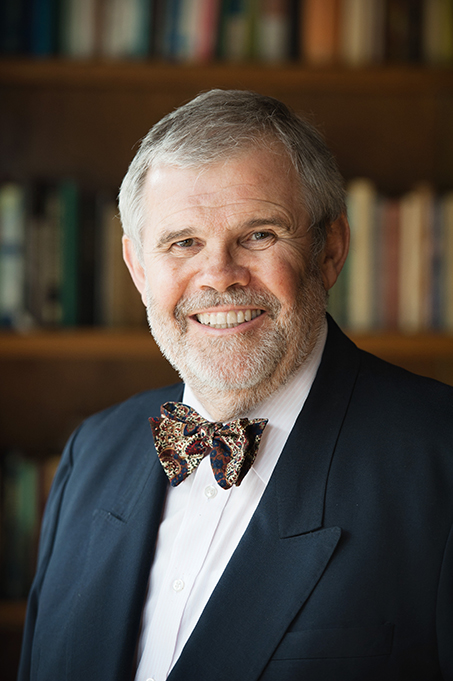 Peter Milroy, taken by Martin Dee © University of British Columbia.
Continued Excellence
Recent books on UBC Press's list further exemplify the remarkable quality and sophistication of research and intellectual thought that goes into each work. New areas of acquisitions – including disability studies, food studies, sociology of work and labour, a focus on Muslim life in Canada, and political marketing – capture the vigorous debate and energy within the academy. This is further demonstrated by UBC Press's newly created series, including: Communication, Strategy, and Politics; Shared: Oral and Public History; the Women and Indigenous Studies Series; Disability Culture and Politics; the C.D. Howe Series in Canadian Political History; and Landmark Cases in Canadian Law.
Amid the many works of note that the Press has published in the last few years, Standing Up with Ga'axasta'las: Jane Constance Cook and the Politics of Memory, Church, and Custom, by Leslie A. Robertson; Where Happiness Dwells: A History of the Dane-zaa First Nations, by Robin Ridington and Jillian Ridington in collaboration with the Elders of the Dane-Zaa First Nations, and Written As I Remember It: Teachings ?əms ta?aw from the Life of a Sliammon Elder, by Elsie Paul in collaboration with Paige Raibmon and Harmony Johnson, stand out new models for collaboratively authored work. Chinese Comfort Women: Testimonies from Imperial Japan's Sexual Slaves, by Peipei Qiu, with Su Zhiliang and Chen Lifei, explores this same potential but framed by the perspective of political history and women's studies.
It has been fulfilling to witness environmental history finding an ever-broadening audience, and John Thistle's Resettling the Range: Animals, Ecologies, and Human Communities in British Columbia win an astonishing number of awards for a single publication. Similarly, the Press was delighted when Jean Barman's French Canadians, Furs, and Indigenous Women in the Making of the Pacific Northwest was accorded the 2015 Governor General's History Award for Scholarly Research: Sir John A. Macdonald Prize.

The Press Expands
In late 2015, UBC Press purchase the publishing assets of Purich Publishing Ltd. Founded in 1992 by Don Purich and Karen Bolstad, Purich soon became a highly regarded publishing house specializing in books about Aboriginal studies, law, Western Canadian history, and social justice. With more than forty books in print, the addition of the Purich authors and their books is a welcome contribution to and logical fit for UBC Press's list. As an ongoing imprint, Purich will allow UBC Press to be more agile and timely in acquiring and producing significant works in areas of key editorial strength.
Beginning in March 2016, with the support of a CDN$ $679,970 three-year grant from the US-based Mellon Foundation, UBC Press and University of Washington Press began developing a digital platform for Indigenous multimedia books. Titled "Creating Indigenous Knowledge Networks through Digital Multi-Path Books" and developed by UBC Press editor Darcy Cullen, the project platform will offer a suite of tools for linking data and analyses to digital content from around the world and for interacting in culturally sensitive ways with heritage materials, ranging from clothing, beadwork, tools and weapons to songs, stories, and dances. It will include customizable methods for authoring teams to label content and inform readers about cultural protocols for access and use of specific content. The project will bring UBC Press into close working partnerships with Indigenous studies and digital humanities scholars, museum curators, First Nations communities, and other experts in intellectual property issues and cultural heritage management in digital environments.
Also, in spring 2016, UBC Press launched its new trade imprint, On Point Press, which offers readers sharp, authoritative, and thought-provoking works of non-fiction clustered around the main themes of history, politics, Indigenous studies, the environment, and the natural world.
UBC Press Christmas staff party, 2016
The Future Looks Bright
In 1990, the University of British Columbia had the foresight to sustain UBC Press. It is a gamble that has paid off. UBC Press is now an international recognized university press, renowned for the quality of its books, both print and digital, and unrivalled in the areas that it publishes: Indigenous studies, law and society, political science, regional history, Canadian general and military history, environmental and resource studies, environmental history, disability studies, Asian studies, transnationalism, communications, media studies, food studies, and sexuality and gender studies.
UBC Press's excellent reputation in Canada and abroad rests, as it always has, on the impressive quality of its authors' scholarship, brought to fruition through the talent and dedication of its staff members, and supported in its editorial vision by members of its Publications Board. Mettle-tested and ready, UBC Press looks forward to new authors, new books, and new forms of publishing in the years to come.
Find what you're looking for...
Stay Informed
Receive the latest UBC Press news, including events, catalogues, and announcements.
Publishers Represented
UBC Press is the Canadian agent for several international publishers. Visit our
Publishers Represented
page to learn more.