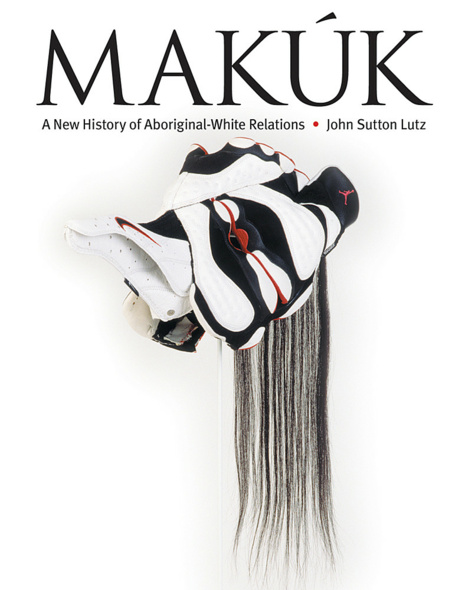 180 b&w photos, 10 maps, 8 charts, 10 tables
Makúk
A New History of Aboriginal-White Relations
The history of Aboriginal-settler interactions in Canada continues to haunt the national imagination. Despite billions of dollars spent on the "Indian problem," Aboriginal people remain the poorest in the country. Because the stereotype of the "lazy Indian" is never far from the surface, many Canadians wonder if the problem lay with "Indians" themselves.
John Lutz traces Aboriginal people's involvement in the new economy, and their displacement from it, from the arrival of the first Europeans to the 1970s. Drawing on an extensive array of oral histories, manuscripts, newspaper accounts, biographies, and statistical analysis, Lutz shows that Aboriginal people flocked to the workforce and prospered in the late nineteenth century. He argues that the roots of today's widespread unemployment and "welfare dependency" date only from the 1950s, when deliberate and inadvertent policy choices – what Lutz terms the "white problem" drove Aboriginal people out of the capitalist, wage, and subsistence economies, offering them welfare as "compensation."
Makúk invites readers into a dialogue with the past with visual imagery and an engaging narrative that gives a voice to Aboriginal peoples and other historical figures. It is a book for students, scholars, policymakers, and a wide public who care to bring the spectres of the past into the light of the present.
This is a book for students, scholars, policymakers, and a wide public who care to bring the spectres of the past into the light of the present.
Awards
2009, Winner - Clio Award for BC, Canadian Historical Association
2008, Commended - Outstanding Academic Title, CHOICE
2010, Winner - Harold Adams Innis Prize, Canadian Federation for the Humanities and Social Science
Some Canadian scholars are already calling this work 'one of the most important books on aboriginal history written in Canada.' This very well could be the case. Lutz provides a fresh perspective on Canada's history of Aboriginal-newcomer relations by focusing on makúk, roughly translating as 'exchange' in a trading, cultural, linguistic, and religious sense, and various resultant misunderstandings … Lutz successfully illustrates how the contemporary image of the Indian as lazy and welfare dependent originated only recently through misunderstandings and particular views about labor that were prevalent in European culture. An intriguing, important piece of scholarship, handsomely packaged, sure to inspire thought and debate.
It's a pivotal work, because it explores the nature of business between whites and aboriginals. That is a different way of approaching our shared history, and it is revealing. It enables us to get a better understanding of why matters between aboriginals and whites went so badly off track … Lutz drew from interviews, oral histories, newspapers, biographies, statistical analyses and more to put together his ground-breaking history … As we continue to deal with treaties, housing woes, addictions and unemployment on and off reserves, Makúk should be seen as essential reading … We cannot fix what ails our shared society without knowing how we got here – and what was, sadly, lost in translation.
Essential reading for anyone interested in the field of Aboriginal-White relations.
… a compelling and beautiful book, explores both the deeply entrenched origins of this incomprehension across a cultural divide and the consequences of the resulting miscommunication for the aboriginal peoples of British Columbia.
Makúk not only highlights the costs of the colonization of British Columbia, but calls us to reconsider how we think about our history and to build a future on dialogue that acknowledges cultural pluralism.
Makúk was originally a way for Original Peoples to enrich their own economies. Lutz reminds us that 'prior to the establishment of white settlement, the Aboriginal peoples of present day British Columbia were among the richest and best-fed societies in the world.'
George Abbott [Minister for Aboriginal Relations and Reconciliation for BC] … has been greatly influenced by the book Makúk … it has some vivid examples of why there is still such lingering hostility among aboriginal groups towards government.
Makúk provides a fresh perspective on the history of indigenous labour … Lutz is both powerful and poetic in his reframing of this important history, and his book is a strong contribution that significantly moves the British Columbia historiography forward in new and exciting ways … I hope [it] will reverberate throughout the fields of Canadian labour and colonial history.
His study is a crucial contribution to the study of the history of indigenous peoples' participation in the wage-labour force and the market economy … anyone embarking on a study of the history of aboriginal participation in the wage-labour force should consult this book.
Theoretically sophisticated and richly detailed … it will be valued as a reference for researchers … as well as by Aboriginal people. [It] exemplifies the best of contemporary research on British Columbia's history.
Makúk models some commendable ethnohistorical methods … The book casts fresh light on a critical aspect of Aboriginal history … This book belongs in the libraries of all Native studies scholars, in Canada and beyond.
Makúk makes an important contribution to larger discussions of indigenous-newcomer relations and an emerging literature on Aboriginal labour history in both Canada and the United States.
John Sutton Lutz teaches in the Department of History at the University of Victoria. He is editor of Myth and Memory: Stories of Indigenous-European Contact and co-editor of Situating Race and Racisms in Space, Time, and Theory.
Preface: Makúk
1 Introduction: Molasses Stick Legs
2 Pomo Wawa: The Other Jargon
3 Making the Lazy Indian
4 The Lekwungen
5 The Tsilhqot'in
6 Outside History: Labourers of the Aboriginal Province
7 The White Problem
8 Prestige to Welfare Remaking the Moditional Economy
9 Conclusion: The Outer Edge of Probability, 1970-2007
Postscript: Subordination without Subjugation
Appendices
Notes
Bibliography
Index
Related Titles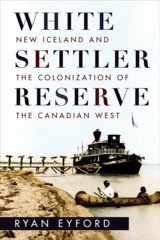 White Settler Reserve
New Iceland and the Colonization of the Canadian West
By Ryan Eyford
The Laws and the Land
The Settler Colonial Invasion of Kahnawà:ke in Nineteenth-Century Canada
By Daniel Rück
To Share, Not Surrender
Indigenous and Settler Visions of Treaty Making in the Colonies of Vancouver Island and British Columbia
Edited by Peter Cook, Neil Vallance, John Lutz, Graham Brazier, and Hamar Foster
A Legacy of Exploitation
Early Capitalism in the Red River Colony, 1763–1821
‹
›
Find what you're looking for...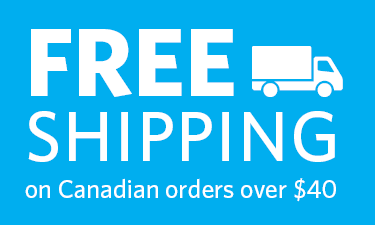 Stay Informed
Receive the latest UBC Press news, including events, catalogues, and announcements.
Publishers Represented
UBC Press is the Canadian agent for several international publishers. Visit our
Publishers Represented
page to learn more.