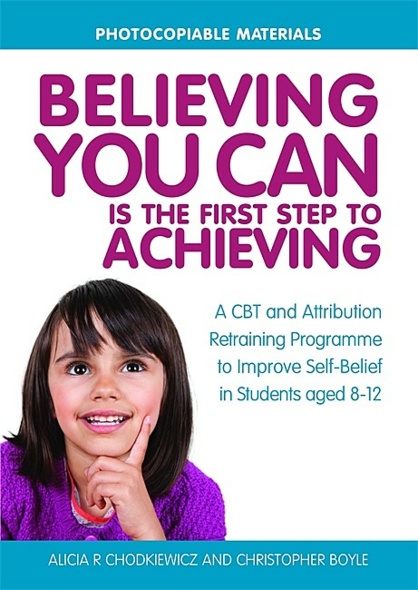 Believing You Can is the First Step to Achieving
A CBT and Attribution Retraining Programme to Improve Self-Belief in Students aged 8-12
Jessica Kingsley Publishers
Believing You Can is the First Step to Achieving is a fun and engaging programme for students in the upper primary years that teaches the difference between helpful and unhelpful thinking, increases self-belief and in doing so increases motivation to learn.
Do you ever hear students using phrases such as "I'm not smart enough to do this?" or "I know I am going to fail?" Combining techniques from Cognitive Behavioural Therapy and Attribution Retraining, this programme teaches students the link between thoughts, feelings and actions, how to challenge negative thinking and how to celebrate success. The structured programme includes a photocopiable student workbook, role play games and other activity ideas, and all of the instruction and materials needed to easily implement the programme in any school.
This will be an ideal resource for educational professionals looking to increase school attainment, support students who are underachieving, and encourage healthy and happy student development.
Chodkiewicz and Boyle have produced an evidentially based programme of work that innovatively combines Cognitive Behavioural Therapy (CBT) and Attribution Retraining to promote positive self-belief in learning. This is a focus frequently neglected by mainstream intervention and reflects the authors' deep experience as educators, psychologists and academics. Materials within offer adaptability, utility and the opportunity for positive and preventative intervention supporting learner self-efficacy. – Dr John Pugh, Principal Psychologist, Educational Psychology Service, St Helens Council, UK
Chodkiewicz and Boyle combine positive psychology, CBT and Attribution Retraining techniques to improve academic achievement and wellbeing by changing students' negative and unhelpful thoughts. The programme is evidence-based, endorsed by participants in the 8-12 years age-group, and all materials and resources required to run eight sessions are provided in photocopier-friendly format. I strongly recommend the programme to teachers and psychologists. – Prof James Boyle, Director of Postgraduate Professional Training in Educational Psychology, School of Psychological Sciences and Health, University of Strathclyde
This flexible, innovative and evidence-based programme, underpinned by key psychological theories and models, will prove an invaluable resource for all those striving to engage and support children and young people to recognise their inherent strengths and to develop positive attitudes to learning. – Elizabeth N. King, Principal Psychologist, South Lanarkshire Council Psychological Services, UK
This is a "must have" for anyone working in educational contexts. Based on sound psychological theories and research evaluations the Believing You Can programme delivers exactly what educators, students, and schools as an organisation need. Calling on their vast experience, Chodkiewicz and Boyle have developed an easy-to-implement programme with step-by-step instructions, supplemented with highly engaging materials which address the needs of young people who are at a critical stage in their social and emotional development. This is an "all round" resource which will not only prove invaluable to educational professionals, but also to academics who are involved in the training of teachers and educational psychologists. – Prof Stephen Houghton, Director, Centre for Child & Adolescent Related Disorders, The University of Western Australia
To my knowledge this is the first resource book that combines Attribution Theory, Positive Psychology and Cognitive Behavioural Therapy to produce a programme that has the potential for making a real difference to children's lives. The programme is packed full of ideas, worksheets, resources and materials that will be invaluable to practitioners who are working daily with children who have problems with learning, as well as those with emotional and behavioural difficulties. Indeed, as the authors highlight, the programme has the potential to be beneficial to all children, regardless of any identified difficulty. I thoroughly recommend this book to educational psychologists, teachers and other professionals who are interested in making a positive impact to the lives of children, especially those most in need of support. – Dr Fraser Lauchlan, Educational Psychologist, Strathclyde University, owner of Fraser Lauchlan Associates
Alicia R Chodkiewicz is a psychologist specialising in the areas of Educational and Child Development, and a member of the Australian Psychological Society. Alicia has completed a Bachelor of Psychology at the University of Sydney, a Master's Degree in Psychology at Monash University, and is currently completing a Doctor of Philosophy at the University of New England, Australia. She has ten years' experience supporting students of various ability levels both inside and outside of the classroom. She lives in New South Wales, Australia. Chris Boyle, PhD, is a Registered Psychologist with the Australian Psychological Society and an Associate Fellow of the British Psychological Society. His current position is as a Senior Lecturer in Educational Psychology at the University of New England in New South Wales, Australia. He is also the current editor of the journal The Australian Educational and Developmental Psychologist. He lives in New South Wales, Australia.
Preface. Section 1: Background. Why are Student Support Programmes Needed? Who Stands to Gain from Such a Programme. Cognitive Behavioural Therapy. Attribution Therapy. Developing the Programme. The Research. Student Feedback. Section 2: Guide to Running the Programme. What to Know Before Getting Started. Session One: Thoughts - Feelings - Actions. Session Two: Helpful and Unhelpful Pathways. Session Three: Where Do We Have Helpful and Unhelpful Thoughts? Session Four: How Does This All Relate to School and Learning? Session Five: Why Do We Succeed and Fail? Session Six: Becoming Super Heroes - Stopping Unhelpful Thoughts. Session Seven: Practising your New Super Powers. Session Eight: Review of What We Have Learnt. Section 3: Modifications and Extensions. Teaching by Topic. Length of the Programme. With a Larger Group or Whole Class. Encouraging Students to Use the Skills in their Own Lives. Section 4: Programme Resources. Workbook. Home Learning Sheets. Extra Material.
Find what you're looking for...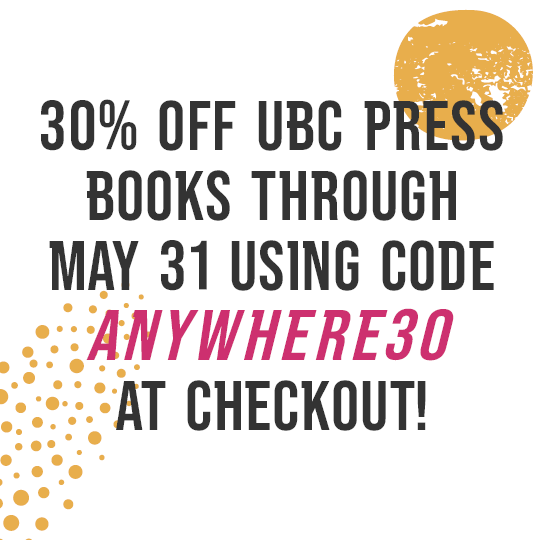 Stay Informed
Receive the latest UBC Press news, including events, catalogues, and announcements.
Publishers Represented
UBC Press is the Canadian agent for several international publishers. Visit our
Publishers Represented
page to learn more.