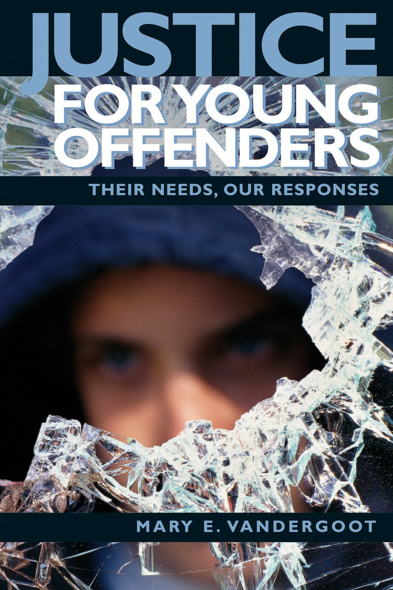 Justice for Young Offenders
Their Needs, Our Responses
UBC Press
, Purich Publishing
Canada has a 100-year history of using the criminal justice system to address social problems of youth in society. Has this approach worked? Not according to clinical psychologist Mary Vandergoot. In fact, this approach has ignored the reality that many youth who come into contact with the law may have developmental disabilities, mental health disorders, suffer from a fetal alcohol spectrum disorder, or be victims of violence or neglect. Our current approach to youth justice can actually harm such young persons and their families by ignoring their needs.
Set against the backdrop of the recently enacted Canadian Youth Criminal Justice Act, the author takes an interdisciplinary approach to justice issues including: the consequences of charging or not charging a youth with a crime; options for dealing with troubled youth; what are appropriate sentences; a discussion of the social and emotional issues troubled youth face; and the role of the various actors in youth justice, including the role of a psychologist. In this ground-breaking analysis of the many, often complex issues that must be addressed, the author challenges us to examine the assumptions behind our approach to youth justice, and break the cycle of using legal sanctions to deal with youth who have special needs. Clinical examples and sample evaluations add to the depth of the author's analysis.
This book will be of tremendous value to teachers, lawyers, community youth workers, judges, social workers, therapists, and parents — anyone interested in or working with young persons. The author tackles head on the difficult questions that must be addressed if society is to make a positive difference in the lives of its youth in conflict with the law.
Dr. Mary Vandergoot is a senior psychologist with the Youth Resource Centre, Child and Youth Program, in Saskatoon, SK, and a Professional Affiliate with the Department of Psychology, University of Saskatchewan. She has studied and worked in the areas of educational and developmental psychology, child and family mental health, and assessment and treatment of young offenders. She is the mother of five adult children.
Acknowledgements
Introduction: Toward A Disability Paradigm
1. The Tip of the Iceberg
The Code According to the YCJA
Mental Disorder Provisions
Key Aspects of Youth Justice Legislation
Conferences
Court Ordered Reports
Adult Sentences for Young Offenders
Constitutionality of the YCJA
2. Good Reasons for a Separate System
A Period of Change and Risk
Competencies in Youth
Adolescence and Stress
Mood Disorders
Planning, Judging, and Decision-Making
Substance Abuse and Addiction
Implications of a Developmental Perspective
The Truth about Consequences
3. Even More Reasons for a Separate System
Conceptualizing Mental Disabilities
Multiple Pathways Leading to Mental Disabilities
At Risk for Secondary Disabilities
Victimization
Mental Disabilities and Delinquency
Victimization and Violent Offending
Victimization and Youth Justice
Stereotypes Associated with Mental Disabilities
Mental Disabilities and Education
Disability Rights
4. The Snowball Effect
Out-of-Court Measures
Conditions of Release and Probation
The Adverse Impact of Custody
5. Examples and Strategies
Examples
   Intellectual Disabilities
   Fetal Alcohol Spectrum Disorder
   Disruptive Behaviour Disorders
Strategies
   Chronic Misunderstanding
   Reduced Remembering
   Impulsivity and Planning Difficulties
6. Waiving Their Rights
Competencies Required to Waive Rights
Admissible Statements and Waivers
7. Competency Assessments in Youth Court
Defining Roles and Preparing Clients
The Assessment Process
Maturity and Competence to Consent
Legal Competencies in Youth Court
Assessing Criminal Responsibility in Youth
Assessment Process for NCR
8. Perspectives on Criminal Intent
Criminal Intent and Moral Conscience
To Charge or Not to Charge
The Incapacitation Strategy
Adult Sentences
Implications for Relapse Prevention
9. Risk Assessments of Young Offenders
The Historical and Philosophical Context
Criminal Offending and "What Works"
"High, Low, Medium, Slow, Jolly, Pepper"
The Youth Level of Service/Case Management Inventory
Risk-Need Assessments and the YCJA
Are Practitioners Using Risk Measures Properly?
10. Easing the Alliance
Youth Stress
Parental Stress
Themes from Parents' Experiences
   Stress and Loss
   Hard Work
   Limited Support
   System Constraints
   Diminished Participation
   Youth with Mental Disabilities
Helping Families Cope
11. Justice as Therapy
The Therapeutic Youth Court
   Cognitive and Behavioural Principles
   Locus of Control
   Relapse Prevention
   Solution-Focused Principles
   Buying into the Program
Conclusion: The New Era
Notes
References
Index
Find what you're looking for...
Publishers Represented
UBC Press is the Canadian agent for several international publishers. Visit our
Publishers Represented
page to learn more.