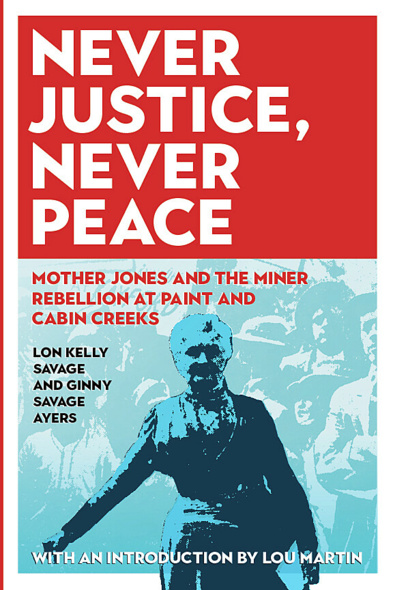 $34.95

Back Order
Ships in 4-6 weeks.
GO TO CART
Never Justice, Never Peace: Mother Jones and the Miner Rebellion at Paint and Cabin Creeks
West Virginia University Press
In 1986 Lon Savage published Thunder in the Mountains: The West Virginia Mine War, 1920–21, a popular history now considered a classic. Among those the book influenced are Denise Giardina, author of Storming Heaven, and John Sayles, writer and director of Matewan. When Savage passed away, he left behind an incomplete book manuscript about a lesser-known Mother Jones crusade in Kanawha County, West Virginia. His daughter Ginny Savage Ayers drew on his notes and files, as well as her own original research, to complete Never Justice, Never Peace—the first book-length account of the Paint Creek–Cabin Creek Strike of 1912–13.
Savage and Ayers offer a narrative history of the strike that weaves together threads about organizer Mother Jones, the United Mine Workers union, politicians, coal companies, and Baldwin-Felts Detective Agency guards with the experiences of everyday men and women. The result is a compelling and in-depth treatment that brings to light an unjustly neglected—and notably violent—chapter of labor history. Introduced by historian Lou Martin, Never Justice, Never Peace provides an accessible glimpse into the lives and personalities of many participants in this critical struggle.
Lon Savage and Ginny Savage Ayers have written an account of one of the seminal confrontations in the history of the American labor movement that is both exhaustively researched and a real page-turner. Especially compelling is their insight into Mother Jones, that human detonator in constant search of dynamite.'
John Sayles
Fascinating and accessible.'
Choice 
A remarkable product of intricate, careful research that stands as the most detailed history of Paint Creek and Cabin Creek now available.'
Journal of Southern History
Lon Kelly Savage (1928–2004) grew up in Charleston, West Virginia. He wrote Thunder in the Mountains: The West Virginia Mine War, 1920–21, a classic popular history. Savage worked as a reporter for the Richmond Times-Dispatch, a bureau chief for United Press International, and an administrator at Virginia Tech in Blacksburg.
Ginny Savage Ayers, daughter of Lon Savage, has worked for many years in scientific research and teaching. She currently resides in Maryville, Tennessee, where she is involved in several environmental and social causes.
Preface           
Introduction, Lou Martin        
1. Into the Fight         
2. As Hatred Mounted 
3. Evolution and Revolution  
4. "Take Your Hats Off to 'Mother' Jones!"  
5. "Organize Us!"       
6. "The Guards Have Got to Go!"      
7. A "Peace Proclamation"      
8. Walking the Creek  
9. A State of War      
10. Mountainsides to Meeting Rooms           
11. "That Scab Labor"          
12. A Tear in Each Lump of Coal      
13. Yuletide in Union Tents   
14. Pardons and Politics          
15. "Thirsty to Shed Human Blood"  
16. A Desperate Undertaking 
17. Under Arrest       
18. Life in the Bull Pen         
19. A Constitutional Obstacle 
20. The Trial   
21. "Here Is My Stake in This Country"     
22. "See Her Safe in ——"    
23. Freedom and Suppression 
24. "Fight Her All Over Again"         
Notes   
Index   
Related Titles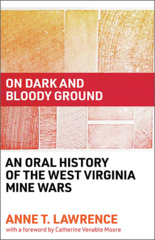 On Dark and Bloody Ground
An Oral History of the West Virginia Mine Wars
By Anne T. Lawrence Foreword by Catherine Venable Moore
‹
›
Find what you're looking for...
Publishers Represented
UBC Press is the Canadian agent for several international publishers. Visit our
Publishers Represented
page to learn more.