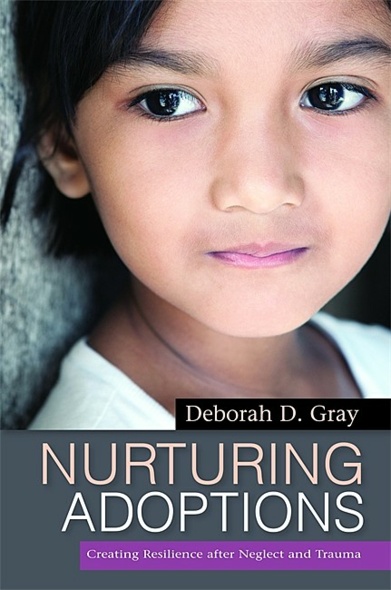 Nurturing Adoptions
Creating Resilience after Neglect and Trauma
Jessica Kingsley Publishers
Adopted children who have suffered trauma and neglect havestructural brain change, as well as specific developmental andemotional needs. They need particular care to build attachment andovercome trauma.
This book provides professionals with the knowledge and advice theyneed to help adoptive families build positive relationships and helpchildren heal. It explains how neglect, trauma and prenatal exposure todrugs or alcohol affect brain and emotional development, and explainshow to recognise these effects and attachment issues in children. Italso provides ways to help children settle into new families and homeand school approaches that encourage children to flourish. The bookalso includes practical resources such as checklists, questionnaires,assessments and tools for professionals including social workers, childwelfare workers and mental health workers.
This book will be an invaluable resource for professionals workingwith adoptive families and will support them in nurturing positivefamily relationships and resilient, happy children. It is ideal as achild welfare text or reference book and will also be of interest toparents.
Deborah D. Gray is a clinical social workerspecialising in attachment, grief, and trauma based in Kirkland,Washington, USA, and is also author of Attaching in Adoption:Practical Tools for Today's Parents. She grew up in anextended family with many adopted members. Her website can be found atwww.deborahdgray.com.
Introduction
Part 1. The Issues of Neglect and Trauma in Today'sAdoption
1. The Changing Nature of Adoption
2. Trauma, Stress, and Post Traumatic Stress Disorder –Interrelationships
3. Neglect
4. Traumatic Stress – The Symptom Clusters
5. Early Relational Trauma, Traumatic Loss, and Effects onDevelopment
6. Trauma and Neglect – Double Insults
7. Attachment and Trauma/Neglect
Part 2. Putting the Pieces Together – Restorationafter Traumatic Stress and Neglect
8. Common Ground: What Parents, Caseworkers, Teachers, andTherapists Can Do to Help
9. The Role of the Child Welfare/Social Worker
10. The Role of the Mental Health Worker
11. Structuring Careers and Practices
12. Creating Resilience in Children and Their Families
Appendices
Glossary
Useful Tools and Exercises
References
Resources and Recommended Reading
Index.
Find what you're looking for...
Publishers Represented
UBC Press is the Canadian agent for several international publishers. Visit our
Publishers Represented
page to learn more.