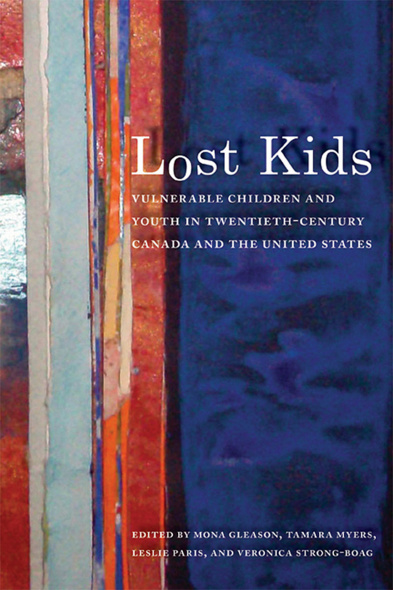 Lost Kids
Vulnerable Children and Youth in Twentieth-Century Canada and the United States
Children and youth occupy important social and political roles, even as they sleep in their cribs or hang out on street corners. Conceptualized as either harbingers or saboteurs of a bright, secure tomorrow, young people have motivated many adult-driven plans to improve their communities' future. But have all children benefited from these programs and initiatives?
Lost Kids brings together a distinguished group of scholars who explore the under-representation, demonization, and inadequate care of vulnerable children. Drawing on feminist, postmodern, and postcolonial theories, they address three determining factors: the role of the state, the shifting context of the family, and the evolution of child protection and juvenile justice. From examinations of interracial adoption and the treatment of children with disabilities to the deregulation of child labour laws and the social construction of the ""hopeless child," this multifaceted collection illuminates the diversity of disadvantaged childhoods and rejects the essentialism of the so-called priceless child or hopeless youth.
Lost Kids provides the social context and historical background necessary to understand the experiences of vulnerable children who frequent the news.
Lost Kids will be of interest to students and scholars of children and youth studies and practitioners and policy makers in the fields of health, social welfare, and law.
The history of many aspects of the lives of children and youth remains unexplored. This book's discussion of historical and contemporary issues pertaining to children and youth in North America who have experienced marginalization provides a nuanced understanding and accurate portrayal of children's experiences within a broader social context.
The volume editors all teach at the University of British Columbia. Mona Gleason is an associate professor in the Department of Educational Studies, Tamara Myers and Leslie Paris are associate professors in the Department of History, and Veronica Strong-Boag is a professor in the Women's Studies and Educational Studies departments.
Contributors: Ted Alexander, Denyse Baillargeon, Cindy L. Baldassi, Susan B. Boyd, William Bush, Karen Dubinsky, Wendy Frisby, John Irwin, Fiona Kelly, Molly Ladd-Taylor, Stephen McBride, Janna Taylor, Neil Sutherland
Introduction / Mona Gleason, Tamara Myers, Leslie Paris, and Veronica Strong-Boag
Part 1: Wanted Kids? Institutions, Fostering, and Adoption
1 A Haven From Racism? Canadians Imagine Interracial Adoption / Karen Dubinsky
2 "Forgotten People of All the Forgotten": Children with Disabilities in English Canada from the Nineteenth Century to the New Millennium / Veronica Strong-Boag
Part 2: The Trouble with Adolescents -- Law, Experts, and Institutions Target Youth
3 Lost in Modernity: "Maladjustment" and the "Modern Youth Problem," English Canada, 1920-50 / Cynthia Comacchio
4 James Dean and Jim Crow: Boys in the Texas Juvenile Justice System in the 1950s / William Bush
5 Nocturnal Disorder and the Curfew Solution: A History of Juvenile Sundown Regulations in Canada / Tamara Myers
Part 3: In Aid of Small Bodies -- Health, Hospitals, and Age in Historical Perspective
6 Learning and Leisure on the Inside: Programs for Sick Children at Sainte-Justine Hospital, 1925-70 / Denyse Baillargeon
7 "Lost Voices, Lost Bodies"? Doctors and the Embodiment of Children and Youth in English Canada from 1900 to the 1940s / Mona Gleason
Part 4: Colliding Visions -- The Politics of Families and Youth
8 What Child Left Behind? US Social Policy and the Hopeless Child / Molly Ladd-Taylor
9 "The Strange Way We Lived": Divorce and American Childhood in the 1970s / Leslie Paris
10 Losing the Child in Child-Centred Legal Processes / Cindy L. Baldassi, Susan B. Boyd, and Fiona Kelly
Part 5: Access and Opportunity at the Beginning of theTwenty-First Century -- Equality Delayed
11 Play Is Not a Frill: Poor Youth Facing the Past, Present, and Future of Public Recreation in Canada / Wendy Frisby, Ted Alexander, and Janna Taylor
12 Deregulating Child Labour in British Columbia / Stephen McBride and John Irwin
Postscript / Neil Sutherland
List of Contributors
Index
Related Titles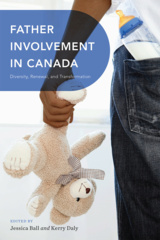 Father Involvement in Canada
Diversity, Renewal, and Transformation
Edited by Jessica Ball and Kerry Daly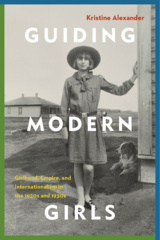 Guiding Modern Girls
Girlhood, Empire, and Internationalism in the 1920s and 1930s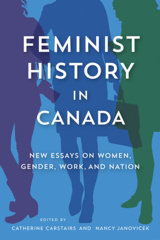 Feminist History in Canada
New Essays on Women, Gender, Work, and Nation
Edited by Catherine Carstairs and Nancy Janovicek
‹
›
Find what you're looking for...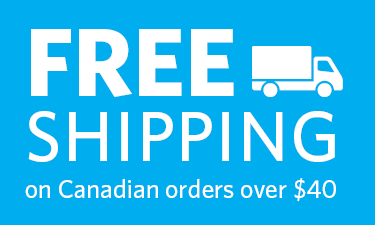 Publishers Represented
UBC Press is the Canadian agent for several international publishers. Visit our
Publishers Represented
page to learn more.