7 b&w photos, 18 tables, 18 charts, 10 maps
Sea Change
Charting a Sustainable Future for Oceans in Canada
As climate change, resource overexploitation, and pollution leave ever more visible marks, there's no question that oceans are changing. Ecosystems, economies, and people are all affected. Canada – with coasts on the Atlantic, Pacific, and Arctic – has a formidable challenge in building resilient and sustainable oceans and supporting the communities that rely on them.
Sea Change reports on the work of the OceanCanada Partnership, a multidisciplinary, multiyear research project to take stock of what we know about Canada's three oceans, construct scenarios of the future facing coastal regions, and create a national dialogue and vision. Three cross-cutting themes emerge from this impressive synthesis of social, cultural, economic, and environmental knowledge: ocean change, access to ocean resources, and ocean governance.
Indigenous and non-Indigenous scholars and practitioners in a wide array of fields investigate well-being, health, and livelihoods in coastal communities as they respond to rapid environmental and social transformation. With a focus on finding solutions, they outline the implications and obstacles for legislation, make suggestions for further research, and offer policy recommendations. Increasingly, civil society will bear the responsibility to advocate for oceans, and Sea Change will empower the voices of those who take up that task.
Policy makers, NGOs, natural and social scientists, and those who live in oceanside communities will be interested in this immensely well-informed and practical work, as will students of ocean science, fisheries, economics, and management.
Sea Change provides a clear path forward for the management of Canada's oceans. It is very important for you, for us, and for anyone who wants to learn from leaders in the field.
The volume makes a significant, original contribution to ocean governance through the diversity of perspectives included, the breadth and depth of case studies, and the vast experience of the range of contributing authors.
Rashid Sumaila is a University Killam professor and Canada Research Chair in interdisciplinary ocean and fisheries economics at the Institute for the Oceans and Fisheries and the School of Public Policy and Global Affairs, University of British Columbia. He is also the 2023 co-winner of the Tyler Prize for environmental achievement, was named a 2022 AAAS Fellow, was the 2017 winner of the Volvo Environment Prize, and was named a fellow of the Royal Society of Canada in 2019. Among his publications are Infinity Fish: Economics and the Future of Fish and Fisheries and Game Theory and Fisheries: Essays on the Tragedy of Free for All Fishing.
Derek Armitage is a professor in the School of Environment, Resources and Sustainability, University of Waterloo. He serves as member of the Scientific Steering Committee of the Integrated Marine Biosphere Program (IMBeR) and the Independent Science Panel of New Zealand's Sustainable Seas National Science Challenge. He is a co-editor of Governing the Coastal Commons, Adaptive Capacity and Environmental Governance and Adaptive Co-Management: Collaboration, Learning, and Multi-Level Governance.
Megan Bailey is an associate professor and Canada Research Chair in integrated ocean and coastal governance for the Marine Affairs Program at Dalhousie University. She is a co-editor, with Jessica Duncan, of Sustainable Food Futures: Multidisciplinary Solutions.
William Cheung is a professor and director of the Institute for the Oceans and Fisheries, University of British Columbia, and a Canada Research Chair in ocean sustainability and global change. He has been awarded the E.W.R Steacie Memorial Fellowship and the International Council for the Exploration of the Seas Prix d'Excellence, and was named the Ehor Boyanowsky Academic of the Year. He is a co-editor of Predicting Future Oceans: Sustainability of Ocean and Human Systems Amidst Global Environmental Change.
Contributors: Jason Akearok, Marc Allain, Evan J. Andrews, Natalie Baird, Natalie C. Ban, Mark Basterfield, Hillary Beattie, Rachelle Beveridge, Chelsea Boaler, Irene Brueckner-Irwin, Andrea Bryndum-Buchholz, Anthony Charles, Simon Courtenay, Ashlee Cunsolo, Aaron Dale, Nancy Doubleday, Danielle Edwards, Sondra Eger, Cecilia Engler, Graham Epstein, Amber Giles, Amber M. Holdsworth, Carie Hoover, Russ Jones, Melina Kourantidou, Vincent L'Hérault, Heike K. Lotze, Ian Mauro, Jim McIsaac, Inka Milewski, Ella-Kari Muhl, Nidhi Nagabhatla, Sarah L. Newell, Thomas A. Okey, Juliano Palacios-Abrantes, Tommy Palliser, Ken Paul, Evelyn Pinkerton, Peter Pulsifer, Lydia Ross, Phillip Saunders, Jennifer L. Silver, Ruth E. Smith, Jamie Snook, Eric Solomon, Nadja S. Steiner, Robert L. Stephenson, Travis C. Tai, Fraser Taylor, Derek Tittensor, David L. VanderZwaag, Charlotte Whitney, Kristen L. Wilson, and the Community of Chesterfield Inlet
Related Titles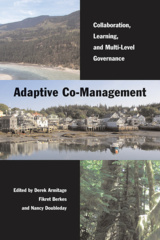 Adaptive Co-Management
Collaboration, Learning, and Multi-Level Governance
Edited by Derek Armitage, Fikret Berkes, and Nancy Doubleday
Managed Annihilation
An Unnatural History of the Newfoundland Cod Collapse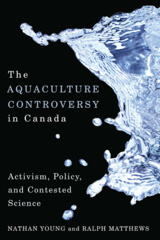 The Aquaculture Controversy in Canada
Activism, Policy, and Contested Science
By Nathan Young and Ralph Matthews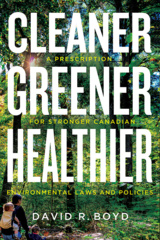 Cleaner, Greener, Healthier
A Prescription for Stronger Canadian Environmental Laws and Policies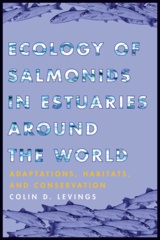 Ecology of Salmonids in Estuaries around the World
Adaptations, Habitats, and Conservation
Protecting the Coast and Ocean
A Guide to Marine Conservation Law in British Columbia
By Stephanie M. Hewson, Linda Nowlan, Georgia Lloyd-Smith, Deborah Carlson, and Michael Bissonnette
‹
›
Find what you're looking for...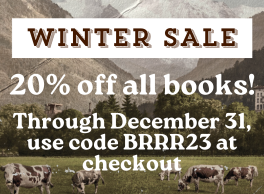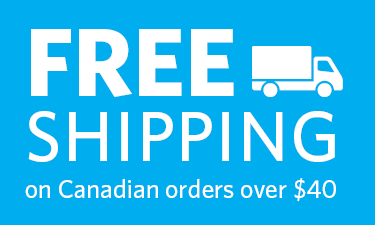 Stay Informed
Receive the latest UBC Press news, including events, catalogues, and announcements.
Publishers Represented
UBC Press is the Canadian agent for several international publishers. Visit our
Publishers Represented
page to learn more.