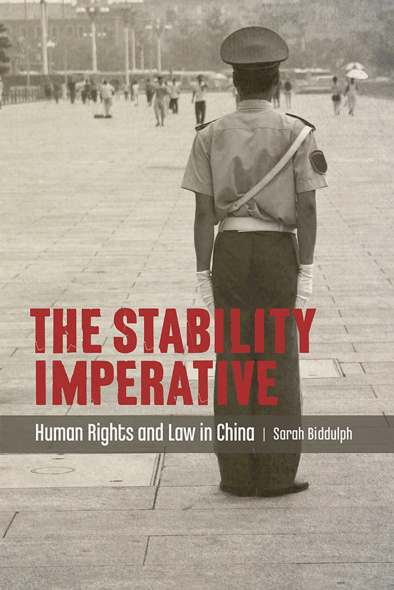 The Stability Imperative
Human Rights and Law in China
"Stability preservation" (weiwen) has long been an imperative of China's one-party state. At the same time, the PRC has recently embedded a commitment to the protection of human rights in its constitution and has stated that it wants its citizens to share in the benefits of economic development and lead "happier and more dignified" lives. This book examines the multiple and shifting ways in which weiwen impinges on the legal definition and implementation of human rights in China. Using case studies, Sarah Biddulph methodically examines the intersection of stability preservation and human rights in the PRC. Analyzing the state's response to labour unrest, medical disputes, and forced housing evictions, she illustrates how conflict in these areas has damaged people's livelihoods and led to serious social disruption. In turn, the state has reacted in a range of ways, from taking steps to ameliorate the underlying causes of the citizens' grievances to the repression of rights-related protests and the punishment of protestors. The Stability Imperative: Human Rights and Law in China reveals how the systematic failure of the legal system to protect rights coupled with an overemphasis on coercive forms of stability preservation is undermining the authority of law in China and could, ultimately, damage the Communist Party's leadership.
This book will be of interest to scholars, students, and practitioners interested in politics, the rule of law, and human rights in China.
Awards
2016, Shortlisted - Canadian Law and Society Book Prize, Canadian Law and Society Association
2016, Winner - Clio-North Prize, Canadian Historical Association
Biddulph has written an outstanding contribution to the field of human rights and law as well as to the field of governance and social stability/protests. The uniqueness and strength of the book lie in the author's ability to bridge and unite insights from different research areas and in her rich empirical material. [Biddulph] shows how issues of human rights and governance are intertwined and shape the life of individual citizens as well as the work of different state and non-state actors and institutions.
This outstanding book goes a long way towards advancing our understanding of the nature of the law-society nexus in China today. It fills the gap in conventional understandings of the rights debate and rights practices in China and provides a highly detailed and sophisticated understanding of how law figures in the Communist party-state's stability imperative, how rights are contested and articulated in legal disputes, and how the party-state responds to these contestations.
This book will be of great interest to scholars and students in a variety of areas including Chinese studies, law, sociology, and political science – really to anyone interested in understanding contemporary Chinese society. The author's thorough understanding of the subject areas discussed is beyond doubt, and the case studies are fascinating, vivid, and detailed.
Sarah Biddulph is an Australian Research Council Future Fellow (2014-18) and professor of law at the University of Melbourne Law School. She specializes in the research and teaching of Chinese law. Her research focuses on the Chinese legal system with a particular emphasis on legal policy, law making, and enforcement as they affect the administration of justice in China. Her particular areas of research are contemporary Chinese administrative law, criminal procedure, labour, comparative law, and the law regulating social and economic rights. Her recent publications include: Legal Reform and Administrative Detention Powers in China (2007) and Law and Fair Work in China: Making and Enforcing Labour Standards in the PRC (2013), co-authored with Sean Cooney and Ying Zhu.
1 Rights in a Time of Anxiety about Stability
2 Labour Rights and Stability
3 Housing Expropriation, Demolition, and Relocation
4 The Right to Medical Care and Causing Havoc in Hospitals (Yinao)
5 Punishing Protest
6 Abolishing Re-Education through Labour
7 Governance for Rights and Stability?
Appendix: Legislation, Administrative Regulations and Rules, Normative Documents, and Party Documents
Notes; References; Index
Related Titles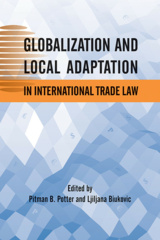 Globalization and Local Adaptation in International Trade Law
Edited by Pitman B. Potter and Ljiljana Biuković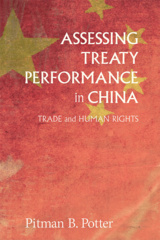 Assessing Treaty Performance in China
Trade and Human Rights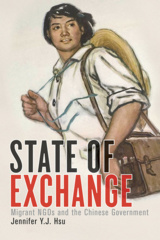 State of Exchange
Migrant NGOs and the Chinese Government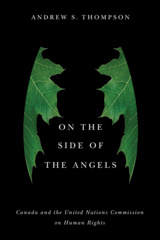 On the Side of the Angels
Canada and the United Nations Commission on Human Rights
A Human Rights Based Approach to Development in India
Edited by Moshe Hirsch, Ashok Kotwal, and Bharat Ramaswami
Good Governance in Economic Development
International Norms and Chinese Perspectives
Edited by Sarah Biddulph and Ljiljana Biuković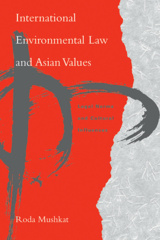 International Environmental Law and Asian Values
Legal Norms and Cultural Influences
By Roda Mushkat
Exporting Virtue?
China's International Human Rights Activism in the Age of Xi Jinping
Follow the Leader, Lose the Region
Charting a Canadian Strategy for the Asia-Pacific
‹
›
Find what you're looking for...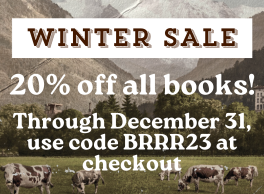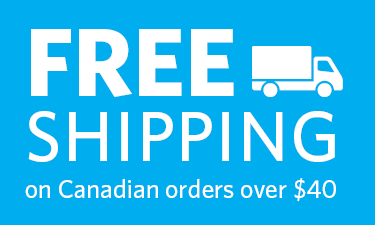 Stay Informed
Receive the latest UBC Press news, including events, catalogues, and announcements.
Publishers Represented
UBC Press is the Canadian agent for several international publishers. Visit our
Publishers Represented
page to learn more.