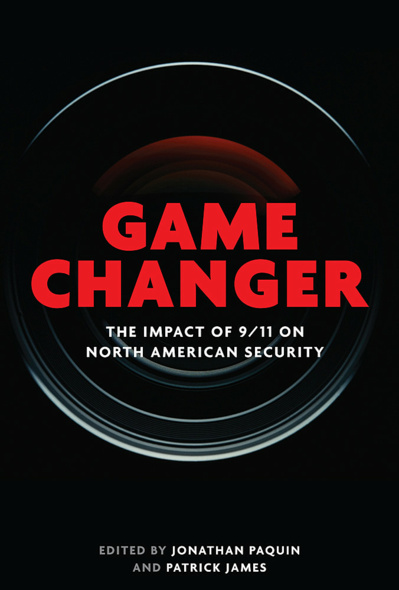 Game Changer
The Impact of 9/11 on North American Security
The events of 9/11 turned North American politics upside down. US policy makers focused less on how they could better integrate the economies of Mexico, Canada, and the United States and more on security and sovereignty.
Security experts and scholars tend to view the developments that followed 9/11 within a bilateral framework. Game Changer broadens the canvas by examining how Washington's desire to keep its two borders closed to threats but open to trade has influenced life in Canada and Mexico and relations among the three countries. Experts from across North America draw on international relations theory to examine and explain not only developments in key security areas such as border control and the military-industrial sector but also how policy makers can reconcile the need for greater regional cooperation when it comes to security with the desire to maintain national autonomy in other areas of life.
By adopting a truly North American, or trilateral, framework, this challenging and authoritative volume suggests new approaches to security in the post-9/11 world.
Game Changer will be of interest to students and scholars of North American history, international relations, political science, and terrorism studies and to general readers with an interest in security, politics, or the legacy of 9/11.
Game Changer represents a one-stop shopping experience for those who have not been following developments in North American security since 9/11, as well as a distillation of that body of thought for those who have. It makes an explicit effort to consider all three countries – Canada, the United States, and Mexico – in its analysis, something that is hard to find in most comparable volumes.
Game Changer offers well-researched, thoughtful analyses on a variety of aspects of North American defence relations from Canadian and Mexican perspectives. It will interest and challenge scholars and practitioners of foreign, defence, and trade policy in all three countries.
Jonathan Paquin is an associate professor of political science and director of the International Peace and Security Program at Université Laval. Patrick James is Dornsife Dean's Professor of International Relations at the University of Southern California.
Contributors: Donald E. Abelson, Louis Bélanger, Yan Cimon, Stephen Clarkson, Charles F. Doran, David G. Haglund, Frank P. Harvey, Athanasios Hristoulas, Philippe Lagassé, Justin Massie, Mark Paradis, Isabelle Vagnoux
Introduction: The Changing Contours of North American Security / Jonathan Paquin and Patrick James
Part 1: Theoretical Explanations of Post-9/11 Security Relations
1 Was 9/11 a Watershed? / Charles F. Doran
2 The Homeland Security Dilemma: Assessing the Implications for Canada-US Border Security Negotiations / Frank P. Harvey
3 Toward Greater Opportunism: Balancing and Bandwagoning in Canada-US Relations / Justin Massie
4 Canada, the United States, and Continental Security after 9/11: An Assessment Based on Attribution Theory / Mark Paradis and Patrick James
5 Canada-US Security Cooperation under the Security and Prosperity Partnership: An Autopsy Report / Jonathan Paquin and Louis Bélanger
Part 2: Significant Developments in North American Security and Defence
6 The Disintegrative Effects of North America's Securitization on the Canada-Mexico Relationship / Stephen Clarkson
7 Mexico's Ambiguous Foreign Policy toward North America / Athanasios Hristoulas
8 From the Border Partnership Agreement to the Twenty-First-Century Border: Enforcing Security on the US-Mexico Border / Isabelle Vagnoux
9 National Interest or Self-Interest? Advocacy Think Tanks, 9/11, and the Future of North American Security / Donald E. Abelson
10 A Common "Bilateral" Vision: North American Defence Cooperation, 2001-12 / Philippe Lagassé
11 Defence Policy and the Aerospace and Defence Industry in North America: The Changing Contours of the Post-9/11 Era / Yan Cimon
12 The Canada-US Alliance in the Post-9/11 Context: Any Room for Mexico? / David G. Haglund
Conclusion: Continental Security – What Now? / Jonathan Paquin and Patrick James
Bibliography; Index
Related Titles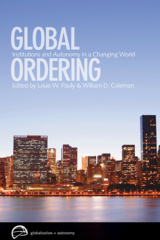 Global Ordering
Institutions and Autonomy in a Changing World
Edited by Louis W. Pauly and William D. Coleman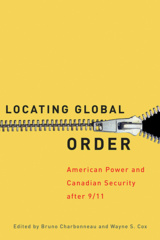 Locating Global Order
American Power and Canadian Security after 9/11
Edited by Bruno Charbonneau and Wayne S. Cox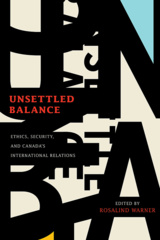 Unsettled Balance
Ethics, Security, and Canada's International Relations
Edited by Rosalind Warner
‹
›
Find what you're looking for...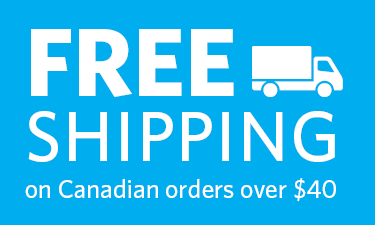 Stay Informed
Receive the latest UBC Press news, including events, catalogues, and announcements.
Publishers Represented
UBC Press is the Canadian agent for several international publishers. Visit our
Publishers Represented
page to learn more.