Nothing to Write Home About
British Family Correspondence and the Settler Colonial Everyday in British Columbia
In the context of surging interests in reconciliation and decolonization, settler colonialism increasingly occupies political, public, and academic conversations. Turning from the emphasis on Indigenous-settler relations and state policy, Nothing to Write Home About uncovers the colonial significance of trans-imperial families, the everyday, and silence in British family correspondence sent between the United Kingdom and British Columbia between 1858 and 1914.
Drawing on thousands of letters, Nothing to Write Home About is a detailed study offering insights into epistolary topics including intimacy and conflict, boredom and food, and what correspondents chose not to write about. Analyzing both the letters' content and their loaded silences, Laura Ishiguro traces how Britons used the post to navigate the family separations integral to their migration and understand British Columbia as an uncontested settler home. This book argues that these letters and their writers played a critical role in laying the foundations of a powerful, personal settler colonial order that continues to structure the province today.
Nothing to Write Home About is the first substantial study of family correspondence and settler colonialism. By underscoring the entwined significance of family and the everyday in a formative period in British Columbia, it offers a timely new lens into the global and local dynamics of settler colonialism.
Scholars of history, post-colonial studies, literary studies, biography writing, space and cultural geography, Canadian Studies, British Studies, and in the burgeoning field of settler colonial studies will find this book to be of interest.
Awards
2020, Commended - The Wilson Book Prize, McMaster University
Laura Ishiguro has written a fine book. Her meticulous examination of colonial correspondence is engaging and illuminating. She displays a considerable sensitivity for the language used by white settlers to discursively claim British Columbia and normalise their presence there. Ishiguro is especially skilful in summarising her conclusions at the end of each chapter, fluently articulating the tangled voices of British settlers.
[...]seemingly disparate topics are interwoven with the central threads of settler colonialism and trans-imperial family relations to produce a cohesive and sophisticated analysis.
Laura Ishiguro's adroit study of British settler correspondence carefully and pointedly intervenes in the historiographies of British Columbia, of the imperial world, and of settler colonialism. This book is something to write home about.
Nothing to Write Home About brings to light some of the less-tangible, subtler aspects of British settler colonialism. It does an excellent job of showing how to make meaning out of silences, omissions, and formulaic statements in the historical record.
Laura Ishiguro is an assistant professor in the Department of History at the University of British Columbia, where she is a historian of settler colonialism, mobility, family, and the everyday in Canada and the British Empire. Her research has been published in a number of edited collections and journals, including a 2016 article in BC Studies – "Growing Up and Grown Up […] in Our Future City: Discourses of Childhood and Settler Futurity in Colonial British Columbia" – which won the 2017 Canadian Committee on Migration, Ethnicity, and Transnationalism article prize. She has also coedited (with Esmé Cleall and Emily J. Manktelow) a 2013 special issue of the Journal of Colonialism and Colonial History on histories of family in the British Empire, and edited a 2016 special issue of BC Studies on histories of settler colonialism in British Columbia. She is an associate of the Wilson Institute for Canadian History at McMaster University (2017–20) and a recipient of the Killam Teaching Prize at UBC (2018).
Introduction
Part 1: Relative Distances
1 "Bind the Empire Together": The Postal System, Family Letters, and British Columbia
2 "Affection Can Overstep Distance": The Letter as Trans-Imperial Family
Part 2: The Colonial Commonplace
3 "Absolutely Nothing Going on": Epistolary Emotion and Unremarkable Colonial Knowledge
4 "A Dreadful Little Glutton": Settler Food Practices and the Epistolary Everyday
Part 3: Family Faultlines, Fractured Knowledge
5 "Irreparable Loss": Family Rupture and Reconfiguration in Letters about Death
6 "Say Nothing": Epistolary Gossip, Silence, and the Strategic Limits of Intimacy
Conclusion
Notes; Bibliography; Index
Find what you're looking for...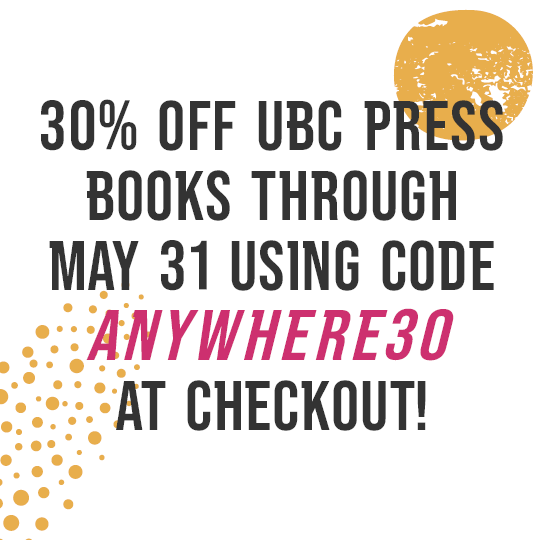 Stay Informed
Receive the latest UBC Press news, including events, catalogues, and announcements.
Publishers Represented
UBC Press is the Canadian agent for several international publishers. Visit our
Publishers Represented
page to learn more.