The Creator's Game
Lacrosse, Identity, and Indigenous Nationhood
A gift from the Creator – that is where it all began. The game of lacrosse has been a central element of many Indigenous cultures for centuries, but once non-Indigenous players entered the sport, it became a site of appropriation – then reclamation – of Indigenous identities. Focusing on the history of lacrosse in Indigenous communities from the 1860s to the 1990s, The Creator's Game explores Indigenous-non-Indigenous relations and Indigenous identity formation. While the game was being stripped of its cultural and ceremonial significance and being appropriated to construct a new identity for the nation-state of Canada, it was also being used by Indigenous peoples for multiple ends: to resist residential school experiences; initiate pan-Indigenous political mobilization; and articulate Indigenous sovereignty and nationhood on the world stage.
The multilayered story of lacrosse serves as a potent illustration of how identity and nationhood are formed and reformed. Engaging and innovative, The Creator's Game provides a unique view of Indigenous self-determination in the face of settler-colonialism.
The Creator's Game will be of interest to scholars and students of Canadian history, Indigenous studies, political science, and sports history.
Awards
2018, Winner - CSN-REC Book Prize, Canadian Studies Network – Réseau d'études canadiennes
2019, Winner - Canada Prize in the Humanities and Social Sciences, Federation for the Humanities and Social Sciences
2019, Short-listed - Wilson Book Prize, The Wilson Institute for Canadian History at McMaster University
This book is an excellent contribution to the scholarly literature of Canadian political biography, partly because it invites readers to think seriously about its conclusions, regardless of whether or not they agree with them. That invitation facilitates an acknowledgment by the reader of the book's critical strengths and laudable scholarly approach. It is a historical work but also multidisciplinary, combining features of political science, economics, and philosophy that reflect the equally complex and nuanced life and accomplishments of its biographical subject.
Downey describes the history of lacrosse as a 'Trickster tale, full of anomalies, contradictions, and tricks.' He displays considerable writing and interpretive talents in demonstrating the importance of the game for the history and identity of Indigenous peoples.
Downey's meticulous and conceptually rich work offers scholars of politics and settler colonialism a crucial link between Indigenous nationhood and lacrosse that allows us to think of history, metaphysics and meaning beyond the settler states that have claimed the sport and the lands for its own.
Many readers will find this book valuable. It enlarges the existing framework for understanding lacrosse, and it should prompt readers to consider how other Indigenous perspectives could enhance this story.
It is impossible to sum up this vital book in a short review such as this: it is far too rich a work of scholarship and cultural exposition to do it justice. What will suffice, here, is to conclude that this is a major work of insight and recovery; a highly successful fusion of European/settler historiographical tradition with methodologies based on Indigenous storytelling, faith keeping, and personal understanding.
Downey's writing is approachable and jargon-free, appealing to both casual and specialist readers[…]this book is an exciting glimpse at what the future holds as Indigenous scholars bring Indigenous learnings to Western-style academia.
Far more than a history of a sport, The Creator's Game is an engrossing tale of appropriation and reappropriation that highlights complex relationships between European and Indigenous peoples. Provocative, creative, and ambitious, it offers a unique window into the history of colonialism, the inner workings of residential schools, the development of Indigenous nationalism, the emergence of modern sport in Canada, and the gendered dynamics of lacrosse's political, social, and spiritual importance. I'm a big fan of this book.
The Creator's Game engages Indigenous storytelling, worldviews, and traditional language to shape nuanced understandings of the roles that lacrosse played – and continues to play – in Indigenous identity making. It is a richly insightful and compelling work that will pave the way for future studies that employ Indigenous methodologies and epistemologies.
Allan Downey is Dakelh, Nak'azdli Whut'en, and an associate professor in the Department of History and Indigenous Studies Program at McMaster University. Allan was a recent recipient of a Fulbright Fellowship to Columbia University where he continued to advance his research focused on the history of Indigenous nationhood, sovereignty, and self-determination. Beyond his research and teaching activities, one of Allan's greatest passions is working with Indigenous youth and he volunteers for several Indigenous communities and youth organizations throughout the year.
Acknowledgments
Dewa'áọ':gajíhgwa'e' – Prologue: The Creator's Game
Baaga'adowewin – Introduction: A Trickster History of Lacrosse
1 Tewaá:rathon – The Canadian Appropriation of Lacrosse and "Indian" Performances
2 Metawewin – Colonizing the Creator's Game in Residential Schools
3 Sk'exwa7 – Articulating Indigenous Nationhood on the West Coast
4 Ga-lahs – Box Lacrosse and Redefining Political Activism during the Mid-twentieth Century
5 Dey-Hon-Tshi-Gwa'-Ehs – Reclaiming the Creator's Game
Dewa'ë:ö' – Conclusion: A Trickster Ending
Págádowe – Notes; Yunęnrúhaˀr – Bibliography; Index
Related Titles
Becoming Native in a Foreign Land
Sport, Visual Culture, and Identity in Montreal, 1840-85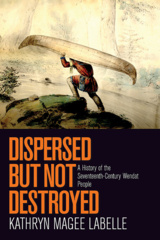 Dispersed but Not Destroyed
A History of the Seventeenth-Century Wendat People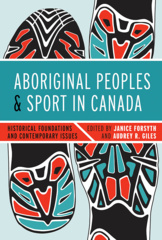 Aboriginal Peoples and Sport in Canada
Historical Foundations and Contemporary Issues
Edited by Janice Forsyth and Audrey R. Giles
Shaping the Future on Haida Gwaii
Life beyond Settler Colonialism
By Joseph Weiss
A People and a Nation
New Directions in Contemporary Métis Studies
Edited by Jennifer Adese and Chris Andersen
‹
›
Find what you're looking for...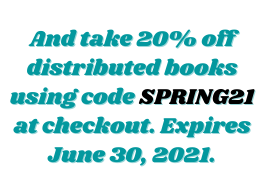 Publishers Represented
UBC Press is the Canadian agent for several international publishers. Visit our
Publishers Represented
page to learn more.