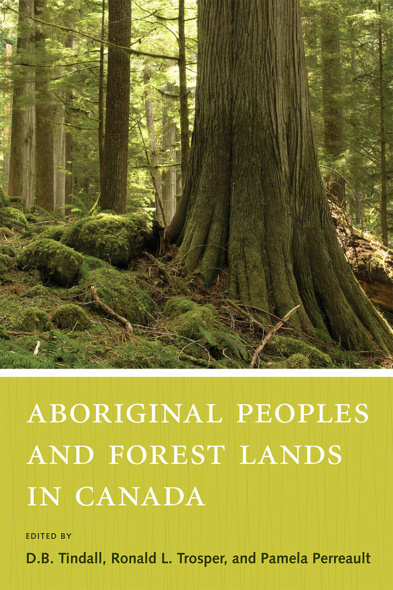 Aboriginal Peoples and Forest Lands in Canada
Aboriginal people in Canada have long struggled to regain control over their traditional forest lands. A history of alienation, marginalization, and social inequality has made this an uphill battle, but the past few decades have seen significant gains in the quest for Aboriginal self-determination. The historic signing of the Nisga'a Treaty in 1998 paved the way for other agreements forged through the BC Treaty process, and Aboriginal participation in resource management is on the rise in both British Columbia and other Canadian provinces. Some Aboriginal communities have started their own forestry companies, and many are starting to benefit more directly from forest resources.
Aboriginal Peoples and Forest Lands in Canada brings together the diverse perspectives of Aboriginal and non-Aboriginal scholars to address the political, cultural, environmental, and economic implications of forest use. This book discusses the need for professionals working in forestry and conservation to understand the context of Aboriginal participation in resource management, including the history of both co-operation and confrontations such as blockades. It also addresses the importance of considering traditional knowledge and traditional land use and examines the development of co-management initiatives and joint ventures between government, forestry companies, and native communities.
This book is accessible to anyone interested in Aboriginal, environmental, and forestry issues, particularly within the context of British Columbia, and it will be particularly valuable for students of forestry, resource management, and Aboriginal studies, as well as those interested in environmental studies, environment and society, and environmental politics.
Aboriginal Peoples and Forest Lands in Canada makes an excellent contribution to the emerging field of Aboriginal forestry and resource management. This book contains a broad range of topics and perspectives relating to contemporary challenges arising from increased Aboriginal control over land management and governance. It will add to the scholarly debates in the field and resonate with students, researchers, policy makers, and faculty working in this area.
D.B. Tindall is an associate professor with joint-appointments in the Department of Forest Resources Management and the Department of Sociology at the University of British Columbia. Ronald L. Trosper is head of American Indian Studies at the University of Arizona. Pamela Perreault is a member of Garden River First Nation in Ontario and currently works as an independent consultant for First Nation communities and organizations.
Contributors: Trena Allen, Laura Bird, Michael Blackstock, Keith Thor Carlson, Brian Chisholm, Ken Coates, Norman Dale, Jason Forsyth, James S. Frideres, J.P. Gladu, George Hoberg, Tamara Ibrahim, Naomi Krogman, John Lewis, Holly Mabee, Andrew Mason, Monique Passelac-Ross, Gabriela Pechlaner, Stephen Sheppard, M.A. (Peggy) Smith, Marc G. Stevenson, Mark L. Stevenson, and Rima Wilkes.
List of Figures and Tables
Acknowledgments
Part 1 – Introduction
1 The Social Context of Aboriginal Peoples and Forest Land Issues / D.B. Tindall and Ronald L. Trosper
Part 2 – History: Cooperation, Conflict, and Reconciliation
2 Different Peoples, Shared Lands: Historical Perspectives on Native-Newcomer Relations Surrounding Resource Use in British Columbia / Ken Coates and Keith Thor Carlson
3 Circle of Influence: Social Location of Aboriginals in Canadian Society / James S. Frideres
4 Treaty Daze: Reflections on Negotiating Treaty Relationships under the BC Treaty Process / Mark L. Stevenson
5 Timber: Direct Action over Forests and Beyond / Rima Wilkes and Tamara Ibrahim
Part 3 – Differing Visions
6 Natural Resource Co-Management with Aboriginal Peoples in Canada: Coexistence or Assimilation? / M.A. (Peggy) Smith
7 Aboriginal Peoples and Traditional Knowledge: A Course Correction for Sustainable Forest Management / Marc G. Stevenson
8 Accommodation of Aboriginal Rights: The Need for an Aboriginal Forest Tenure / Monique Passelac-Ross and M.A. (Peggy) Smith
Part 4 – Traditional Ecological Knowledge and Use
9 Early Occupation and Forest Resource Use in Prehistoric British Columbia / Brian Chisholm
10 Cultural Resource Management in the Context of Forestry in British Columbia: Existing Conditions and New Opportunities / Andrew R. Mason
11 Blue Ecology: A Cross-Cultural Ecological Vision for Freshwater / Michael D. Blackstock
12 First Nations' Spiritual Conceptions of Forests and Forest Management / John Lewis and Stephen R.J. Sheppard
Part 5 – Collaborative Endeavours
13 Progress and Limits to Collaborative Resolution of the BC Indian Forestry Wars / Norman Dale
14 Co-Management of Forest Lands: The Cases of Clayoquot Sound and Gwaii Haanas / Holly S. Mabee, D.B. Tindall, George Hoberg, and J.P. Gladu
15 Changing Contexts: Environmentalism, Aboriginal Community and Forest Company Joint Ventures, and the Formation of Iisaak / Gabriela Pechlaner and D.B. Tindall
16 Unheard Voices: Aboriginal Content in Professional Forestry Curriculum / Trena Allen and Naomi Krogman
17 In Search of Certainty: A Decade of Shifting Strategies for Accommodating First Nations in Forest Policy, 2001-11 / Jason Forsyth, George Hoberg, and Laura Bird
18 Consultation and Accommodation: Making Losses Visible / Ronald L. Trosper and D.B. Tindall
Contributors
Index
Related Titles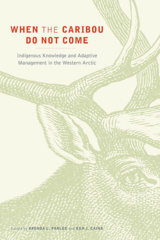 When the Caribou Do Not Come
Indigenous Knowledge and Adaptive Management in the Western Arctic
Edited by Brenda L. Parlee and Ken J. Caine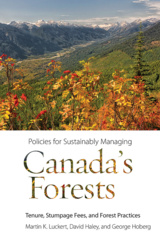 Policies for Sustainably Managing Canada's Forests
Tenure, Stumpage Fees, and Forest Practices
By Martin K. Luckert, David Haley, and George Hoberg
Community Forestry in Canada
Lessons from Policy and Practice
Edited by Sara Teitelbaum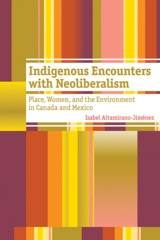 Indigenous Encounters with Neoliberalism
Place, Women, and the Environment in Canada and Mexico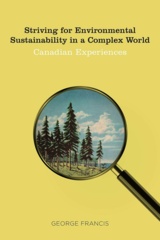 Striving for Environmental Sustainability in a Complex World
Canadian Experiences
‹
›
Find what you're looking for...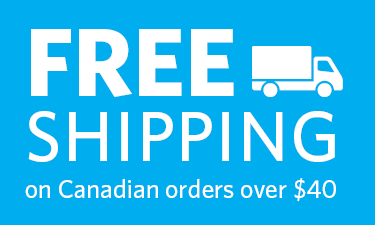 Stay Informed
Receive the latest UBC Press news, including events, catalogues, and announcements.
Publishers Represented
UBC Press is the Canadian agent for several international publishers. Visit our
Publishers Represented
page to learn more.